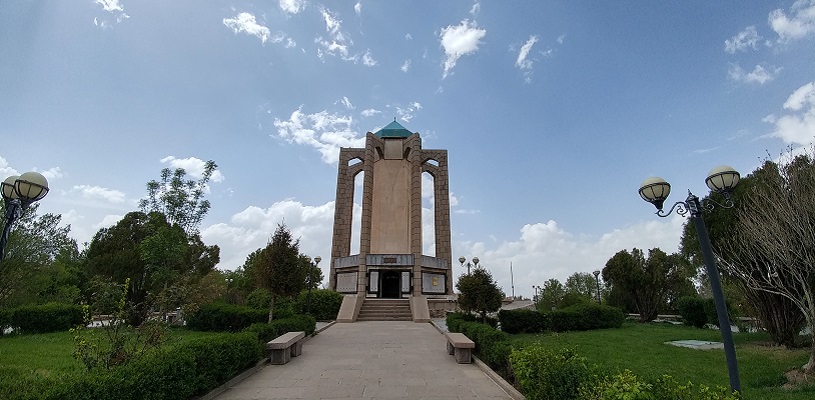 Mausoleum of Baba Taher | Hamadan, Iran | Baba Taher Tomb
Exploring the existing varieties of ideologies in the world can be a reason for traveling. So, travel to Hamadan and visit Baba Taher Mausoleum, to familiarize yourself with Baba Tahir, the Persian mystic poet who embodied Sufism in his poems. Many might particularly link Sufism with Sama, a mystic dance attributed to the Sufis performed for spiritual purposes. Stay with me to learn more about Baba Taher and his life.
Why Visit Baba Taher Mausoleum
An artistic combination of modern architecture with tradition
An amazing turquoise octagonal pyramid dome
Immersing yourself chiefly in the world of Sufism through Baba Taher's poems
Stunning mosaic tilework inside the mausoleum
A peaceful green space surrounding the Baba Taher mausoleum
Impressive poems of Baba Taher on display
Who Was Baba Taher – Baba Tahir Hamadani
Baba Taher was an eleventh-century mystic poet from Hamadan who lived during the reign of king Tuqrol of the Seljuk Empire. Little is known about Baba Taher's life due to his mysterious lifestyle. Since he was a dervish (sufi, mystic), he lived an extremely simple life.
Baba Taher's Faith
In fact, Baba Taher was a dervish, a member of the Sufi sect. Dervishes have taken a vow of poverty. Thus, they prefer the spiritual life to the material life and practice material poverty. They also believe in virtue as the means of reaching God. Like his fellow dervishes, Baba Taher chose to abandon the material life and live simply.
Baba Taher's Name
In addition to the name Taher, the name of Baba Tahir or Baba Taher Oryan consists of two titles: Baba and Oryan. On the one hand, Baba, literally meaning dad, refers to a wise person. On the other hand, Oryan, literally meaning naked, represents the materially poor lifestyle of him. In fact, Baba Taher lived lighter with less, thus practicing his faith.
Baba Tahir's Poetry
Typically, Baba Taher was known for his fahlavi (or Pahlavi) poems. Fahlaviats are a type of poems which poets wrote in the dialect spoken in Fahle region, including Hamadan. He also wrote some sonnets (a kind of poetry). Additionally, he left a collection of quotes behind in Arabic. Moreover, he wrote a book on mystic beliefs as well as Sufism, called Saranjam. Mainly,the prevalent motifs in his writings include nature, praise to God, and moral behavior. Recently, his poems have been set to music.
History of Baba Tahir Hamadani – Baba Taher Mausoleum
Baba Taher Mausoleum was first built in Seljuk era in eleventh century. However, his tomb underwent several reconstructions over time. One of these reconstructions led to the discovery of a fantastic turquoise tile with Quranic verses inscribed on it in Kufic script (a style of Arabic script). Consequently, the mausoleum's current structure which combines modernity and tradition was designed and implemented in 1970. Officials registered Baba Taher Mausoleum as a national heritage in 1997.
Architecture of Baba Taher Mausoleum – Tomb of Baba Taher
As you stand in the middle of a green square with a vibrant atmosphere, you can praise the extraordinary octagonal tower of Baba Taher Mausoleum. The structure is exceptional in several manners. Above all, the splendid turquoise octagonal dome topping the tower catches the eye of visitors. Also, behold eight massive granite pillars supporting the exterior of the mausoleum. Various winding paths lead you to the tomb.
Ultimately, make your way to the grave inside the mausoleum and notice how consistent stairs, pillars, the floor, and the tombstone are. In fact, they are all made of granite stones; hence leading to an integrity of architectural elements. Once you are inside the mausoleum, look around! Indeed, the impressive poems of Baba Taher beautifully engraved on smooth marble slabs are surrounding you with their delicacy. The key highlight of the mausoleum is the interior of the dome. The adorable blue-yellow tilework decorating the interior of the octagonal dome thrills you with its artistry.
More about Baba Taher Mausoleum
When to Visit the Tomb of Baba Taher
Visit Hours: from 9 a.m.to 4:30 p.m.
Nearby Attractions
Visitors have multitude of choices to visit in Hamadan, including fantastic Avicenna Tomb, Alavian Dome, multipurpose Ganjnameh complex, historical Tomb of Esterand Mordekhai, as well as the amazing ancient city of Hegmataneh. If you are longing for a breath-taking natural sightseeing, make sure to visit the breath-taking Ali Sadr Cave.
Nearby Restaurants
Shandiz Haji Restaurant
Dareta Restaurant and Café
Aryaean Traditional Restaurant
Golpayegan Kebab
Darvaze Tehran Resaurant
Tehran ➜ Kermanshah ➜ Hamedan ➜ Isfahan ➜ Yazd ➜ Shiraz
Tehran ➜ Hamedan ➜ Kermanshah ➜ Ahvaz ➜ Shiraz ➜ Yazd ➜ Isfahan ➜ Kashan ➜ Tehran
Tomb of Baba Taher on Map
Keywords: Baba Taher Oryan, Baba Tahir