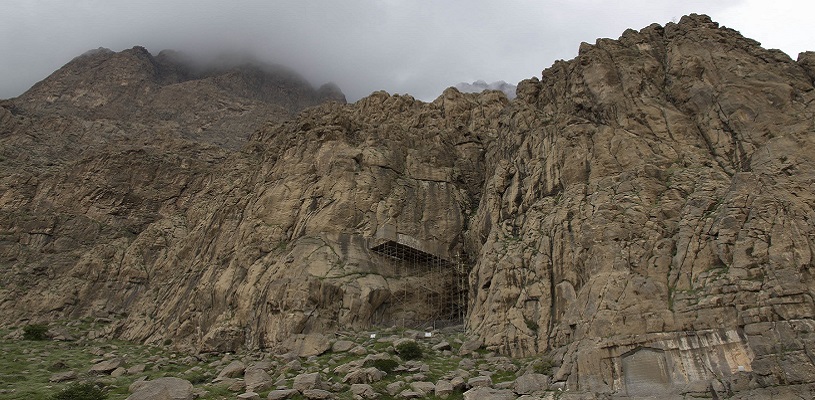 Behistun Historical Site | Behistun Inscription (Bisotun) | Mount Behistun
Persian civilization shows itself off on an elegant rocky mountain near Kermanshah, in western Iran. On Mount Behistun (also known as Bisotun) different rulers from the ancient world carved mementos that have become precious legacies to the modern world. Together, these Median, Achaemenid, Parthian, Sassanid, and Safavid gems have created the world's largest rock carving: Behistun Historical Site. Except for Darius the Great's remarkable Behistun Inscription (UNESCO heritage), Behistun Historical Site also features Farhad Tarash, Balash Rock Relief, Statue of Hercules and Shah Abbasi Caravanserai. Follow me to find out the secrets, stories and facts about this historical site.
Why Visit Behistun Historical Site
Behistun Historical Site includes one of the world's most significant historical documents: Behistun Inscription (UNESCO)
It includes the world's largest stone inscription
The site is a window to many historical periods
It is a charming collection of historical rock reliefs, inscriptions, statues and structures
It features the close tie between Persia and Greece
The Elegant Mount Behistun
The mountain had become a collage where kings of different historical periods left a valuable relic. This shows the mountain's significance among ancient Iranians. Above all, they probably considered the rocky mountain a sacred place. Plus, the mountain's special location along one of the main routes that connected Persia to Mesopotamia made it a great place for the kings to show off their grandeur. Being next to a vast green field and providing them with a high altitude that preserved their works from destruction might also have been among reasons why rulers of different eras chose Mount Behistun and left us with the amazing Behistun Historical Site.
Behistun Inscription in Behistun Historical Site
After Cyrus the Great died, a series of events led to the succession of Darius the Great to the throne. When he became the ruler to the vast Achaemenid Empire in 521 BC, he ordered the construction many monuments. One of them was a bas-relief and cuneiform inscriptions high on the face of Mount Behistun. As the most treasured relic in Behistun Historical Site, Behistun Inscription is the only known monumental text of the Achaemenids that documents a specific historical event. In 19th century, the trilingual inscription became a Rosetta Stone: a key to decoding previously undeciphered ancient languages. Bisotun inscriptions are in Old Persian, Elamite and Babylonian languages. In them, he documented his genealogy, bragged about his royal virtues and power, and recounted the story of how he defeated rebellions and other pretenders to the throne and reestablished the empire. The inscription is 15 meters high and 25 meters wide.
The relief portrays Darius, holding a bow (symbol of power) and stepping on the chest of a pretender to the throne. Two noblemen are standing behind the crowned king. Plus, nine rebel leaders are standing before him with tied hands and ropes around their neck. Above them, you can also find Ahura Mazda (Zoroastrian God) with a circular band in his hand (symbol of the vow between mankind and god).
The Statue of Hercules in Behistun Historical Site
You might be surprised to see the figure of a Greek mythological hero in Iran. But in Behistun Historical Site, you'll see the stone sculpture of Hercules. The statue of Hercules dates back to 153 BC (probably a Seleucid or Parthian work), but it was hidden from the world until mid-20th century. The naked heroic figure rests on a lion skin and holds a cup in his left hand. The statue is 1.47 meters long and it comes with inscriptions and reliefs. The relief shows an olive tree with an arrow quiver hanging from it. Why did Persians create a statue of a Greek god? Some believe that the ruling class was interested in Greek mythology and Hercules reminded them of the Persian legendary figure Verethragna.
Balash Rock Relief in Behistun Historical Site
On Mount Behistun, you can find a large rock with the image of 3 men on its 3 faces. Probably carved between 51 to 228 A.D., the rock carving shows King Balash (Vologases of Parthia) on the main part. King Valash is wearing traditional clothing and seems to be in the middle of a religious ritual. He seems to be placing something in what looks like a fire altar. Yet, the other 2 men on the sides of the rock are unknown.
Farhad Tarash in Behistun Historical Site
Like to hear a romantic story from Persia? Then Farhad Tarash is the place to be. In Behistun Historical Site is a long rock that has been attracting interest from archeologists, geographers and travelers throughout history. The wall is 200 meters long and 36 meters high. The origin of the smoothed rock is still a mystery. But there are many guesses and stories. For example, some believe that it was meant to be the back wall of a palace of Sassanid king, Khosrow II. Some other experts believe it to be an unfinished Achaemenid inscription.
But local folklore has the most romantic version of the first story. Attributing the rock to a tragic romance in Persian literature, the local folk believes it was the sculptor who worked for Khosrow II that created it. Farhad fell madly in love with princess Shirin, the girl the king was also in love with. To get rid of him Khosrow put Farhad on the impossible task of creating stairs out of the cliff rocks of Mount Bisotun in exchange for Shirin's hand in marriage. Khosrow thought the task to be absolutely impossible. But to his surprise, Farhad's passionate love made him work day and night until he scared Khosrow. So, the king sent a messenger to Farhad with the fake news of Shirin's death. After hearing the tragic news, Farhad threw himself down the mountain and died.
Bisotun Shah Abbasi Caravanserai
Right in front of Farhad Trash, on the main road that connected Persia to Mesopotamia, you'll see a Safavid Caravanserai. Abbas I of Persia ordered the construction of this now historical monument. The well-preserved building is a prototype of Persian caravanserais. First of all, the walls are made of carved stone and bricks. Also, there are 7 arches on the two sides of the portal. Plus, in each side of the courtyard, you can see 6 rooms and 4 hexagonal iwans are on the four corners. The gorgeous building was repaired a few times until it started functioning as a hotel.
More About Behistun Historical Site
Visit Hours
8 a.m. to 6 p.m.
Visit Days
All days except some public holidays.
Attractions Near Behistun Historical Site
In Behistun Historical Site, you can also check out an incomplete Sassanid Palace, a Safavid era historical bridge, Arsacidian Goodarz the 2nd Inscription. Nearby, you can also see Pahlavi Script Inscriptions.
Where to Eat Near Behistun Historical Site
Zhouvani Restaurant
Like to check out Behistun Inscription?
Our Behistun, the History Museum tour and our 16-day Deep into the Heart of Persia tour will take you there.
Mount Behistun (Bisotun) Tours
Visit the heritages of Kermanshah: Anahita Temple, Bisotun Inscription & Eshaqwand Rock Tombs.
Tehran ➜ Hamedan ➜ Kermanshah ➜ Ahvaz ➜ Shiraz ➜ Yazd ➜ Isfahan ➜ Kashan ➜ Tehran