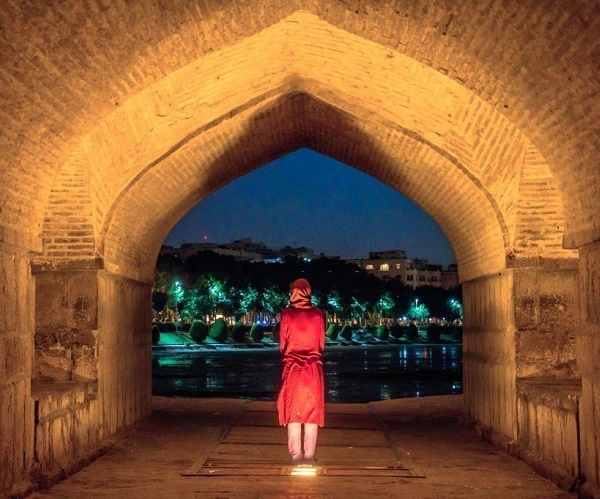 BEST Iran Bridges: List of TOP Bridges in Iran
For some people, bridges are just constructions built to pass over natural features such as rivers and valleys. Yet some people consider bridges as signals of civilization and representations of architectural art. Iran bridges of historical value are so attractive. There are many historical bridges in Iran and each of them is unique by means of architecture, location, and history. In this blog, we are going to show you some of these popular bridges and talk about their history and architecture.
Iran Bridges
Bridges in Iran, have a long-term history. Iranian bridges are not just something to pass over; since they can tell you a lot about civilization. There are some Iranian bridges from the age of Achaemenids, that are explored recently. In the age of great Darius for example, the bridges were so important. The territory of Iran in that age was so vast, and bridges were the intermediates of the important roads. There are also some Iran bridges from Sassanid period that are still usable and firm. These Iranian bridges testify the glory of ancient Iran; yet these bridges are not the only ones.
There are spectacular bridges from other post-ancient ages such as Safavid period that are firm, beautiful and architecturally marvelous (Siosepol & Khaju bridge for example). Iran's bridges, like many other buildings, were not just built to suffer from people's weight on them. You can find sophisticated philosophical backgrounds for their art of architecture, especially in bridges built in the Safavid period. These are the best Iran bridges that you might be interested to read about:
Band-e-Qaisar
Pol-e Dokhtar (The Girl Bridge)
As one of the most popular Iran bridges, it was built in the 12th year of Shah Abbas the 1st sultanate. They call it "Siosepol or 33 Bridges" for it has 33 chambers. The construction of this Iranian bridge was especially designed to be placed in water; and dryness of Zayandeh Rud can be dangerous for its' maintenance. Some say this bridge was used for "AbPashan" celebration. In this celebration people played in Zayandehrud and threw water at each other (as a funny game) during Nowruz. Siosepol Bridge is still firm and many people pay it a visit, especially at night (because of its beautiful night-time scenery).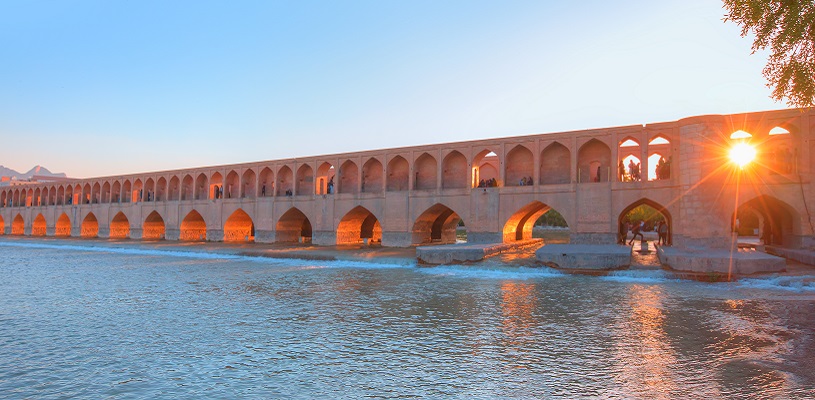 Khaju Bridge in Iran (Isfahan)
Similar to Siosepol, Khaju bridge was built on Zayandehrud in Safavid period. Because of its unique architecture and artistic sights, it is considered to be one of the best bridges in Iran. This Iranian bridge has 133 meters length and 12 meters width. Its chambers are decorated with mystical themed paintings and tile works which make it look better than the other bridges on Zayandehrud. Khaju Bridge has some other names too, yet they call it so for it is located in Khaju neighborhood.
Band-e-Qaisar Bridge in Iran
Band-e-Qaisar is considered to be the oldest Iranian bridge and one of the oldest bridges in the world. According to some clues, it was built by the order of Shahpur the 1st. This Iranian bridge is 1500 feet long. Some say that, the king Shahpur the 1st, appointed some Roman captives to build this bridge in exchange of their freedom. It is believed that this bridge was worked to water the lands and farms in Shushtar.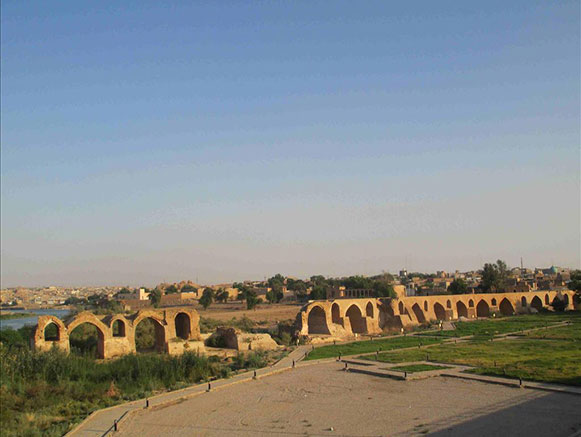 Iranian Bridges, Pol-e Dokhtar
As one of the oldest Iran bridges, The Girl (Dokhtar) bridge was built in Sassanids period on another bridge constructed in the age of Achaemenids. Pol-e Dokhtar (the Girl Bridge) was constructed on Kashkan river, in the entrance of a city in Lorestan province. According to legends, it is called "the Girl Bridge" since it was dedicated to Goddess Anahita. This bridge is not usable anymore, and there is only one chamber remained.