Chabahar Tourist Attractions | Things to do in Chah bahar
A piece of heaven in southeast Iran! That's what Chabahar is! Beautiful beaches, unbelievably rare nature, and the sweetest people make this less-discovered land a one-of-a-kind destination. Packing up for there? Then you'll need this list of the top tourist attractions of Chabahar. If Chabahar is hosting you for 2 to 3 days, start from the top of the list and discover the Chabahar tourist attractions.
Chahbahar Tourist Attractions – Things to Do in Chah Bahar
Things to Do in Chah Bahar – Chabahar Rocky Beach
One of the must-see Chahbahar tourist attractions is a rocky beach in Bandar Chabahar. Nature is going to take your breath away with the grand beauty of Chabahar's Rocky Beach. Give yourself up to the impressive music of the massive waves that crash into the grand rocks. Also, get fascinated by the incredible view of the broken waves rushing meters up into the air. The strength of seasonal winds in July and August makes these waves reach as high as 15 meters! That's why this rocky beach is known as the natural fountains of Iran. The green moss that covers the rocks has added to the beauty of this top Chabahar attraction.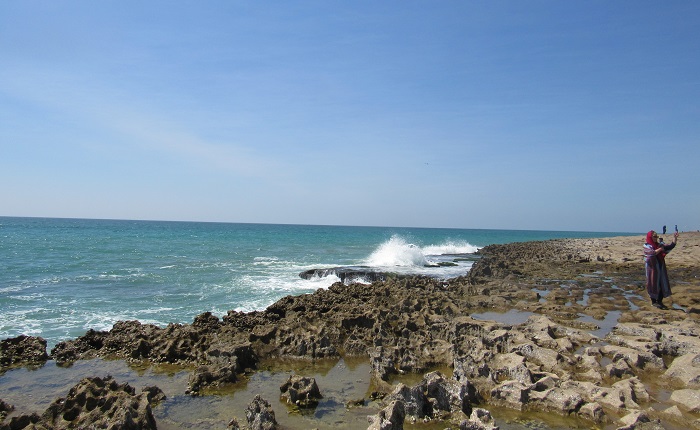 Things to Do in Chah Bahar – Lipar Pink Lake
Chahbahar pink lake Lipar is one of the Chahbahar tourist attractions that you don't want to miss. On your way from Chabahar to Gwadar Bay, you'll find a lovely jewel: Lipar Pink Lake. The phytoplanktons that live there and the minerals that rivers carry into it have blessed it with its adorable pink color. As a trapped part of the Gulf of Oman, this lake has become a safe home for a group of animals and plants in the region. The beach plants that grow around Lipar Pink Lake have created scenic views. Flamingos and other migratory birds not only make this chabahar attraction more charming, they also make it a great bird-watching destination.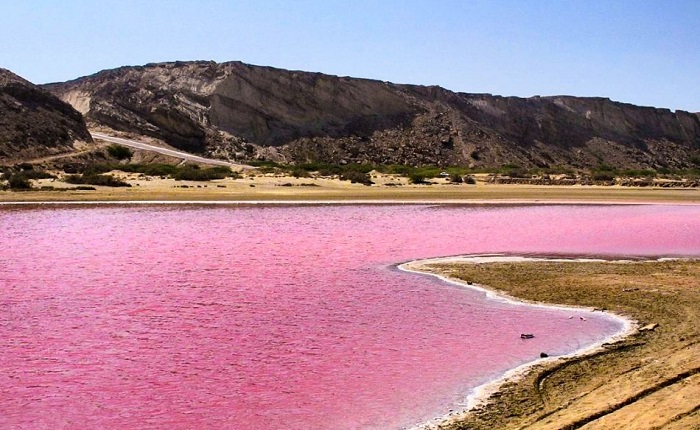 Chahbahar Tourist Attractions – Martian Mountains
Chabahar's other worldly Martian Mountains are of the top Chahbahar tourist attractions. Reminding you of planet Mars, these handsome mountains feature rare sights created by wind and water erosion. On one side, you'll be fascinated by the fantasy color of the unearthly mountains. And on the other side, the dreamy view of the beach, the sea, the red sand and the desert bushes will bless you.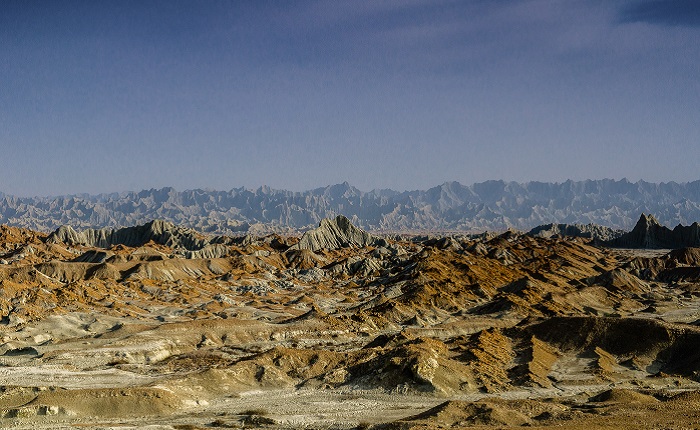 Things to Do in Chah Bahar – Beris Port
Behind the Martian Mountains and 60 km to the east of Chabahar, you'll discover the beautiful Beris Port, that is one of the must-see Chahbahar tourist attractions. As the nearest port to the Indian Ocean, this Chabahar attraction borders the beautiful Gulf of Oman. There, sea birds, a permanent peace, and warm people will be expecting you. You can enjoy a walk on the sandy and rocky beaches, enjoy a boat ride on the shimmering waters, or mingle with the adorable people.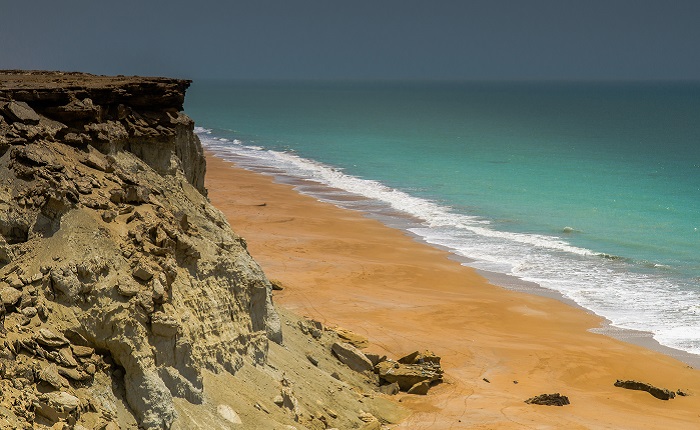 Things to Do in Chah Bahar – Gwadar Bay
At the far southeastern end of Iran, bordering Pakistan, you'll find an old little port known as Gwadar Bay which is one of the best Chahbahar tourist attractions. This adorable beauty shines like a heavenly jewel beside the Gulf of Oman. Each year, early in fall, Gwadar becomes host to a group of over 40 types of migratory birds. Apart from the adorable wildlife, this Chabahar attraction also blesses you with protected mangrove forests and the sweetest people. The unbelievable hospitality and warm heart of the locals will not miss to touch your heart.
Things to Do in Chah Bahar – Pozm Tiyab Port
For the most captivating sunset, find your way toward Pozm Tiyab Port (60 km to Chabahar). This lovely little village is mainly popular for the beauty of its beaches at sunset. To catch a better view of the port's lovely sandy and rocky beaches, walk up to the nearby mountain and spend hours watching the boats and the daily life of the local fishermen.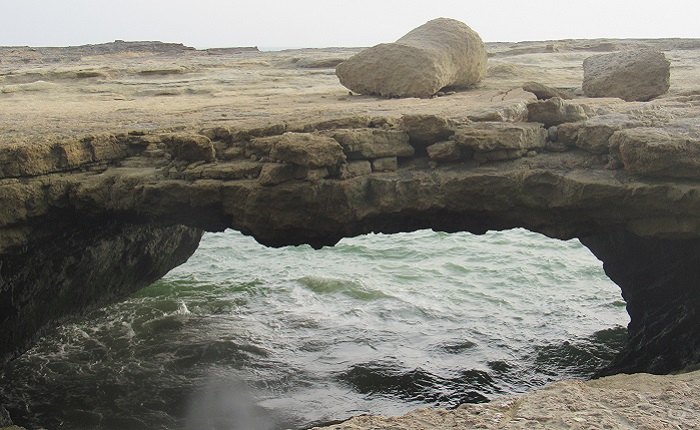 Chah Bahar Tourist Attractions – Tang Mud Volcano
Find one of the world's rarest attractions 108 km from Chabahar: Tang Mud Volcano! What is a mud volcano? Imagine a volcano that sends out muddy bubbles instead of lava! Not only is it interesting, it is also a beautiful sight! As Iran's largest and most famous mud volcanos, this natural wonder could be one of the coolest places you've ever been to. Of the 3 volcanic hills of this Chabahar Attraction, only one is still active. It could be a little hard for some people to climb the hill, but the fun that expects you up there is definitely worth it.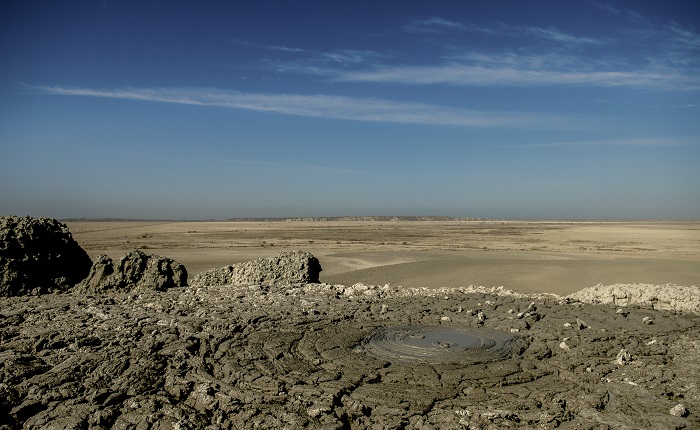 Things to Do in Chah Bahar – Bandar-e Tang
Bandar-e Tang is yet another gorgeous treasure bordering the Gulf of Oman. The unique nature of this small port village is what makes every visitor fall in love with it. It is one of the rare places where the desert meets the ocean. This spectacle, as well as the sandy beaches, rocky beaches, sacred fig trees, extraordinary mud volcanos, and lovely people make Bandar-e Tang a sweetheart.
Darak Beach – ChahBahar Tourist Attractions
Darak Beach, one of the top Chahbahar tourist attractions is the fantasy world where ocean and desert sand meet each other. In this Chabahar attraction, it seems like beauties of all kinds have gathered together to create a masterpiece of nature. From rocky beaches to coral beaches and white healing sands, and from green palm orchards to towering mountains, Darak has it all! Catching the sunset in this beautiful beach will turn into one of those unforgettable memories.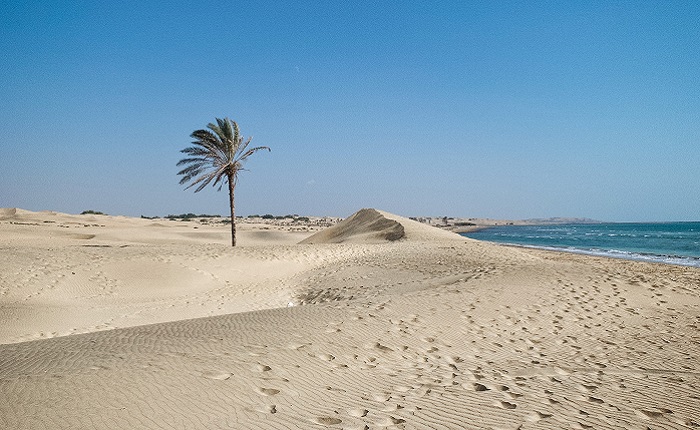 Being different is cool! And going on an adventure through the less-discovered...