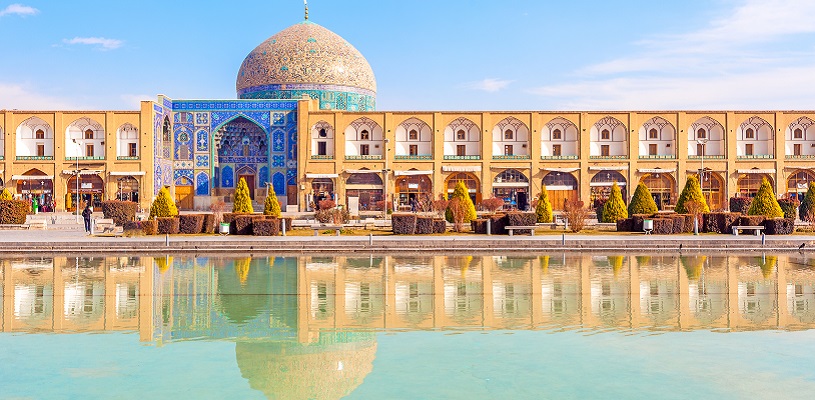 Isfahan Tourist Attractions | Things to do in Isfahan (Esfahan)
Isfahan, the cradle of the Islamic architecture of Persia, is a living museum of Iran's traditional culture. As one of the main points on Iran's classic tourist route, this historical city is home to a gallery of popular sights. But which city (or out-of-the-city) attractions should you include on your itinerary? Well, that depends on how many days you're dedicating to this must-see city. If Isfahan is hosting you for 3 to 4 days, start from the top of the list and check out the Must-see Isfahan Tourist Attractions. If you've got 5 to 6 days to stay, after the must-see section, move down the Isfahan Attractions worth Seeing list. And if you've fallen in love with the city and want to stay for more than 6 days, you can move on to the Have More Time section.
Must-see Isfahan Tourist Attractions – Things to Do in Isfahan
Naqsh-e Jahan Square is one of the best Isfahan Tourist attractions. In the heart of Isfahan, the impressive Naqsh-e Jahan Square (UNESCO world heritage) shines like a precious jewel. As an exceptional legacy of the heydays of the city, the 16th and 17th centuries, the square is half the reason why Isfahan is so popular. This Isfahan attraction is a gallery of masterpieces of architecture. Lose yourself in the Islamic art of Shah Mosque. Let the architectural beauties of Sheikh Lotfollah Mosque charm you. Fall in love with the stunning Ali Qapu Palace. And enjoy a pleasant walk at the Grand Bazar.
Isfahan abounds in fabulous attractions, each of which manifest its unique beauty. But the elegant Chehel Sotoun Palace (UNESCO world heritage) is something else. Chehel Sotun is one of the top Isfahan attractions. The huge pillars, paintings, mirrors and precious tiles of this Isfahan attraction have made it one of the masterpieces of the golden age of the city. The great thing is that, you can reach the palace from Naqsh-e Jahan Square on foot.
Isfahan Tourist Attractions – Jameh Mosque of Isfahan (Atiq Mosque)
Jameh Mosque of Isfahan, as one of the oldest Iranian religious structures and one of the top Isfahan tourist attractions, stands out in the historic district of Isfahan. Indeed, the glorious structure of this UNESCO World Heritage site has evolved over centuries. And each section of it features evolution of architecture in 7 eras of Persian history. The main highlight of the mosque is the exceptional stuccowork of its Mihrab (the space in the mosque where the religious leader stands).
Things to Do in Isfahan – Mollabashi House of Isfahan
Mollabashi House, also known as Motamedi House, is one of the popular Isfahan tourist attractions, which has witnessed diverse historical periods. This Isfahan attraction owes its fame not only to its historical stories, but also, to its amazing Iranian architecture. Dazzling mirrorwork wall decorations, amazing paintings on the stucco, and the chandeliers particularly charm the visitors.
Isfahan Tourist Attractions – Monar Jonban
Monar Jonban, or Shaking Minarets of Isfahan, is a rare attraction in Isfahan. Experience the blend of Iranian-Islamic architecture in this amazing structure. In fact, this site is the resting place of a 14th century mystic. Above all, the two 17-meter-high minarets of the tomb are phenomenal. To put it another way, if you stand on the roof and someone shakes one minaret, you will realize that the other minaret will start shaking, too. Moreover, wonderful black, turquoise, and white tiling adorn these minarets. Also, another remarkable architectural feature of these mud-brick minarets is that they are of the lightest and thinnest minarets of the world.
Things to Do in Isfahan – New Julfa Quarter of Isfahan
Welcome to New Julfa Quarter, one of the most popular Isfahan tourist attractions. A beautifully intact historical neighborhood! That's what New Julfa Quarter, or the Armenian quarter, is! This popular neighborhood of Isfahan is in fact the home of Isfahani Armenians. As the story goes, a group of Armenians migrated from around Aras river to Zayandeh Rud river four hundred years ago. Eventually, they settled in Isfahan and built this eye-catching district. Appealing historical churches, cobblestone streets, as well as tempting cafes make this Isfahan attraction a great magnet for the visitors.
Si-o-se-pol, another must-see attraction of Isfahan, is a historical bridge on Zayande Rud river. Although Zayande Rud has dried from time to time, Si-o-se-pol has always brought about a refreshing ambience. Above all, this bridge is still known as one of the landmarks of Isfahan and a very interesting place to see. Taking a walk through the arches of this 16th century magnet is one of the best things you can do in the city.
Imagine walking in a Walt Disney's animated fictional village or town. How exciting can it be! Travel to charming Abyaneh to realize this dream! Abyaneh Village or "Red Village" of Isfahan province is an extraordinary living museum near Kashan. The village is not a typical village! Abyaneh is particularly special in that it looks red in color and the way the villagers are dressed up reminds you of cartoon characters. This astounding terraced village exhibits 1500 years of Iranian history.
Isfahan Tourist Attractions Worth Visiting
Finding a Christian gem in the middle of a city that is known for its Islamic architecture is a real treat! In the middle of Isfahan's Armenian Quarter, New Julfa, lies this dear jewel: Vank Cathedral. Built at the climax of Islamic architecture, this Isfahan attraction became the meeting place of the world of Biblical paintings and the world of lovely domes. Furthermore, this matchless church in a gorgeous district houses a priceless, wonderful museum.
Isfahan Historical Places – Hasht Behesht Palace
Another tourist attraction of Isfahan is Hasht Behest Palace, a stunning memento of Safavid Empire (1501-1736). Among several other Safavid monuments in Charbagh district of Isfahan, including fascinating palaces and pavilions, only this glamorous palace has survived. Surprisingly, travelers who had the honor of visiting the palace in Safavid era claimed that it was more refreshing than luxurious European palaces.
Isfahan Places to Visit – Pirnia House
In addition to a city tour of Isfahan, you might plan for visiting attractions around Isfahan. Then, exploring Pirnia House in Na'in evokes what it was like to be at the house of a governor. Moreover, through a journey in the ethnography museum inside the house, you can get a taste of the desert life and civilization.
Isfahan Tourism Sites – Jameh Mosque of Ardestan
Above all, Jameh Mosque of Ardestan (a town about 129 kilometers north of Isfahan) is the first two-story mosque and the second four-Iwan mosque in the Islamic world. Plus, the historical adventures that this antique-looking mosque has gone through are absorbing. The original site once used to be a fire temple. Now, you can see traces of 4 different historical periods in this Isfahan attraction.
Isfahan Tourist Attractions – Moon Qanat
The historical city of Ardestan houses an extraordinary architectural structure of ancient Persia: Moon Qanat. This amazing 800-year-old sight, along with eleven other Persian qanats (ancient type of water-supply system), was inscribed on the UNESCO World Heritage List. With a unique engineering and architectural design, this Persian piece has turned into one of the attractions of Isfahan. Interestingly, Moon Qanat is a two-story structure. The water running in the canal on the second floor tastes better and is cooler in the winter.
Have more time? More Isfahan Attractions
Things to Do in Isfahan – Constitution House of Isfahan
In the 20th century, during the Persian Constitutional Revolution, the constitutionalists designated several meeting points in different cities, including Isfahan. Despite its lower popularity, its colorful windows, nice tilework, lovely wall paintings, and tremendous ornaments magnify the beauty of this Isfahan attraction. Moreover, astounding stuccowork embellishes the interior of the house.
Isfahan Things to Do – Chaharbagh School
Chaharbagh School is the last glorious relic of Safavid Empire (1571-1629 AD). Just as the name suggests, the school functioned as a teaching and learning center. However, it was designated specifically for religious purposes. Surprisingly, the school has been so attractive to the orientalists that some of them refer to it as the absolute masterpiece of the Safavid Empire and the Persian Tile Museum of Isfahan.
Ashraf Hall – Isfahan Tourist Attractions
Ashraf Hall is a glorious memento of the golden 17th century Isfahan. The main hall of this Isfahan attraction will impress you with an arched roof, exquisite decorations, intrinsic motifs, Muqarnas (stalactite vaulting), as well as azure stuccowork.
Isfahan Attractions – Assarkhaneh Shahi Museum
Assarkhaneh Shahi, the only existing Assarkhaneh (oil mill) in the country, a memento of the golden days of Isfahan, is a striking attraction of the historical city. In the past, Assarkhanehs were mills where oil was extracted from oil seeds and then supplied. This one-story structure with a dome-shaped roof features a genius architecture. Its design chiefly provides a suitable place for oil storage by keeping the mill cool.
Flower Garden of Isfahan – Tourist Attractions in Iran
Although Isfahan showcases appealing architecture and historical sites, it has more to offer. For example? The Flower Garden of Isfahan. No matter when you visit this astounding garden, the colorful flowers and the pleasant scent of them will be a treat to your eyes and nose. The main highlight of this Isfahan attraction that will not miss to charm you is the central area of the garden. There, you will enjoy colorful flowers designed in the form of a Persian carpet. So eye-catching!
Keywords: Isfahan sights, Isfahan city, what to see in Isfahan, city of Isfahan, what made Esfahan special, Isfahan landmarks, Isfahan beautiful places, Isfahan must see, Isfahan what to see, what to do in Isfahan