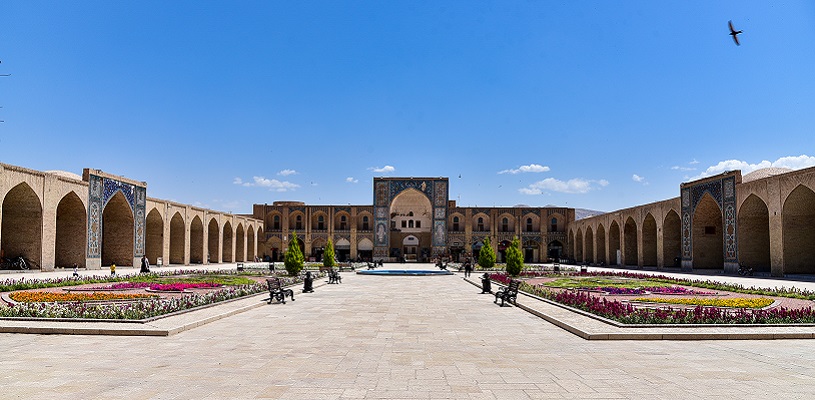 Kerman Tourist Attractions | Things to Do in Kerman
Kerman province is a land of surprising contrasts, natural wonders, and ancient civilizations. These beauties are scattered in and outside the city of Kerman. Going there but don't know where to start and which sights to visit?! Then this list of the top Kerman attractions will come in handy. If you are staying in Kerman for 3 to 4 days, start from the top of the list and check out the Must-see Attractions of Kerman. If you've got 5 to 7 days to stay, after the must-see section, move down the Kerman Tourist Attractions Worth Seeing list. And if Kerman is hosting you for more than 7 days, move on to the sites in the Have More Time section.
Must-see Kerman Tourist Attractions – Things to Do in Kerman
Travel back to four hundred years ago and lose yourself in the architectural beauties of 16th and 17th centuries Iran. Where? In Kerman's picturesque Ganjali Khan Complex. This Kerman tourist attraction includes a bazaar, Hammam (bathhouse), square, caravanserai (ancient roadside inn), water reservoir, mosque, and mint. Indeed, Ganjali Khan Complex is an excellent example of an ancient welfare services complex in Persia. On the three sides of the Square, you can take a walk in the Grand Bazaar of Kerman, the largest historical grand bazaar in Iran.
Kerman Tourist Attractions – Shazdeh Garden
Like to discover a rare gem on your cultural adventure through Iran? How about an emerald oasis in the desert? In the outskirts of Kerman's Mahan lies a green jewel: Shazdeh Garden (UNESCO-listed Persian Garden). As one of the top Kerman tourist attractions separated from its surrounding desert with high walls, this historical garden enjoys a fresh weather, a breathtaking view, a harmonious design and a genius water system.
Peaceful spirituality, mind-blowing mystery, Persian architecture, and Sufi symbolism! You can have them all together in the mausoleum of the Persian Sufi master, poet, seer, and founder of a yet active order of Dervishes: Shah Nematollah Vali. 35 kilometers to the southeast of Kerman, a town known as Mahan features Shah Nematollah Vali Shrine. This gorgeous Kerman attraction is the perfect place to learn about Persian mysticism, Persian architecture, and unbelievable predictions about the future of the world!
One of the most exceptional Kerman tourist attractions are undoubtedly the Kaluts (yardangs) of Shahdad in Lut Desert. The region abounds with breathtaking kaluts. These extraordinary natural phenomena are ridges made of sand and shaped by wind and water erosion over time. Above all, the kaluts of Shahdad have created a mysterious ambience which attracts numerous visitors from across the world. Surprisingly, the central pit of the Lut Desert was the hottest spot on the earth in 2005, according to NASA. This UNESCO listed natural attraction is a wonderful place to enjoy the outdoors and to spend time in recreational activities like desert safari and camel riding.
Lut Desert Gandom Beryan – Things to Do in Kerman Province
Gandom Beryan in Lut Desert, is one of awe-inspiring Kerman tourist attractions. As some people believe that Gandom Beryan resembles the Mars planet, they call it "the Mars of the Earth". Volcanic rocks covering the desert resemble science fiction stories as well as interplanetary space travels. Surprisingly, the temperature in this uninhabited desert rises to over 71 degrees Celsius in summers. Not to mention that desert photography in Gandom Beryan is an unforgettable experience.
Things to Do in Kerman Province – Meymand Village
Before cities were born one after another in Iran, people used to live in harmony with their surrounding nature. Some built houses in the heart of mountains and gave them a terraced form. Some chose rainy regions and gave their homes sloping roofs. Among them, there were some people who preferred to set the foundations of their lives in caves. You might think that cavemen vanished a LONG time ago, but a trip to Meymand Village (listed in UNESCO as the Cultural Landscape of Maymand) will change that picture for you. In this precious little village, you'll witness people still living in houses carved in the heart of a mountain.
Arg-e Bam – Kerman Tourist Attractions
Near Kerman, you'll find a stunning piece of the ancient world: Arg-e Bam. This fortified medieval citadel was home to people of all social ranks. This Kerman attraction is a great example of an adobe structure. Before the 2003 earthquake, UNESCO recognized this Kerman attraction as the world's largest adobe construction. Following this devastating earthquake, Arg-e Bam was restored and it was reborn like a proud Phoenix. Walk in the streets of this ancient city to touch the antiquity.
Kerman Tourist Attractions – Rayen Citadel
Iran's history is full of many changes and it has rarely an era without invasion. That's why you can find strong fortresses here and there. One of the best examples of the country's strong historical fortresses is Rayen Citadel. This stronghold that dates back to about 1500 years ago is one of the world's largest adobe buildings. Visiting this fortress means walking through the alleys that no ruler in history has been able to conquer.
Kerman Tourist Attractions Worth Visiting
Places to Visit in Tehran – Fath-Abad Garden
Fath–Abad Garden is a glamorous aristocratic mansion that belonged to one of the governors of Kerman. Above all, the refreshing stream running in the middle of the garden and the glorious central mansion fill you with a sense of delight. This Kerman attraction also houses a diversity of medicinal plants. Not to mention that the alluring illumination of the garden creates a lively night atmosphere making this garden a nice place to hang out in Kerman.
Kerman Tourist Attractions – Keshit Waterfall
On your trip to Kerman, consider visiting one of its surprising natural attractions: Keshit Waterfall. Why surprising? Because it is right in the middle of Lut desert! This marvelous waterfall creates a splendid pond with clear water at its base, turning this body of water to a magnificent swimming pool in the summertime. In addition, Keshit Village, featuring a wonderful green area with a charming palm garden and a water-filled river, creates a phenomenal landscape.
Kerman Province Attractions – Sirch Village
The wonderland of Kerman, a land of sun, sand, and desert, astonishes you with its Sirch Village. With a green nature and a cold mountainous climate in the middle of the desert, the village is a remarkable summer resort. Plus, This Kerman attraction features a marvelous ski area. Surprisingly, this ski resort is only 40 kilometers away from Shahdad, the hottest desert city of Iran. Once in Sirch Village, you can also enjoy hot springs, pay visits to historical sites, and check out a 1000-year-old cypress.
Have More Time? More Things to Do in Kerman
Kerman Tourist Attractions- Gonbad-e Jabaliye
Gonbad-e Jabaliye, the mysterious dome of Kerman, is a precious Kerman attraction. Whether an observatory or a tomb, the octagonal building and the dome that crowns it are a real treat to your eyes. A typical legend about the dome is that it was built using camel milk, ash, and egg white. Actually, people believed these magical materials strengthened the building. Thus, the structure is referred to as the only historical site of Kerman fully made of stone.
Things to Do in Kerman – Moshtagh Ali Shah Tomb
Wonderful Moshtagh Ali Shah Tomb exhibits three domes. Each tomb in fact belongs to one renowned historical figure of the time. The contemporary decorations including tiling, stuccowork, paintings, and Muqarnas (stalactic vaulting) magnify the beauty of the tomb.
Things to Do in Kerman – Sanati Contemporary Arts Museum
After Contemporary Arts Museum of Tehran, the alluring Sanati Museum is the second Museum of Visual Arts in Iran. The museum houses a precious treasury of contemporary artworks. It has put on display one thousand and five hundred works by Iranian artists as well as artists from all over the world. Moreover, the museum's building with black and turquoise mosaic tiling, an Iranian dome, and Persian gardens is very impressive.
Things to Do in Kerman – Harandi Museum
In the heart of Kerman city stands Harandi Museum, one of the city's magnetic attractions. Amazingly, the site houses two uplifting museums, namely Traditional Musical Instruments Museum and Archeological Museum. The Archeological Museum aims at introducing the old civilizations of southeast Iran. Thus, it houses valuable items from Jiroft and Shahdad old civilizations. Furthermore, Harandi museum is a collection of a wonderful historical mansion and garden. The aristocratic mansion with alluring Iranian and foreign architectural design as well as the Persian garden make this place a magnet for visitors.
Kerman Province Attractions – Sirch Ski Resort
The largest ski resort in southeast Iran is one of the rare attractions of Kerman: Sirch Ski Resort. Astonishingly, an hour away from Gandom Beryan desert lies this delightful winter resort. This cold site chiefly stands out against the surrounding arid region, shining like the jewel of the desert.