Kermanshah Tourist Attractions | Things to Do in Kermanshah
Kermanshah, the land of grand mountains, hospitable Kurds, Persian myths, and delicious sweets! The unique qualities of this piece of western Iran have turned it near and dear to many people's hearts. Traveling there soon? Then the first thing you need is this list of top Kermanshah attractions. If you are staying in (or around) this adorable land for 2 to 3 days, start from the top of the list and see the Must-see Attractions of Kermanshah. If you've got 4 to 5 days to stay, after the must-see section, move down the Kermanshah Tourist Attractions worth Seeing list. And if the beautiful Kermanshah is hosting you for more than 5 days, move on to the Have More Time section.
Must-see Kermanshah Tourist Attractions
Behistun historical site is one of the top Kermanshah tourist attractions. Persian civilization shows itself off on an elegant rocky mountain near Kermanshah. On Mount Behistun, different rulers from the ancient world carved mementos that have become precious legacies to the modern world. Together, these gems have created the world's largest rock carving: Behistun Historical Site. Above all,the sight features Darius the Great's remarkable Behistun Inscription (UNESCO heritage). But this top attraction of Kermanshah also showcases Farhad Tarash, Balash Rock Relief, Statue of Hercules and Shah Abbasi Caravanserai.
Things to Do in Kermanshah – Taq-e Bostan
Fascinated by ancient Persian art? Then visiting the 1700-year-old Taq-e Bostan should be on your list of things to do in Kermanshah. This stunning memento of the glory of 4th century Iran is 5 km from Kermanshah city center. As one of the most famous historical sites of western Iran, Taq-e Bostan is a collection of rock reliefs, alcoves and inscriptions left by powerful Persian Kings. On the face of a high rock in the middle of a scenic region, these powerful emperors have been showing off their glory, their royal luxuries, their religious beliefs, and their artistic abilities.
Anahita Temple – Things to Do in Kermanshah
Anahita Temple, Iran's second largest stone construction after Persepolis, and one of the most popular Kermanshah tourist attractions is another must-visit in your list of things to do in Kermanshah. But you'll need to go toward Kangavar (around 94 km) to find it. This temple was built as a place to worship Anahita: the goddess of water, the guardian angel of fountains, and a symbol of beauty, healing, and fertility. As a relic of the close bond between Persian and Greek culture, the remains of this Kermanshah attraction stand on a platform on the top of a hill.
Takieh Moaven ol-Molk is a spectacular religious heritage from the 20th century and one of the best Kermanshah tourist attractions. Chiefly, the monument has served to commemorate the martyrdom of Imam Hussain (the third Shiite Imam) in 680 AD. The shrine still remains pretty much active. In a special month, Shiite Muslims gather in this shrine for mourning and acting out plays. This Kermanshah attraction is well-known for its glamorous and exceptional decorative tilework as well as the admirable paintings. Moreover, the images carved on the tiles display scenes of religious battles and ancient kings.
Kermanshah Tourist Attractions – Uraman Takht
In the heart of the beautiful Uramanat Mountains of western Iran, a town has been lying for over 3000 years: Uraman Takht. The scenic terraced plan, and lovely stone houses are only a small piece of the beauties of the town. It is the traditional lifestyle, the hospitable people, the Kurdish mysticism, and the sweet customs that give the place so much charm.
Things to Do in Kermanshah – Biglar Beigi Tekyeh
Among the fascinating Kermanshah tourist attractions, is Biglarbeigi Tekyeh, a place used for the mourning ceremonies of the third Imam of Shiite Muslims. The charming ornamentation of the Tekyeh, the eye-catching mirrorwork, stucco columns, geometric and floral motifs, and candle chandeliers, fill you with admiration. In addition, Zagros Paleolithic Museum inside this Kermanshah attraction showcases exceptional artifacts from the Old Stone Age (beginning 3.3 million years ago).
Things to Do in Kermanshah – Quri Qale Cave
By visiting Quri Qale Cave in Ravansar (about 67 kilometers north of Kermanshah) you will be experiencing the largest water cave in the Middle East. Moreover, the over 65-million-year-old Quri Qale is the longest cave in Iran. Not only is this thrilling cave one of the fantastic natural attractions of Kermanshah, but it is also of archeological importance. Believe it or not, archeologists unearthed pretty old artifacts from the cave, some of which date back to millions of years ago.
Kermanshah Tourist Attractions Worth Visiting
Dating from 1200 years ago, the terraced village of Hajij is one of the unique attractions of Kermanshah. Hajij village lies in Hawraman region, the paradise of Western Iran. This picturesque village fills you with a sense of wonder and treats you to a unique culture and adorable beauties. Its hospitable people, wonderful handicrafts, and beautiful landscapes make this terraced village undeniably one of the most popular tourist destinations. On your way to the village, wonderful Sirvan Lake, as well as the pure nature, will enchant you.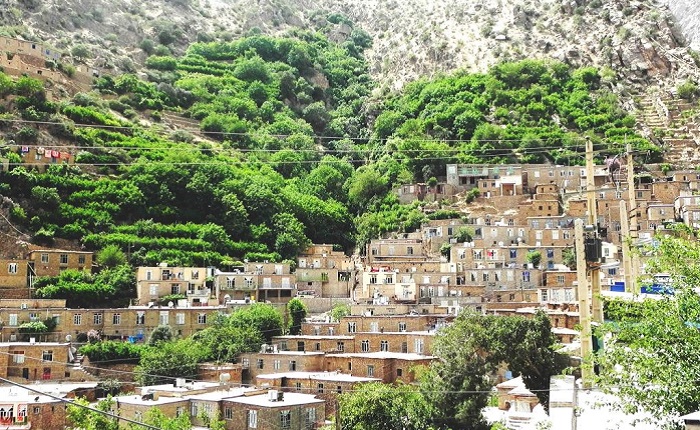 Kermanshah Attractions – Kermanshah Bazaar
The fabulous traditional Bazaar of Kermanshah stands out in the city's historic district. The bazaar chiefly features diverse passageways exhibiting a series of shops. Taking a walk through each of these passages touches you with a different atmosphere. In one, you'll find yourself among a rainbow of cloth shops. In another you'll find delicious cookies. And another one will present you with fine copperware.
Non-Christians spend hours admiring the beauties of a church and non-Muslims enjoy drowning in the spiritual ambiance of a mosque. For each of us, it is something special that puts them on our bucket list. If you've been to Turkey before, you must have seen many mosques with a dazzling architecture. In Kermanshah, you can find a lovely mosque that reminds you of these Turkish mosques: Shafei Mosque. As one of Iran's most elegant mosques, this Sunni mosque charms you with its uplifting architecture and rare plasterwork.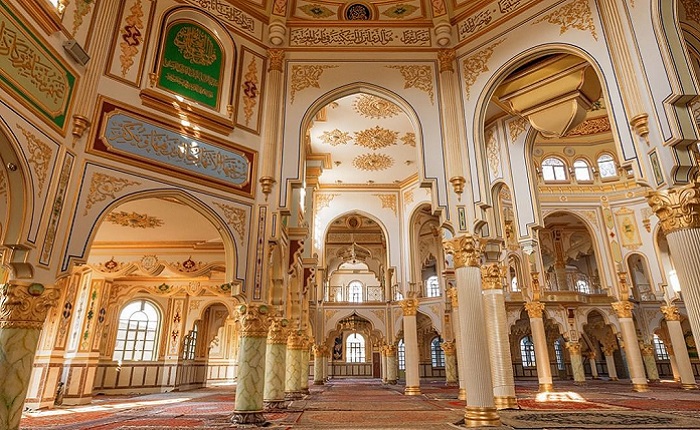 Things to Do in Kermanshah – Eshaqwand Rock Tomb
Eshaqwand Rock Tomb is an unusual charm. This Kermanshah attraction comprises three historical tombs cut into the face of a towering rock. Interestingly, these tombs are among the earliest and precious examples of rock-cut architecture. Some archeologists believe that these tombs date back to the Median era (around 500 BC).
Have More Time? More Things to Do in Kermanshah
Piran Waterfall in Kermanshah
For the nature enthusiasts, exploring Piran Waterfall about 160 kilometers west of Kermanshah city will be an unforgettable experience. Surprisingly, this refreshing natural attraction is a three-story waterfall and one of the tallest waterfalls in Iran (around 180 meters high). The obvious visual appeal of the route leading to this spectacular waterfall is only a piece of the charms of the place. The sound of the waterfall also creates a refreshing ambiance as you are immersing yourself in the wonders of Zagros Mountains.
Kermanshah Attractions – Sarab-e Nilufar
Sarab-e Nilufar (meaning the lotus mirage) is another piece of heaven in Kermanshah. The lotus covered lake is a real picture-perfect scenery. Fascinating stories and legends about this adorable tiny lake indicate the existence of deep caves in the depths of the lake. One of these stories tells of a hidden treasure, belonging to a famous Iranian king, in the bed of the lake.
Taq-e Gara
Taq-e Gara is a mysterious attraction of Kermanshah. Now near Sar Pol Zahab and 500 meters away from the main road, this stone structure used to be on a paved main road that connected the Iranian Plateau to Mesopotamia. Nobody knows for sure what this tiny structure was built for. But most experts believe it was built in late Sassanid empire (224-651 AD).