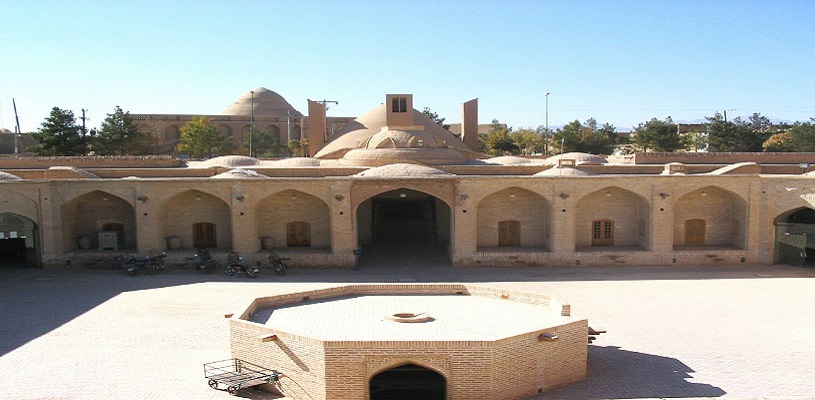 Shah Abbasi Caravanserai – Meybod, Nishapur, Yazd, Iran
No matter whether you are a fan of an elegant five-star hotel, or a basic tiny inn; or simply prefer camping in your tiny tent or camper van while you are travelling, you need a shelter for your overnight stay. How about choosing a place that offers room and board services with extra option of night sky observation? Sounds tempting, right? Well, just like us, travelers in the past also needed an accommodation during their trips. Indeed, our ancestors were aware of this fact and came up with some solutions, too. Above all, a very practical idea was building Caravanserais, such as the seventeenth-century Shah Abbasi Caravanserai in Meybod, Yazd. Scratching your head and wondering what this all is? So, come along with me to discover it!
Why Visit Shah Abbasi Caravanserai?
The subtle architecture of Shah Abbasi caravanserai with Iwans (porches) and VIP chambers
An unrivalled feel of stay in an ancient hotel
The delightful collection of hand-woven floor coverings in Zilou Carpet Museum
An amazing ancient courier house nearby with its impressive items on display
Caravanserai: Persian Hotels in the Ancient Times
These days, travelling has become popular among people of different kinds. Similarly, people would travel and explore varieties of lands in the past time. Back then, Caravanserais (ancient Persian inns) served as hotels for passengers by supplying them with meal and lodge. They even would meet trading and transportation needs of their guests. Traditionally, a Caravanserais was a massive construction with several structures appended to it. Particularly, each structure fulfilled certain functions. Maybe, these ancient hotels would also get stars based on the quality of their services. So, they attempted to include any structural element that would satisfy the guests better. Who knows?!
History of Caravanserai: Make a Vow, Build 999 Caravanserais
Seriously? Rumor has it Shah Abbas I of the Safavid Empire (1501-1722) had a nightmare about the world ending in 1000 AH (or 1591 AD). So, he was terrified that the world would end and he could not resume his reign. Consequently, he made a vow to construct several inns for travelers. Some years later he constructed 1000 caravanserais as his nightmare did not come true. Later, he decided number 999 better represents the significance of his accomplishment. Actually, he believed number 999 is more mouth-filling and impressive than 1000. As a result, he ordered to destroy one caravanserai. Over time, many of these Shah Abbassi caravanserais were destroyed. Only 54 out of 999 were left, 25 of which were restored.
Architecture of Shah Abbasi Caravanserai
If you have the chance to visit Shah Abbasi Caravanserais, you will notice that they all share a similar architecture. However, they might look slightly different from each other. This is partly due to the restorations they have undergone. Are you craving for exploring a nostalgic brick structure? Then, this is the place to be!
Four-Iwan architectural style of Shah Abbasi Caravanserai
As you stand in front of Shah Abbasi Caravanserai, you will witness an entirely walled up construction. In fact, it has been big enough to accommodate large groups of people. Head south! Only one gate in the southern wall offers access into the caravanserai. Once you step in the caravanserai, you will find a large rectangular yard before yourself. Enjoy the fabulous architecture of four Iwans (porch) embracing this central yard tightly from north, south, east, and west. A sweet flower-shaped pond sits in the middle of the courtyard.
100 Chambers of Shah Abbasi Caravanserai
One hundred chambers in the caravanserai! It must have been tempting five hundred years ago. However, twenty four chambers surround the yard and the rest are hiding behind them. Currently, these ancient chambers are home to the gift shops and local handicraft shops. Maybe you can find a sweet souvenir there! Pass through fabulous vaulted passageways that connect chambers to each other to feel like a time traveler. Lose yourself in the delight of walking in the past among travelers and traders from five hundred years ago!
Zilou Carpet Museum – Shah Abbasi Caravanserai
Step in the Zilou Meuseum and discover the ancient art from Meybod. Delightful hand-woven floor coverings (Zilou) are all over the place. Recently, Meybod celebrated becoming world city for Zilou. So, it must be an honor to experience an ingenious collection of Zilous in the Zilou Meuseum on the eastern side of Shah Abbasi caravanserai.
Water Reservoir of Shah Abbasi Caravanserai
In addition to the caravanserai, other structures served the passengers. The builders also built an Ab-Anbar (water reservoir) and a Chapar Khaneh (courier house) near caravanserai. The water reservoir would provide the passengers with fresh water for drinking and washing purposes. Today, the water Reservoir is home to the Ceramic Museum of Meybod. The museum will amaze you with its pottery workshop and amazing clay products.
Courier House of Shah Abbasi Caravanserai
Like their Achamenid (700-300 BC) ancestors, they had supplied a courier house for postal services. At this station, they provided Chapars (express couriers) with fresh supplies and horses. These couriers could rest in the caravanserai and refresh themselves with a bath and food before they resumed their journey.
More about Shah Abbasi Caravanserai
Visit Hours of Shah Abbasi Caravanserai
In Spring and Summer from 8 a.m.to 12 a.m.
In Fall and Winter from 8 a.m. to 11 p.m.
Attractions Near Shah Abbasi Caravanserai
Meybod is well-known for its mud brick structures. Hence, another popular mud brick structure that might fascinate you is Narin Castle. The adobe Meybod Pigeon Tower and Meybod Ice House are also other options. I strongly recommend you to visit Chak Chak Temple to enjoy a sense of spirituality in a Zoroastrian pilgrimage destination.
Restaurants Near Shah Abbasi Caravansary
Shah Neshin Restaurant
Chi Mail Restaurant
Fanoos Restaurant
Gandom Restaurant
Like to see Meybod's Shah Abbasi Caravanserai?
Then join one of our multi-day Cultural Tours or our Kharanaq, Chak Chak and Meybod tour.
Shah Abbasi Caravanserai Tours
The main magnets of Iran don't give you all there is to its ancient history and rich culture. To take you off the beaten...
Jump on this Yazd to Isfahan road tour to discover top attractions of Meybod & Na'in...
Shah Abbasi Caravansarai on Map