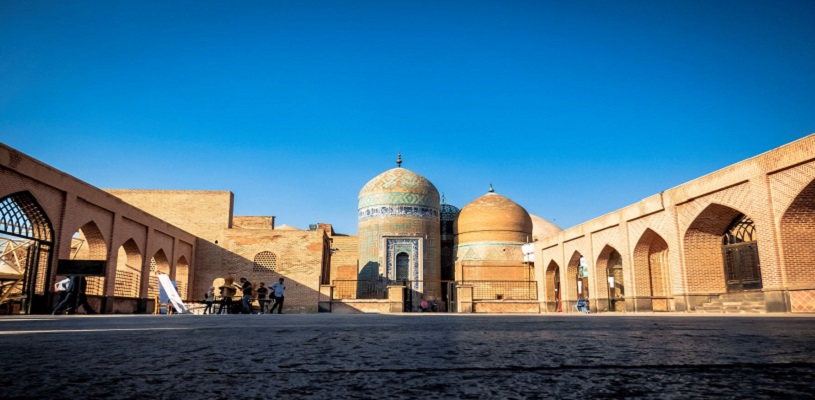 Sheikh Safi al-din Khanegah and Shrine Ensemble (Ardabil, Iran)
Are you planning to visit Ardabil? Make sure to put Sheikh Safi Al-Din Shrine on your must-visit list. This precious monument in Ardabil is a UNESCO World Heritage Site. Indeed, Sheikh Safi Al-Din Shrine is the largest and the most comprehensive and prominent Sufi Khaneqa (a building designed for the gatherings of Sufi brotherhood) in Iran. Tombs of the founders of the Safavid dynasty (16-18 AD) lie in this ensemble, which makes this monument historically valuable. Thus, this site has become so popular and outstanding. Indeed, Sheikh Safi Al-Din Ensemble is an early example of a spectacular religious complex.
In addition to the religious role, this multipurpose ensemble also fulfilled cultural, social, charitable, as well as educational purposes. The complex showcases several exceptional structures that have mainly inspired the Safavid architecture. The astounding architectural features of the complex including various types of tilework, calligraphy, stuccowork, silverwork, and gilding subtly embellish the site. Sheikh Safi Al-Din Ensemble is a wonderful architectural and artistic collection, representing glory of a Sufi (an Islamic brotherhood) religious center.
Why Visit Sheikh Safi Al-Din Ensemble?
This precious monument in Ardabil is a UNESCO World Heritage Site.
Sheikh Safi Al-Din Khānegāh is one of the largest, most comprehensive and most prominent Khaneqas (a building designed for the gatherings of Sufi brotherhood).
It is one of the rare historical sites, whose architecture and specifically its tilework is a masterpiece of 14th to 18th century.
The most distinctive architectural characteristic of the site is its elaborate stucco arcades.
Sheikh Safi Al-Din Khānegāh became a model for other khaneqahs and sanctuaries.
Who Was Sheikh Safi Al-Din Ardabili?
Sheikh Safi Al-Din was the great grandfather of the Safavids, born in the 14th century in northwestern Iran. He took religious lessons since childhood. Rumor has it that he saw visions of angles. As he grew up, he started a journey in search of a Murshid (spiritual leader) and found Zahed Gilani, the head of Zahedi order. Eventually, he became an Islamic mystic of major historical importance and renamed the order as Safaviyyah. Through implementing reforms, he transformed this local order to a religious movement throughout his life. Following his death, his successors built a glorious structure over his tomb in his honor.
What to Expect in Sheikh Safi Al-Din Complex
The architectural structures of Sheikh Safi Al-Din Ensemble displays the cultural and historical glory of the complex. Among other structures, the ensemble comprises a specialized library as well as several specialized museums including an archeology museum and a rock museum. Firstly, to enter the complex, you pass through a wooden gate, which opens up to a large courtyard. Inside this wonderful complex, you can explore various amazing buildings such as the Shrine of Sheikh Safi Al-Din, Shrine of Shah Ismail I, Shrine of Mohyeddin Mohammad, House of Porcelain, Jannat Sara Iwan, Darol Hefaz Hall, Darol Hadis, Shahidgah Cemetry, and Cheleh Khaneh.
Shrine of Sheikh Safi Al-Din
Shrine of Sheikh Safi Al-Din, also known as Allah Allah Dome, is one of the astonishing representations of Iranian architecture. The shrine features an octagonal interior, while it looks cylindrical from outside. The structure is 6 meters in diameter and 17 meters high. Various gorgeous stuccowork, floral decorations, and delicate calligraphy of Quranic verses embellish the mausoleum. Among exquisite works of art in the shrine is a wooden inlay-enamel box.
Shrine of Shah Ismail I
This shrine displays the most glorious artistic decorations. Gildings on the wall paintings, and specifically the calligraphic inscription in stucco by a well-known artist have magnified the artistic value of the shrine. An exquisite carved inlaid wooden case with geometrical patterns embraces Shah Ismail's grave.
Shrine of Mohyeddin Mohammad
Shrine of Mohyeddin Mohammad, also known as Haramkhaneh is the resting place of Sheikh Safi Al-Din's son. As you enter the shrine you behold a simple corridor which leads to the rectangular-shaped Riwaq (an arcade or portico open on at least one side) with a short dome over it. Marvelous arabesque and floral motifs adorn the southern gate. Moreover, a magnificent stucco frame with diverse inscriptions of religious motifs is installed over this entrance.
Chini Khane (House of Porcelain)
The glorious House of Porcelain or the Old Khaneqah is an architectural wonder of the 17th century. Above all, the building exhibits a symmetrical octagonal exterior. On the other hand, it features a rectangular interior with artistic polygonal wall indentations. You might wonder where the name of the building comes from. In fact, Shah Abbas I (1571 – 1629) ordered the construction of this structure. The Chinese emperor of the time offered him some porcelain items as gifts. Eventually, Shah Abbas donated the porcelain gifts to the Old Khaneqah. He notably put his seal on all the items. The architectural highlight of the Porcelain House is primarily its elaborate stucco arcade, which makes it comparable to the Music Hall in Ali Qapu (in Isfahan). Moreover, fabulous tilework, stuccowork and gilding embellish the interior of the house.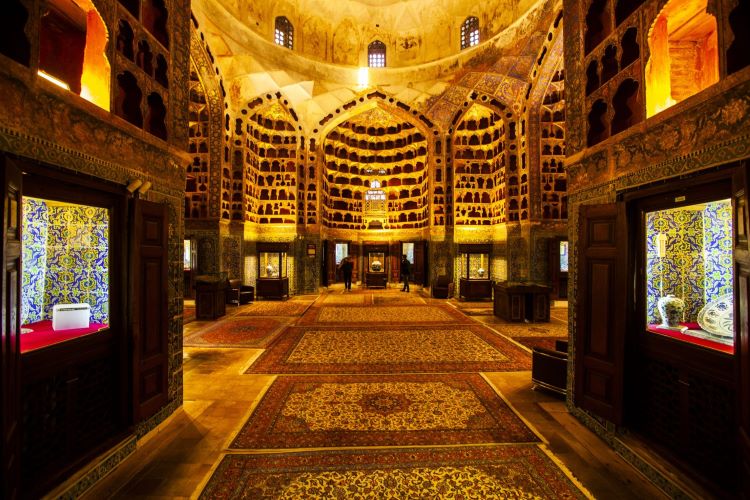 Jannat Sara Iwan
Jannat Sara Iwan (a space walled on three sides), also known as mosque, is square in shape. Indeed, it is the tallest building in Sheikh Safi Al-Din complex. Delightful arched niches, carved into each wall, embellish the interior of the building. Surprisingly, Janat Sara's mosque features no Mihrab (the place where the religious leader stands for prayers). Apparently, this area had functioned as a venue for Sufi assemblies and rituals.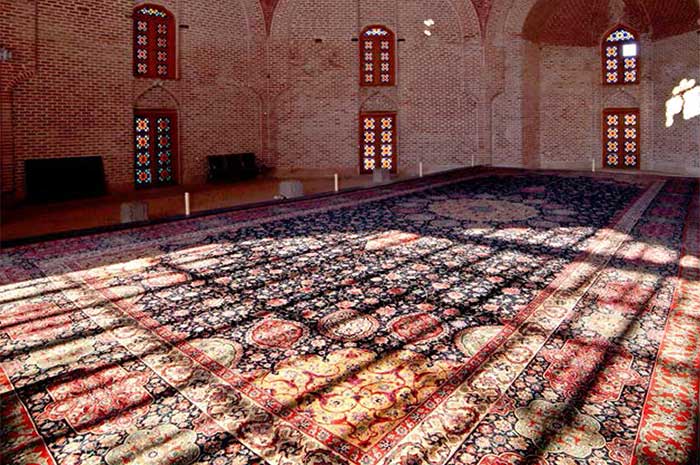 Darol Hoffaz Hall
Darol Hefaz Hall or the House of Icicle was the gathering place of Quran reciters. That is how the structure got its name. In fact, the word dar means place and the word hoffaz is an Arabic word, which means reciters.
Darol Hadis
In the east of the ensemble stands Darol Hadis or Taqe Motevalli across from the gigantic Jannat Sara building. This structure sued to serve for religious purposes including religious education and negotiation during the reign of Shah Abbas I.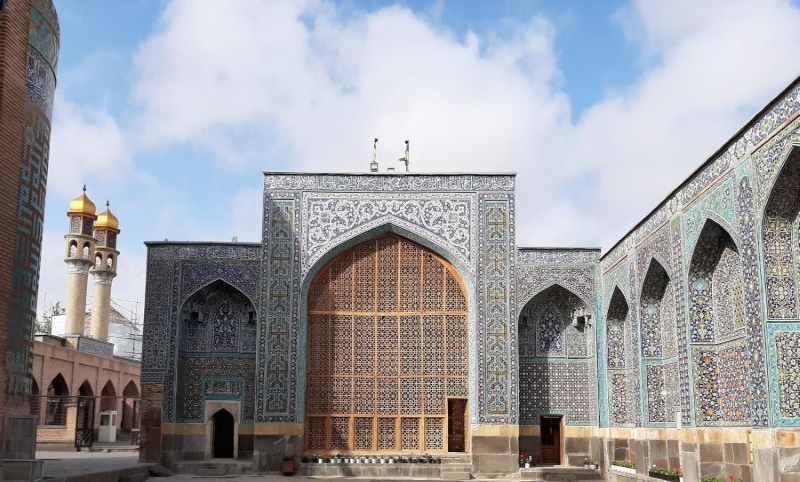 Shahidgah Graveyard
Rumor has it that, following the occupation of Shirvan (a historical Iranian region in the eastern Caucasus), Shah Ismail I along with the Safavid noblemen and commanders transported the dead body of his father and great grandfather to Ardabil and buried them in this graveyard. Furthermore, they buried some of the martyrs from the battle of Chaldiran (between the Ottoman and Safavid Empires) in the 16th century in this cemetery.
Cheleh Khaneh
Cheleh Khaneh, literally meaning retreat house, was a place where a sufi member could practice penance and solitude. Two Cheleh Khanehs stand across from each other in Sheikh Safi Al-Din Ensemble. Particularly, the older one was designed for Sheikh Safi Al-Din and the new cheleh belonged to his son.
Carpets Travelling form Sheikh Safi Al-Din Ensemble to England
The well-known carpets of Sheikh Safi Al-Din Ensemble were woven in Safavid period. These amazing carpets chiefly featured floral and arabesque motifs on the blue background with no animal or human patterns. Since the carpets lied in a religious place, they were not allowed to display any human or animal figures. Let's jump into the story of the travelling carpets. An earthquake in the 19th century ruined the vaults over the twin carpets inside the shrine. Thus, they sought help from an English company for repair. In exchange, they gave the carpets to the company. However, the English company failed to repair the carpets fully. In fact, the twin carpets did not look identical anymore. Eventually, they sold one of the carpets to Victoria and Albert Museum in England.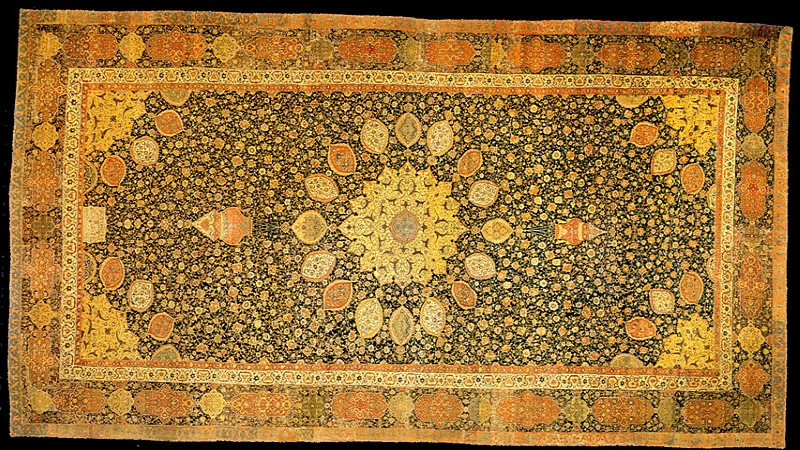 More about Sheikh Safi Al-Din Ensemble
When to Visit Sheikh Safi Al-Din Ensemble
Spring and summer from 8 a.m. to 8:30 p.m.
Fall and winter from 8 a.m. to 5:30 p.m.
Please note that the ensemble is closed on some official holidays.
Nearby Attractions
In addition to Sheikh Safi Al-Din Shrine, the sacred Alighapoo Mosque, Khadem Bashi Historical House, and the Ardabil Anthropology Museum are other attractions that you can consider when travelling to Ardabil. For nature admirers, Shurabil Lake is also an option.
Nearby Restaurants
Seyyed Agha Restaurant
Shah Abbas Turk Safavi Restaurant
Shandiz Restaurant
Moin Darbar Restaurant
Sheikh Safi Al-Din Ardabili's Shrine on Map
Keywords: Safi al din, sheikh safi al-din ardabili's shrine, ardabil shrine, shaykh safi al-din, safi-ad-din ardabili, khaneqah