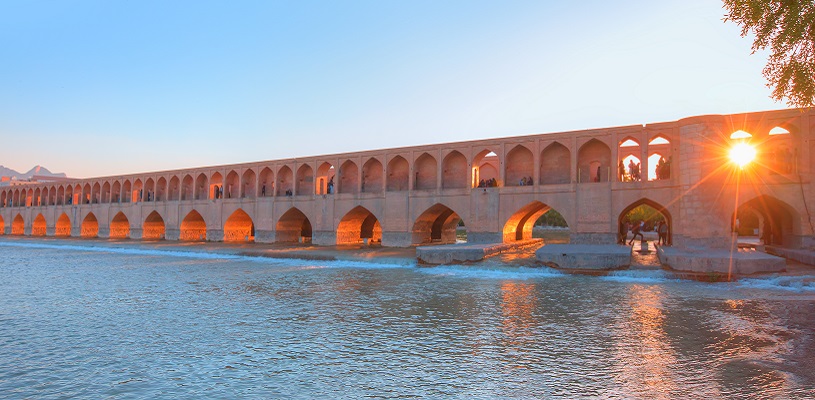 Si O Se Pol Bridge | Isfahan, Iran | The Allahverdi Khan Bridge
Si-o-se-pol is a historical bridge that is located on Zayande Rud, a river in Isfahan. Today, Zayande Rud has dried and Si-o-se-pol no longer has the atmosphere of the past. But this bridge is still known as one of the symbols of Isfahan and a very interesting place to see. This unique masterpiece is very popular among foreign visitors and tourists. Read on to find more about this wonderful place.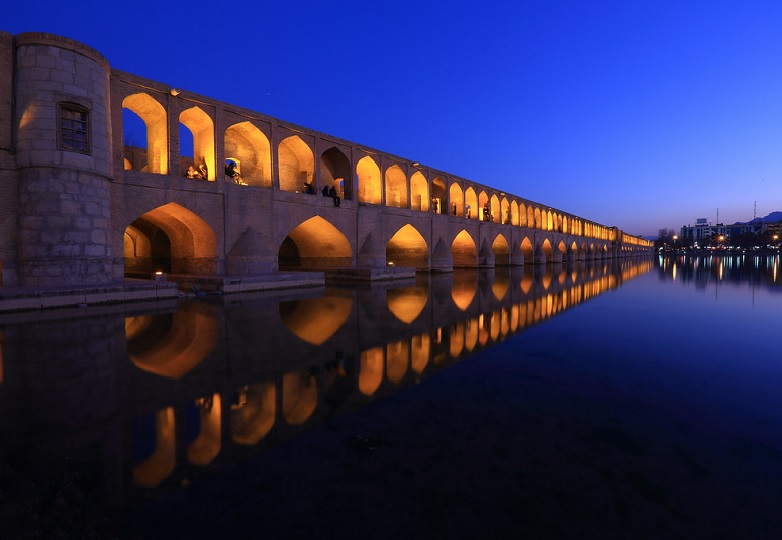 Why Visit Si o se pol bridge?
It is one of the main attractions of Isfahan that has a lot of historical value and is a kind of symbol for the city.
Si-o-se-pol is the largest and longest bridge in Zayande Rud.
It is a popular place for photography and walking.
The Story of Si-o-se-pol bridge
Some historians have called Si-o-se-polthe most magnificent bridge in the world and some have called its architecture amazing. So let's talk about the story of this bridge. The main plan of Isfahan during the reign of the founder of Safavid dynasty (1501-1736) was four gardens that consisted of two long streets. Si-o-se-polwas located along one of these streets to make a way for connecting these places. Si-o-se-pol was built by the expense and supervision of the famous commander, Allah Verdi Khan. Therefore, it is also called Allah Verdi Khan Bridge. This bridge has a strong structure and at first had 40 spans (the distance between two intermediate supports of a bridge). Some of the spans were gradually abandoned by planting trees and diverting water. And now it has only thirty-three spans.
The Architecture of Si-o-se-pol Bridge
Bridges are usually built in the narrow part of a river. But to build Si-o-se-pol bridge, the architects chose the widest part of Zayande Rud. That's because this part of the river was created in a shallow, wide and calm bed. Different types of materials have been used to build the bridge. Stone for the lower parts and brick, mortar and plaster for the upper parts. This bridge is built in such a way that moisture increases its durability and strength. So, water can't damage it in the long run.
You can see covered arches on both sides of the bridge. They face the river on one side and the middle of the bridge on the other side. This creates a roofed narrow passage on both sides of the bridge. The footpath of the bridge also has 99 niches in which there were paintings. But today you see no sign of these paintings. In the past, the bridge had six crossings. But today it has only two footpaths, one at the top and the other at the bottom with a roof. They are between the central foot of the bridge and at a short distance from the riverbed. The upper walk has a better view of the river and the city, and the lower walk is mostly a place for people to sit.
Happiness and Joy on Si-o-se-pol
During Safavid era, Si-o-se-pol was host to a range of celebrations:
The festival of pouring water: In European tourist travelogues, they mentioned an annual festival next to Si-o-se-pol. King, elders, poets, politicians and other people attended this festival. In this ceremony people sprayed water and rose water on each other, celebrated and danced.
Khaj Shooyan Ceremony: Khaj Shooyan is the name of a Christian festival. It is held on the occasion of the baptism of Jesus Christ. Believers of Christ go into the flowing waters and swim in them, believing that water is sanctified on this day. During Safavid era, Armenians of Iran held this ceremony near Si-o-se-pol on the thirteenth day of January.
Nowruz: In Safavid era, Nowruz celebration took about three to seven days and nights. For this celebration, they illuminated Si-o-se-pol. Sometimes Shah Abbas ordered a flower-laying ceremony on the bridge. Therefore, many flowers were laid in the way of the king and his companions.
More about Si-o-se-pol
Si O Se Pol – Visit hours
24 hours a day
Si O Se Pol – Visit days
everyday
Nearby Attractions
You can visit so many wonderful attractions near Si-o-se-pol. Here are some of them: Khaju Bridge which was considered one of the most beautiful bridges in the world during the Safavid era. Vanak Church, that is one of the historical Armenian churches of Isfahan and is the largest and most famous church in Iran. Hasht Behesht Palace, which is a historical palace. It was once called the most beautiful palace in the world due to its glorious decorations.
Where to Eat Nearby
Hasht Behesht Restaurant
Hermes Restaurant Café
Si-o-se-pol Restaurant
Khan Gostar Restaurant
Like to check out Si-o-se-pol?
Then don't hesitate to join one of our multi-day Cultural Tours.
See the creation process of Persian handicrafts. Join a Persian handicraft tour in Isfahan, Stop by studios & workshops of Iranian arts in bazaar of Isfahan...
Go on a walking tour in Isfahan's world-famous Naqsh-e Jahan Square & Jameh Mosque. Explore architecture & history of masterpieces in Isfahan...
Join this picnicking tour at Isfahan's historical Khaju Bridge. Enjoy the nights of city, go to the heart of Iranian culture, street music, local lifestyle...