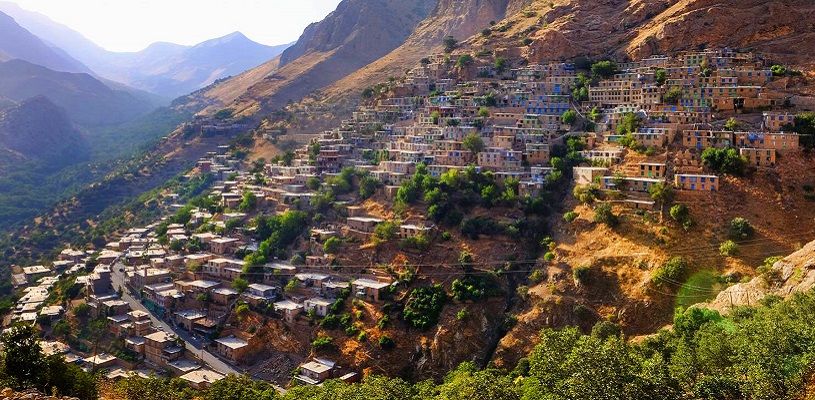 Uraman Takht Village | Hawraman – Uramanat | Marivan, Kurdistan, Iran
In the heart of Kurdistan's beautiful Uramanat (UNESCO world heritage) Mountains, a town has been lying for over 3000 years: Uraman Takht. The scenic terraced plan, and lovely stone houses are only a small piece of the beauties of the town. It is the traditional lifestyle, the hospitable people, the Kurdish mysticism, and the sweet customs that give the place so much charm. On this post, we'll pass through the winding mountainous roads and deep valleys of Zagros Ranges and find the beauties of this lovely terraced town.
Why Uraman Takht is a Must-see?
Uraman Takht is one of Iran's attractive terraced villages.
It features an eye-catching nature and beautiful sceneries.
The town is over 3000 years old and showcases houses that are 900 years old!
A night in the town will give you a taste of the sweet local lifestyle.
You can take part in the Festival of Pir Shalyar, a famous ancient custom held in the town.
The Story of Uramanat Takht (Hawraman Takht)
A lot of evidence shows that Hawraman region is of high historical value. The cavemen tools and Neanderthal bones found in the caves in the region indicate that Uraman Takht dates back to almost 40 thousand years ago (Paleolithic era). Plus, the vast cemetery and the few houses found near one of the villages in the region are almost 3000 years old. Near one of Hawraman's beautiful villages, an inscription was discovered that shows that Sargon II of the Assyrian Empire (8th century) attacked this region. Also, the oldest land contract found in the region belongs to 4th century BC and is in Middle Persian and Greek languages.
How Uramanat Takht Looks
The first thing that catches your eyes in Uraman Takht is its incredible plan. There, you'll see houses sitting on a very steep slope in complete harmony with their surrounding nature. The houses in Uramanat have a dry-stone building style, meaning that stones are put together without any mortar. Blue windows, wooden ceilings, and flower pots add to the beauty of the houses. Some of these houses are over 900 years old and are still standing.
A Tour of Uraman Takht
Walking through Uramanat Takht and discovering its beauties is a real pleasure. Yet it takes hours to see all the 20 levels of the town. You can also see all the levels in a car, but walking is really something else! The upper parts have a steeper slope, but they are less crowded and offer more stunning landscapes. On your pleasant tour, stop by the shadows of oak and wild pistachio trees, chat with the sweet natives, see local clothes, and buy lovely handicrafts.
Hawraman Takht (Uraman Takht) Attractions – A Tomb Full of Secrets
The tomb of Pir Shaliyar is the eternal home of one of Hawraman's great mystic figures. This mysterious tomb is made of rocks and features a turquoise tomb on top of it. As a sacred and legendary figure in Uraman Takht, Pir Shaliyar has marked the town with his house, tomb, and Chelleh Khaneh (a refuge where mystics pray for 40 days). The respected tomb of Pir Shaliyar has two different stories around it. One story that dates back to before the birth of Christ goes that Pir Shaliyar was the son of Jamasp, a grand philosopher in the time of Zoroaster. What about the other story? Read the next part to find out:
Uraman Takht (Hawraman Takht) Attractions – The Legend of Pir Shaliyar
In another 12th century story, the king of Bukhara (now in Uzbakistan) had a deaf mute daughter. After doctors became helpless in curing her, the father announced that he will accept anyone who could cure her as his son-in-law. Later, he heard about a man who lived in Hawraman and had healing powers. So, he set out for Hawraman. Miraculously, the girl's hearing ability recovered near the village. As they got closer to the house of Pir Shaliyar, they heard the roar of a demon. Then, they saw the demon get out and die. That was when the girl started talking. After the miraculous incident, the princess married Pir Shaliyar in a grand ceremony.
For hundreds of years, people in Uraman Takht are still celebrating the wedding anniversary of the princess and Pir Shaliyar on the last Wednesday and Thursday before the 15th of Bahman (February 3rd). Men and women in Kurdish clothes gather together for two days and lose themselves in different customs. They play Daf (a Persian drum), perform Sama dances (a kind of Sufi ceremony), cook special foods, and have praying rituals. Since the locals used to be Zoroastrians, many of the customs in Pir Shalyar Festival have ties with Zoroastrian traditions.
Komsai Festival – Uraman Takht Festivals
The locals have been holding this strange custom in mid-Spring at the tomb of Pir Shaliyar for over a thousand years. In the ceremony, someone hits a legendary stone in the cemetery with a metal rod and breaks a piece of it. Then, they distribute the broken pieces among people as blessings. The locals believe this large rock to be regenerating and so never depletes. Prayers for the dead, playing Daf music, and holding traditional rituals are of the charms of this festival.
Hawraman Takht Attractions – A Rock Mosque in the Heart of the Mountain
In Uraman Takht, you'll find one of Iran's most unique historical mosques. Despite having undergone renovations, the mosque still features an originality in its structure. The locals used rocks for the construction of the dome-less mosque and walnut wood for its doors and windows. What makes the mosque of Uraman Takht more special is its 4-story building and its 4 minarets (special towers in mosques). Inside, you can see beautiful Islamic patterns on 14 pillars made of walnut wood.
The Dreamy View of Hawraman – Uramanat Iran
Flowing rivers, green nature, and lofty mountains surrounding Uramanat Takht bless you with rare landscapes. Oak tree forests, part of the vast jungles of Zagros Mountains, are of the attractions of this region. Trees are sacred to the locals, especially wild pistachio trees. They believe they will reach their dreams by tying pieces of cloth to these trees. Plus, the Persian squirrel, one of the cutest inhabitants of Zagros Mountains, lives in harmony with these oak trees.
The Sweet People of Uramanat Takht – Kurdistan Iran
The Kurdish people of Uramanat Takht are of the charms of the place. These warm and hospitable people speak in sweet Hawrami language which used to be the official language in the region. Plus, they showcase their own local clothes. Men wear plain shirts and puffy pants. A large belt or sash around the waist completes their Kurdish outfit. Some also wear a vest or a jacket over their shirt. On the other hand, women's clothes are very colorful. They wear a vest and a belt over a long dress. Colorful pants, jewelry, and a shawl also come with their outfit.
Handicrafts and Souvenirs from Uraman Takht
If you ever go to Uramanat Takht, you won't come back empty handed. The organic products and adorable handicrafts of Hawraman are really tempting. Herbs, walnuts, berries, and raisins are of the popular products of the region. One of the handicrafts you can find in the town is Kalash or Giveh shoes, a kind of traditional Kurdish men's shoes woven by cotton. Arghavan Bafi, making baskets with the branches of Eastern Redbud trees, is also a common art in Uramanat. Also, Kurdish clothes, felt products, wooden kitchenware, and traditional jewelry are of the other things you can find on your trip to Uraman Takht.
Uraman Takht Local Food
Being located in the middle of mountains, valleys, and rivers has blessed Uraman Takht with wild herbs that give the local food unique tastes and smells. Rhubarb stew, stuffed vine leaves, and spear thistles are of the popular foods in the region. Other mouth-watering local foods are: Yekaveh: a combination of rice, raisins, fried onions, and dates; Tarkhineh: a combination of drinking yogurt, bulgur wheat and local vegetables; Shalam: a kind of food with turnip; and Ghawermeh: meat cooked with a lot of spices and fried onions. Different kinds of bread like Shalkineh, Barsagh, and Kalaneh are also of the delicious treats of Hawraman.
More about Uraman Takht – Kurdistan Iran
The best Season to Travel to Uraman Takht
The best time to visit Uraman Takht is spring, especially late April to late May. Except for the beautiful nature, in spring, you can also join Komsai Festival. Hawraman is a mountainous region that receives a lot of rain and snowfall in winter. Yet, participating in Pir Shalyar Festival is well worth the freezing weather.
Where to Eat in Uraman Takht
Kurdiya Restaurant
Kemala Restaurant
Banafsheh Café Restaurant
The road is calling you with its fascinating nature for an unforgettable one...
Uraman Takht (Cultural Landscape of Hawraman/Uramanat) on Map
Keywords: هاورامان, Hawraman Kurdistan, village Kurdistan, Kermanshah Kurdistan, Hawraman Map