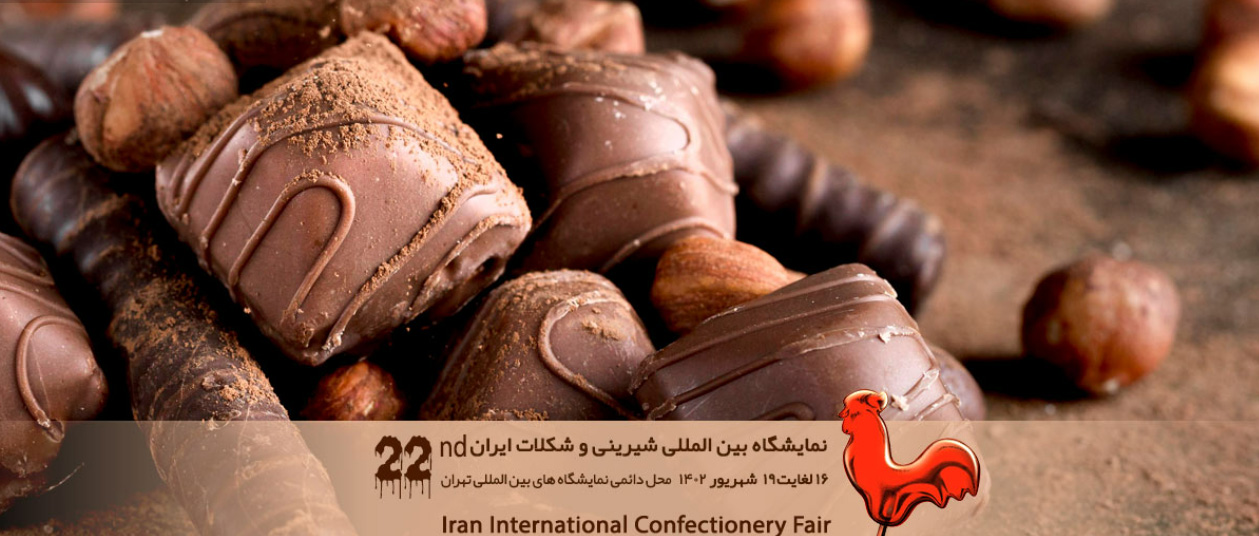 The 22nd Iran International Confectionary Fair at Tehran 2023
The 22nd International Confectionary Fair at Tehran 2023 is going to be held from September 7th to 10th, 2023. This international event in Tehran is considered to be the most important event in related industries in Iran that presents a great chance for businesses active in related areas to put their products, services, and latest technologies to show. Interested in this event? IranOnTour is always there for you!
The MICE (meetings, incentives, conferences, and exhibitions) services that IranOnTour's MICE department offers to our customers are tailored to meet their expectations regarding quality, schedule, and point of interest. Additionally, we offer all of the necessary business travel services to ensure our clients' safe, successful, and stress-free travel experiences. Our goal at IranOnTour is to ensure our clients have an effective work excursion liberated from stress, liberated from pressure, with a focus on their business improvement, and a recreational cultural tour during their leisure time on business trips.
Time left until the exhibition
The 22nd Iran International Confectionary Fair at Tehran 2023
The 22nd Iran International Confectionary Fair at Tehran 2023 (which is going to be held from September 7th to 10th) is regarded as one of Iran's most significant international events in the confectionery industry. The 22nd Iran International Confectionery Fair at Tehran 2023 provides businesses in related industries from Iran and other nations with a fantastic opportunity to learn about the most recent developments in their peers' business sectors, showcase their products, find partners and investors, and also identify market gaps that need to be filled. Looking forward to participating?
IranOnTour is looking forward to welcoming you to this international event. Due to our years of experience organizing business trips from a variety of nations, MICE services and tours, and business consultation services in Iran, we have access to all of your options! We handle the accommodation booking for you, hire the best Iranian interpreters who communicate in your language, offer you an assortment of transportation choices in light of your inclinations and timetable, and, finally, share our local business knowledge with you to assist you with making your business travel more effective by establishing beneficial relationships with Iranian market players and helping you in connecting with Iranian companies that are working in your desired business sectors.
Why the 22nd Iran International Confectionary Fair at Tehran 2023?
Finding out about the latest advancements and business improvement techniques in related ventures
Filling market gaps in Iran and other partaking countries
Finding likely accomplices, financial backers, and supporters from Iran and different nations
A phenomenal chance to put your products, technologies, and business concepts to show
Services we provide for the 22nd Iran International Confectionary Fair at Tehran 2023
From the airport you arrive at, to the airport you go home from, all your travel requirements will be served by a professional team! What we offer as your business travel services include but are not limited to:
Booth Selection: To make your travel to Iran comfortable and your trade shows successful and stress-free, we will handle the booth selection process and travel arrangements for you.
Interpretation Services: The most professional interpreters are available in Iran to help you and your business relationship run smoothly.
Logistics: Supplying all equipment and supplies required for a successful professional event, including office supplies, audio-visual gear, and decorations.
Transportation: You have access to a range of vehicles, such as sedans, vans, buses, and other types. All vehicle types, from business to economy, are available for selection.
Airport CIP Services: Offering precise, schedule-based airport CIP services to a variety of business groups.
Accommodation: As soon as you request, we reserve convenient hotel rooms or any other kind of accommodation under the schedule and the best locations (close to the events).
Expert Translation Services: We can translate your data, manuals, conference materials, and catalogs expertly.
Visa Service: We'll help you get your visa on time; so, you can enjoy your business trip without any stress.
Why with Us
Years of Experience: We have gained years of experience working with different partners and clients on several business trips.
Available 24/7: We always appreciate hearing from our customer service team. A skilled group of tour guides, interpreters, and translators, puts your needs first at all times.
Tailor-made Services: At our company, IranOnTour, we give top priority to offering services that are specially tailored to your needs.
Leisure Activities and Tours in Iran: While on a trip with us, you can spend your free time having fun at Iran's well-known tourist destinations.
Comfortable Booth Selection: To ensure a stress-free trip and a successful trade show, we manage your booth selection and organize your business travel to Iran.
Business Consultation Services: Our business consultant agency services can boost your performance at exhibitions and events by providing you with access to market intelligence and facilitating the creation of advantageous business connections.
Some of Our Previously-serviced Clients
Government Officials and Delegates
Sibur Company
General Director and Deputy GD of TASS News Agency
Mechanika Corporation (part of Rostekh)
Concorde Group
Business Consultation Services
Our division of business consulting services, Iran Consultation Group (ICG), aims to establish beneficial connections between international businesses and Iran's business market. Through our business consultant agency department, we assist different organizations from different ventures and business areas with laying out helpful associations with Iranian market members and business activists. In order to keep you at the top, assist you in finding partners and customers, and ensure that you have a secure entry point into the Iranian market, we monitor the execution of your business. In a similar vein, if you need to export goods from Iran to fill the gaps in your country's market, ICG will work with the cycles for you by locating the best producers, scheduling meetings with them, supervising your negotiations and agreements, and finally making the trade process easier. What we provide you with through our business consultation services include (but is not limited to):
Market Research in Iran
Partner Search in Iran
Business Meetings
Business Implementation Monitoring
What Else?
Are you looking for a travel services partner or a business consulting partner in Iran? Let's continue this conversation in a business-to-business meeting. We are always eager to collaborate with you!
The 22nd Iran International Confectionary Fair at Tehran 2023 Time and Place
The 22nd Iran International Confectionary Fair is going to be held from September 7th to 10th, 2023, at Tehran International Permanent Fairground.
Contact Us
For more information about the exhibitions, booking our different business travel services, or business consultation you can refer to us via: