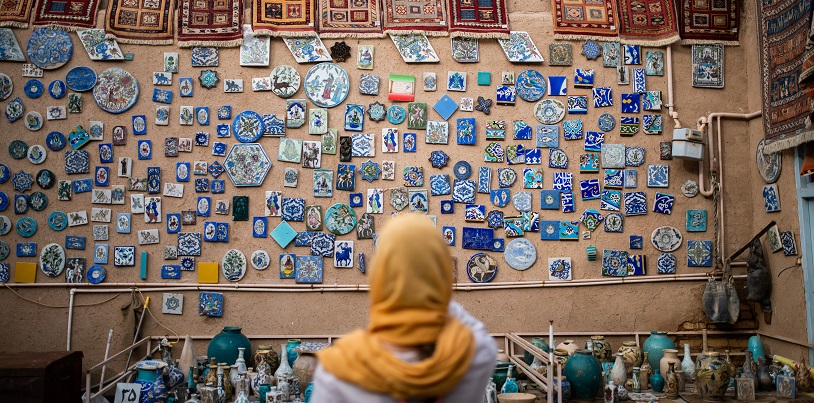 Top Persian Handicrafts & Traditional Iranian Artworks
If you are a culture lover, an art enthusiast, an admirer of unique handicrafts, or need help getting Persian souvenirs, Come in!
Persian handicrafts are reflections of Iranians' love for arts, echoes of the antiquity of Persian culture, and ripples of the Persian fascination with nature, geometry, and spirituality! I believe each fine Persian piece is the artist's attempt at creating paradise! And bringing back home a piece of Persian art is like taking a piece of a nation's soul with you as a souvenir. But which piece to take depends on your taste, and your knowledge of how to choose and where to find the finest of them. That's why I'm here with you!
The Story of Persian Handicrafts & Artworks
The Persians' love of arts and handicrafts is as deep-rooted as the Persian civilization has been traced. From this strong root, Persian arts and handicrafts have been thriving through different periods and in contact with other civilizations. A variety of precious artifacts that include textiles, jewelry, metal works, pottery, and carpets have been found from different ancient eras. Then, the arrival of Islam in Iran gave Persian art special twists and made it flourish in certain branches. Passed down from generation to generation, and now Iranian arts take pride in infinite colors and patterns and a charming collection of Persian handicrafts. Now, as one of the world capitals of handicrafts, Iran enjoys its handicrafts' rich background, variety, intricacy, and abundant production. Persian artifacts showcase the Iranian's fascination with geometric patterns, imaginative designs, and motifs from nature.
Where to Buy Persian Handicrafts
You can find most Persian handicrafts- like carpets, Minakari, pottery, Persian inlaid, etc.- all over the country. But getting your souvenir from a city that has a reputation for it sure makes a difference. The top destinations for handicraft shopping are Isfahan and Shiraz. In Isfahan's dazzling Grand Bazaar, part of Naqsh-e Jahan Square (UNESCO), you'll find the country's first-rate Minakari, Ghalamzani, Ghalamkari, Monabbat, and traditional paintings. In Shiraz's Vakil Bazaar and Seray-e Moshir, you'll find the country's top works of Khatam (inlaid), Haft Rangi tiles, carpet, Gabbeh, Kilim, and felt rugs.
Although these two cities are the main galleries of handicrafts, other cities have reputations for special Persian handicrafts. Yazd is the center of precious traditional textiles, especially Termeh. Kerman showcases the best Pateh (traditional needlework), carpet, and kilim in the country. In Kashan, find nice carpets and textiles. From Kermanshah and Kurdistan, get a pair of traditional footwear or one of their beautiful kilims. For pottery lovers, Hamedan's Lalejin town and Sistan and Baluchestan's Kalporgan village are the places to be. Kalporgan is a living museum of pottery with unique works that are made the same way they were 7 thousand years ago! Jewelry lovers can also find the rarest kinds of handmade jewelry in Sistan and Baluchestan. Finally, Carpet lovers shouldn't miss Tabriz.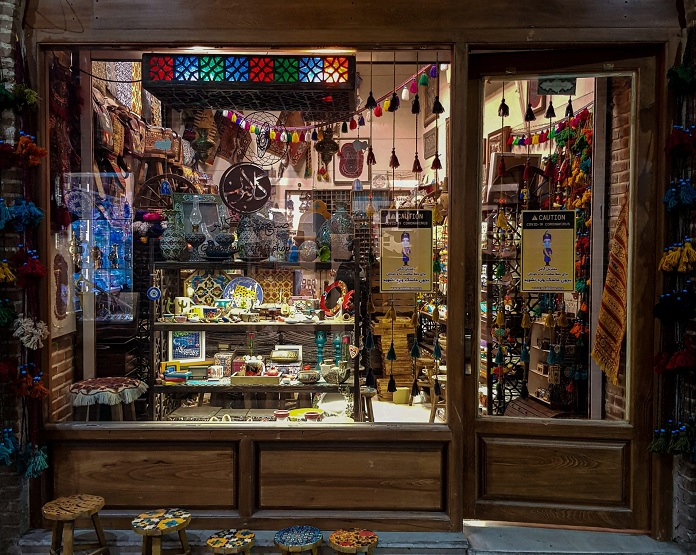 Top Persian Handicrafts & Iranian Artworks
Admiration for the best-known of Persian handicrafts, Persian carpet, has been timeless and borderless. The art of carpet weaving in Iran is probably as ancient as the country's history. The Pazyryck Rug, the oldest known carpet in the world, is a living testimony to this antiquity. Besides the antiquity, quality, beauty, and cultural value make Iranian carpets a sign of wealth, luxury, and taste around the world. These exquisite pieces of art are a manifestation of the Iranians' love for art, for beauty, for nature, and for their homeland.
The traditional skills of carpet weaving in Iran are among intangible UNESCO world heritages. The Persian carpet is as diverse as the Iranian ethnicities that create them. And this diversity is clearly evident in the variety of carpet patterns, colors, and motifs you'll find around the country. You can find the finest of these elegant souvenirs from Isfahan, Tabriz (the world city of carpets), Kerman, Yazd, Kashan, and Shiraz.
Minakari (Enameling) Handicrafts of Iran
In Persian, Mina means heaven. And Minakari is the art of creating heaven on objects! Since around 1500 B.C., Persians have been creating these elegant artworks by tasteful painting on the surface of glass, ceramic, or metals such as gold, silver, and copper. The oldest Minakari object ever found is a pair of earrings that date back to 800-700 B.C.
It is fire that fixes the intricate traditional Iranian patterns on the surface. With a gorgeous mixture of colors that feature azure blue and turquoise, these beauties are probably of the most precious souvenirs you can get in Iran. Sometimes, Mina is combined with other Persian handicrafts like Khatam, Miniature, Jewelry, and wooden objects. You can find the finest Minakari vases and plates in Isfahan's Chahar Bagh Street and Naqsh-e Jahan Square.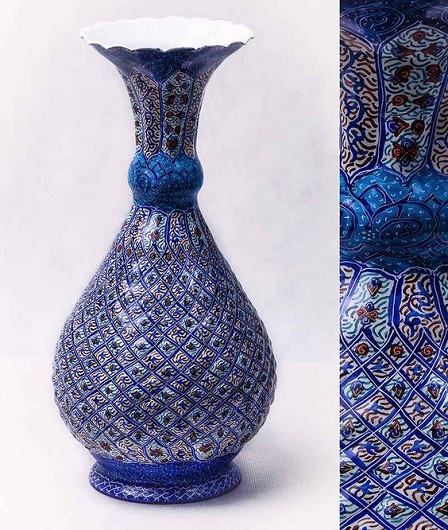 Khatamkari Handicrafts
Khatamkari, the ancient Persian inlaying or marquetry, is one of the most elaborate of Persian handicrafts. Thousands of tiny pieces are put together to create the smallest Khatam object. Thin rods of wood, gold, silver, brass, aluminum, ivory, bone, and twisted wire are glued together in a geometrical shape. Then the branches are cut into thin slices and combined with others on the surface of a wooden or metal object. The oldest Iranian Khatam item dates back to the Safavid era (1501-1736). Khatam is mostly used on doors in palaces and religious sites, jewelry boxes, backgammon boards, chessboards, and picture frames. You can find the finest Khatam souvenirs in Shiraz.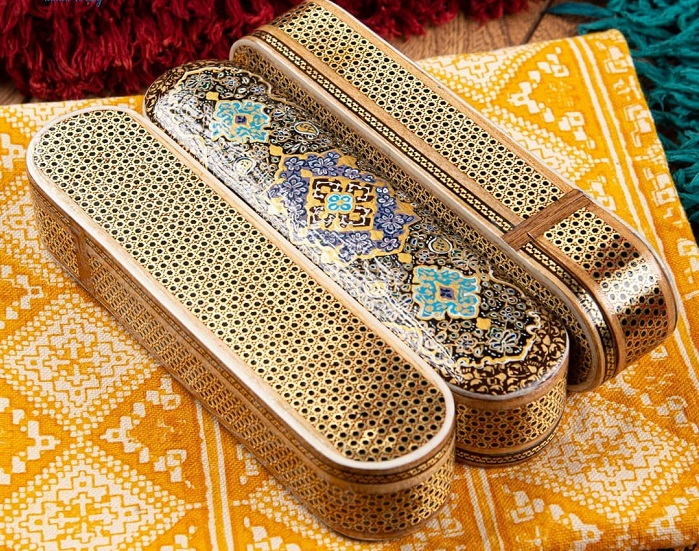 Ghalamzani (Engraving) Handicrafts
Graceful Persian patterns showcase themselves in full elegance on copper, brass, silver, and gold objects. Ghalamzani of Isfahan, the art of engraving these charming patterns on metal objects, is one of Iran's most luxurious handicrafts. Trees, flowers, animals, detailed miniatures, and arabesque patterns are the most common motifs in a Ghalamzani work. This art dates back to 700 A.D. Get a precious Ghalamzani of Isfahan vase, plate, or tray from Isfahan's well-known Grand Bazaar.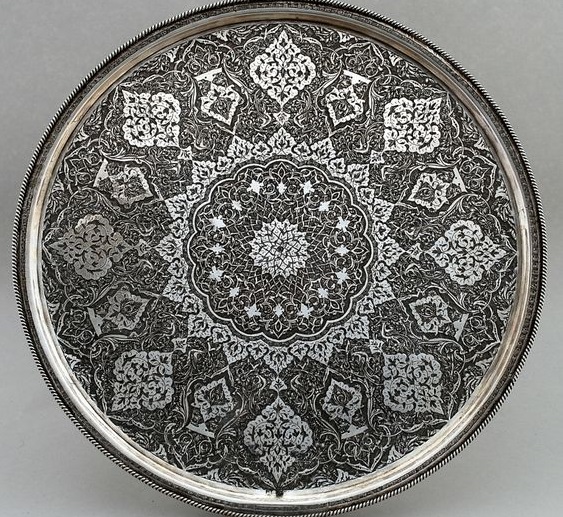 Persian Textiles: Traditional Persian Handicrafts
Termeh and Ghalamkar are Iran's favorite traditional textiles and the most popular as table covers. Termeh, a handwoven luxury textile, is a specialty of Yazd. This Persian handicraft has a history as old as (or even older than) the Achaemenid era (700-330 BC). Persian paisley is the signature pattern of Termeh, and weaving this Persian handicraft is sensitive and time-consuming work. The other favorite Iranian fabric, Ghalamkar, is actually hand-printed textile. Natural dye is used for printing on cotton fabric and it is either drawn on by hand or patterned by wooden stamps. You can find the finest Ghalamkar works in Isfahan.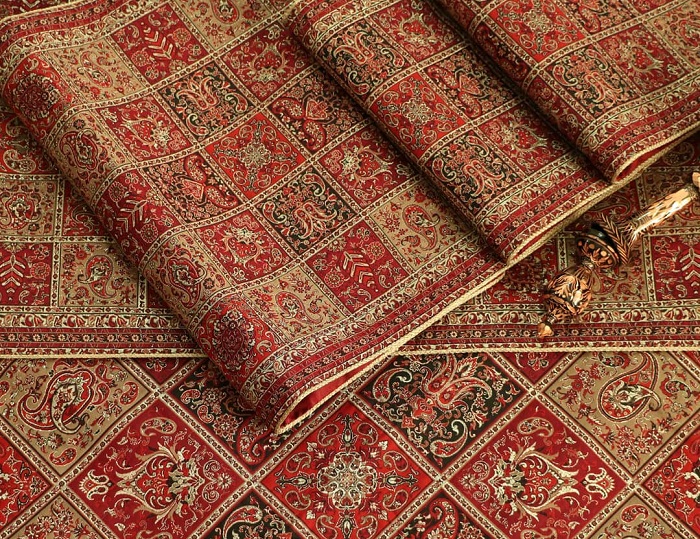 Persian Pottery and Ceramic
Persian painted pottery is a manifestation of the antiquity of Persian civilization! With traces in the 7th millennium B.C., it is one of the oldest arts Iranians have mastered. Changing with the cultural and historical changes, Persian pottery and ceramic embraced different patterns, styles, and materials. Inspirations for the patterns were nature, ancestral nomadic tribes, Islamic geometrical patterns, national epics, and other cultures. Half the glory of Golestan Palace, the Pink Mosque, Naqsh-e Jahan Square, and many other architectural masterpieces come from their charming tilework. You'll find Persian painted tiles and earthenware in traditional bazaars and the most unique ones in the Kalporgan Living Museum of Sistan and Baluchestan.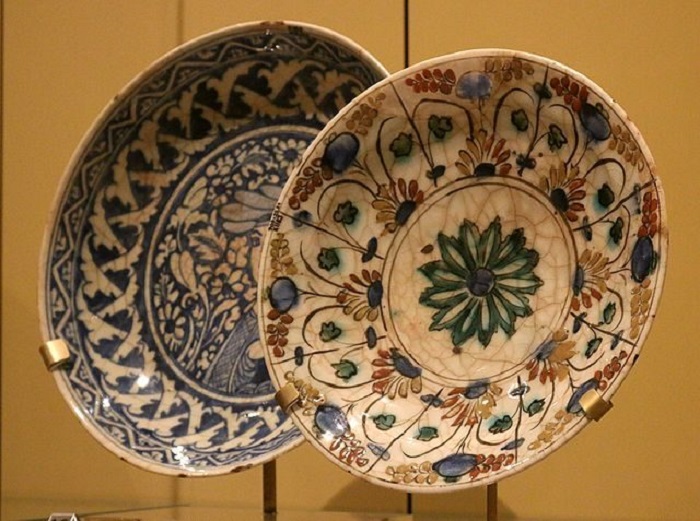 Miniature and Tazhib are traditional styles of Persian painting known for their intricate details and colorfulness. Though they have roots in ancient Iran, these rich Iranian arts flourished in the Islamic period. Mythological or religious themes raise the artistic value of Miniatures. Miniature artists have illustrated many of the classics of Persian literature.
Does Persian calligraphy on Iranian pottery, metalwork, and tilework fascinate you? In Qazvin, Shiraz, and Isfahan, you can find precious pieces of Persian calligraphy, sometimes adorned with traditional Persian paintings as well.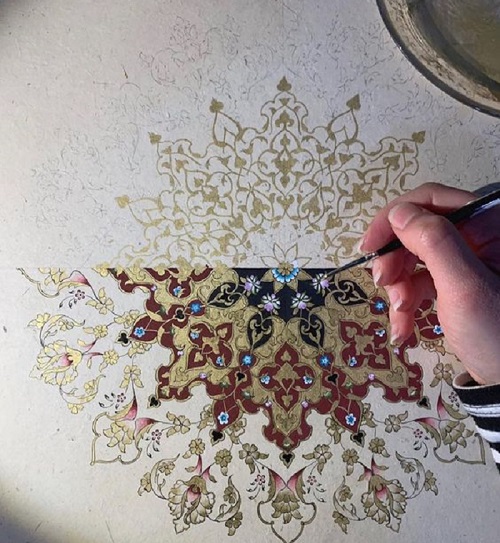 Gabbeh, Kilim, and Jajim Weavings
Traditional Iranian weavings- Gabbeh, Kilim, and Jajim- are relics of the country's antiquity and cultural variety. Gabbeh, a simpler and less intricate type of carpet, is mainly a nomadic art. You can often find a simple animal or plant motif on a Gabbeh; motifs inspired by the home of these nomads: nature. Nomadic women make these thick carpets with handspun wool that they have dyed in natural dyes. Jajim, the lintless and thick weaving that can be used on both sides, is a specialty of Western and Northwestern Iran. You can use Jajim as a mat, a table cover, a cushion, etc. What about Kilim? This hand-knotted Persian handicraft comes from the nomads and the rural areas of Iran. You can also grab nice Kilims from Kerman's Sirjan, the world city of Kilim. The thinner and softer the warps and wefts of the Kilim, the better the quality.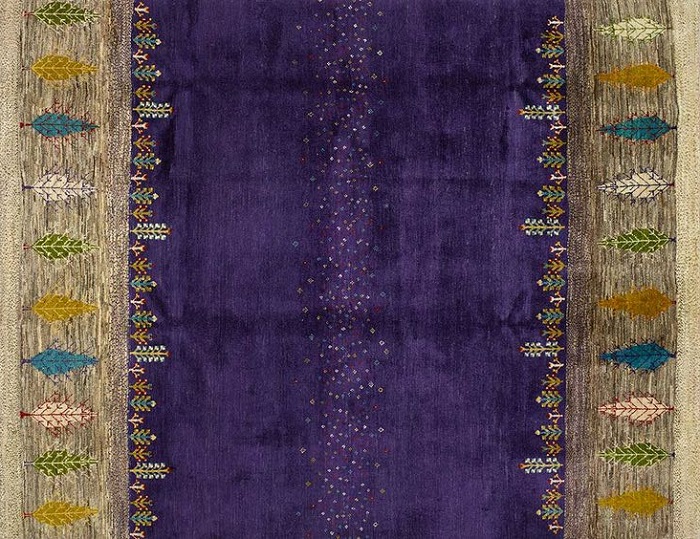 Firoozeh Koobi (Turquoise Inlaying)
Isfahan takes pride in its sparkling Firoozeh Koobi, a mixture of turquoise stones with copperware and jewelry. For making these valuable pieces, artists stick pieces of turquoise stone, based on their size and color, on the surface of a copper object. Firoozeh Koobi is a relatively modern Persian handicraft. Yet the delicacy of the objects and the stones used in them make them as precious as they are. The less space between the turquoise pieces, the higher the quality of the piece. If you get one, avoid cleaning it with strong detergents. A piece of wet cloth can shine up your Firoozeh Koobi object.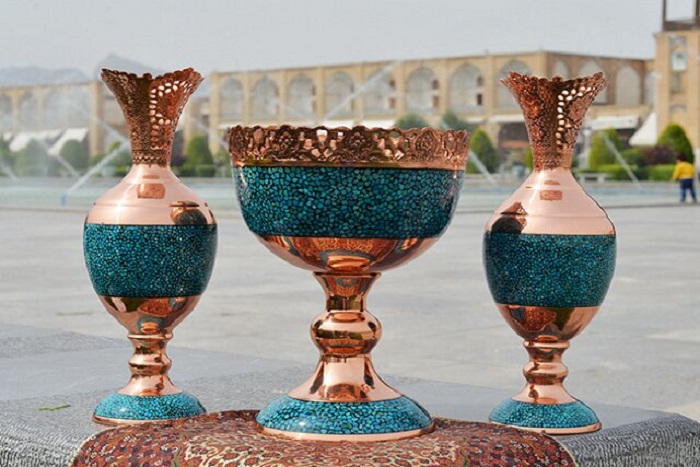 Baluchi Soozan Doozi (Embroidery)
In contrast to the dusty desert and mountains of their home, Southeast Iran, the Baloch ethnicity of Iran features taste, color, and life in their iconic art: Soozan Doozi. Baluchi Soozan Doozi is a form of embroidery or needlework Baluch people feature on their clothes and jewelry. On women's trousers, dresses, and shawls, and on men's caps, you can see adorable patterns embroidered by hand. To get the finest works of Baluchi embroidery and get to know the adorable Baluchs, you'll need to visit the towns and villages of Sistan and Baluchestan.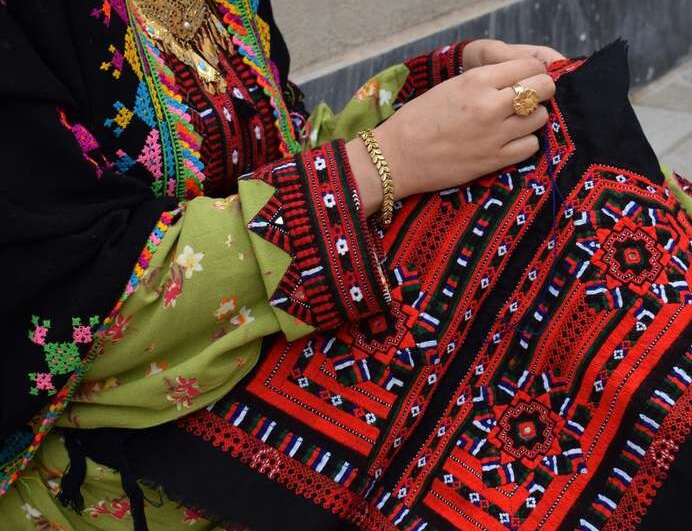 Traditional Footwear
Galesh, Giveh, Kalash! Whatever their name and style, these traditional Iranian footwear are cool, comfortable, and adorable replacements for our modern shoes. These Persian handicrafts are mostly made and worn in the Kurdish areas of Iran, especially Marivan. To make these light and durable shoes, Kurdish artists weave silk threads and use leather for the bottom. They are perfect for hot summer days!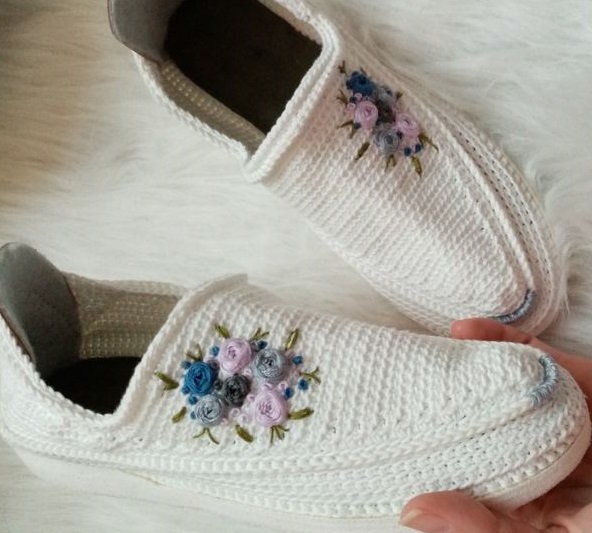 .
[/vc_column_text]
Let the magic of Kurdish folk music enchant you with this half-day...
Keywords: What types of handicrafts did Persians create?, traditional object of Iran, handicraft Iran, Isfahan handicrafts, Persian art patterns, old Persian art, Iranian gift shop, Persian old art, art in Persia