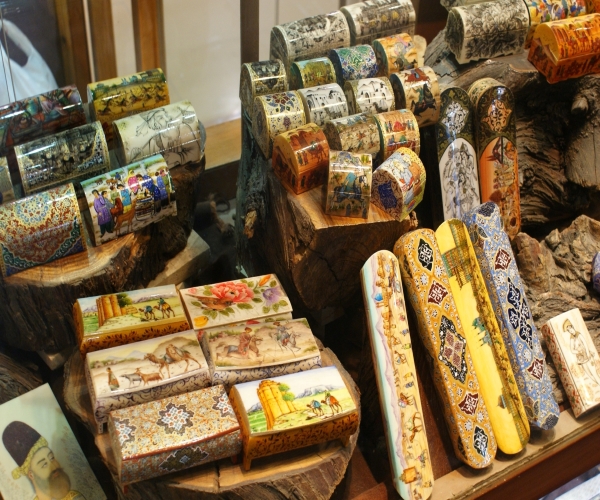 Gifts from Iran – Iranian Souvenirs: TOP 10 Souvenirs to buy in Iran
For some travelers shopping for souvenirs is a sweet part of their trip, as they can serve as memories of the moments they have experienced in their journey. A trip to Iran will offer you a handful of amazing Iranian souvenirs. Top Iranian souvenirs consist of marvelous handicrafts and works of art as well as tasty food souvenirs. Whether you are purchasing souvenirs for yourself or gifts for your family and friends, here are some ideas that may give you inspiration! So, stick with me for detailed information on the top 10 Persian handicrafts and food souvenirs. I will share with you some tips for a better souvenir shopping experience. I will also introduce the places where you can purchase quality souvenirs in Iran.
Iranian Handicraft Souvenirs, Gifts from Iran
Travelling to Iran might be a once in a life time experience for many tourists. Even if not, it is important that you bring home some taste of Persia. Persian handicrafts are precious works of art that cause the visitors to admire them and their subtlety. Persian culture has always come with charming handicrafts that Iranians made to express themselves. They integrated their lives into their works of art to fascinate the viewers. Persian handicrafts include Persian carpets, Khatam, Minakari, Miniature Painting, Ghalamzani, Ghalamkari, Ceramics and Pottery, as well as turquoise. Read through to learn which of these handicrafts will serve your taste the best.
Persian Carpets – Exquisite Iranian Souvenirs
Indeed, Persian carpet has a long history and is among the oldest Iranian handicrafts and the most elegant Iranian souvenirs. Persian carpet is the most glamorous souvenir of Iran and enjoys an international reputation. There are plenty of fiber types of carpet as well as Persian carpet styles, patterns and colors to choose from to satisfy any personal style and match any decor. If you wish to buy one of those captivating Persian carpets, check out our Persian carpet post to delve deeply into the Persian carpet. There, I will share with you everything you need to know about the types of the Persian carpet as well as a practical guide to purchasing them.
What to Buy in Iran – Khatam
Khatamkari is an ancient Persian technique of inlaying and the developed version of marquetry, wherein pieces of wood, metal, or bone are attached together and cut in various shapes. Then, these awesome pieces of art decorate wooden articles including boxes, frames and pen cases. Distinguishing a quality khatam, as one of extraordinary Iranian souvenirs, requires some expertise. Nevertheless, here are some tips to identify khatam articles of higher quality. Before you purchase the khatam article, observe the item closely. If the item is not flat and you notice bulges, ripped seams and traces of priming, you are handling a low quality khatam article. On the other hand, symmetric and more delicate patterns employed in khatam are suggestive of a good quality item.
Wondering where to buy quality khatam? Shiraz is well-known for its high quality Khatam products. However, you can purchase khatam products from other cities of Iran, specifically, Isfahan, Yazd, and Tehran. Since Khatams are delicate products, you need to handle them with care. Generally, the sellers pack them in paper or bubble wraps. For more protection, as you pack them in your luggage, place them in the middle, with a layer of clothing below and on top.
Minakari Handicrafts – Eye-Catching Iranian Souvenirs
Minakari or Persian Enameling is a fascinating Iranian handicraft, characterized with a metal or clay surface being embellished by delightful painting. The dominant metal used in this technique is copper, though, gold may function as a substrate, too. Wonderful enamel decorative articles (such as wall plates and vases) as well as jewelries are perfect souvenirs for those who have to handle the weight limit challenge. Despite their amazing artistic value, the jewelries can be much expensive and unaffordable. On the other hand, the aesthetic value, in addition to the low price of the decorative products, make them appealing to many tourists. Although Isfahan is the chief enameling center in Iran, you can purchase authentic, delightful enamel products in Shiraz, Kerman, and Yazd, too. Looking for enameled jewelries? Ahwaz is the main hub of the enameled jewelries in Iran.
Souvenirs from Iran – Ghalamzani Handicrafts
Ghalamzani is the ancient Persian art of hand engraving on metal and one of magnificent Iranian souvenirs. In Ghalamzani, a variety of patterns are cut to various types of metal, including silver, brass, gold, and steel. Ghalamzani artists use chisels and hammers to mark the metal with aesthetic designs. Depending on your taste, you can opt for a pattern ranging from floral, geometric and historical motifs to the scenes of hunting. Moreover, the absorbing Ghalamzani handicrafts are available in numerous forms such as decorative wall plates, trays, boxes, and vases. These enchanting works of art can be heavy. So, if you have to tackle the weight limit issue, choose smaller or lighter products. For those who long for an exquisite work of art, Ghalamzani works on gold will be the absolute choice. If you are short on budget, choose a work engraved on a less expensive metal.
Isfahan, Shiraz, and Tabriz are the best places to buy a quality Ghalamzani souvenir. Yazd and Kerman are also other cities where you can purchase Ghalamzani works. Keep in mind the following tips, while shopping, to distinguish the authentic Ghalamzani handicrafts. The authentic handmade works are usually heavy and engraved on thick layers of the metal. Their patterns are not quite regular all over the place. On the contrary, you might notice some deformities in the patterns. The porous handmade Ghalamzani products might have an uneven surface with holes of unlike sizes. If you realize the price is surprisingly low, you should doubt whether you are buying a handmade Ghalamzani handicraft.
A Persian Souvenir – Ghalamkari Handicraft
Ghalamkari is the enchanting Persian art of designing and painting or stamping on textile by hand. Persian Ghalamkari depicts a limited set of motifs, the most common of which is the paisley pattern. Paisley or Boteh Jegheh is an almond or pine cone shaped pattern of Persian origin. Besides, cotton is a very common cloth used in Ghalamkari. You can purchase Ghalamkari in various shapes including table cloths, bedspreads, prayer rugs, and bags. Isfahan, Shiraz, and Yazd offer amazing Ghalamkari handicrafts. Ghalamkari can be an appealing souvenir, as it is easy to carry and affordable.
Termeh Iran Souvenir
Another product of Persian art applied on the textile is Termeh, a type of Persian handwoven cloth, which primarily depicts paisley patterns. Termeh handicrafts are produced in various colors, nevertheless, the most prevalent and popular color is blue. In general, two types of Termeh exist: handmade and machine-made. Handmade Termeh is, though, extremely fine and made of silk and might not be affordable for anyone. To purchase premium handmade Termeh, pay a visit to Yazd. Yazd Termeh is now the most popular one. However, traditional and modern shopping centers in Isfahan, Shiraz, and Tehran sell Termeh, too.
Iranian Food Souvenirs – Food Gifts from Iran
You can buy not only handicrafts, but also tasty foods, deserts, and spices as souvenirs from Iran. If you are looking for luxurious extravagant food souvenirs, I highly recommend the Iranian saffron, pistachios, and caviar. On the other hand, for those who are on a short budget, there is a wide range of foods, spices and sweets to pick from. In the next section, I will introduce you to some top Persian food souvenirs.
Gifts from Iran – Saffron
As you stroll in the Iranian traditional Bazars, the color and aroma of the spices will charm you. Saffron is the most expensive spice cultivated in Iran. Iran is the top exporting country of Saffron in the world. You can use this precious spice as a seasoning, or you can make a refreshing herbal tea out of it. Torbat Heydarieh, Qaenat, and Birjand in Khorasan Province as well as Estahban in Fars Province house the prominent saffron fields in Iran. In addition to these fields, numerous shops all over the country sell Saffron, which is one of the most precious and costly Iranian souvenirs.
Unless you purchase saffron from the trustworthy traders, you should be capable of differentiating pure Saffron from the fake one. Otherwise, you might end up buying fake saffron like Safflowers. Here are some tips for those who struggle finding real saffron. Original saffron smells sweet and tastes bitter. Real saffron has the shape of threads (avoid the powders!). Last but not least, if you rub the threads of saffron in a piece of paper and notice oily stains, chances are you are handling fake saffron.
Gifts from Iran – Pistachios
The Iranian Pistachios are among the most desirable souvenirs of Iran. Premium pistachios mainly come from Rafsanjan in Kerman. Pistachios are the most expensive nuts on the market and are sold in various forms: shelled, unshelled, raw, and roasted. Iranian pistachios fall into four categories based on their size and shape. They are either super long, long, round, or jumbo (called Kale Ghouchi in Persian). In addition to Kerman you can buy pistachios almost everywhere in Iran, including Shiraz and Tehran. While shopping for the pistachios, make sure they are fresh. While it may be easy to simply pick up a bag of pistachios, buying unpacked pistachios will be a better option in terms of prices.
Iran Souvenirs – Caviar
Caviar, an Iranian delicacy with a unique taste, mainly comes from Caspian Sea in northern Iran. There are chiefly three types of caviar in Iran: Beluga, Ossetra and Sevruga. The most expensive and rare type of caviar is the Iranian diamond, extracted from Beluga fish. If you are planning to purchase a luxurious delicacy, caviar is one of extravagant Iranian souvenirs and a perfect option. Nonetheless, it might not be affordable for everyone!
Iranian Sweets, Sweet Gifts from Iran
In any corner of Iran you visit, you can find tasty sweets that will serve as delightful Iranian souvenirs and memories of your trip. Above all, rose water and saffron are very common ingredients of Persian sweets. Let's take a look at some sweet examples. Shiraz, in southern Iran, abounds with the toothsome Masqati (a Kind of rectangular-shaped halva), a must buy of the city. In Yazd, central Iran, flavorsome sweets including Qottab (a ball-shaped pastry filled with crushed almond), Pashmak (traditional cotton candy), Yazdi baklava (a diamond-shaped pastry), and Loz (a confection similar to Baqlava, but lacks dough) are awaiting you. In Isfahan, also in central Iran, Gaz (Persian nougat) is the most common sweet. Still in the same region, Qom abounds (on your way from Tehran to Kashan) with Sohan (traditional fragile saffron toffee).
In northern Iran and Tehran buy fresh Fooman cookies, which will treat your taste buds with a strong flavor of cinnamon and walnuts. If you have the chance to visit Urmia in northwest of Iran, you can pick among numerous local sweets that the city offers. Noql (rock-shaped pieces of confection made of sugar and rose water as well as saffron or rose petals), Dushab (grape syrup halva), Halvaye Havij (a confection made of carrots), and Halvaye Gerdoo (a confection made of walnuts) are among top sweet souvenirs of Urmia. In Tabriz, in East Azerbaijan, you can undoubtedly not miss the mouth-watering Baklavas (a layered pastry dessert). Depending on your taste, pick the best sweets of Iran and take them with you back home. Eat alone or share them with your loved ones!
Keywords: traditional product of Iran, Iran famous things, best things to buy in Iran, what to but from Iran, best souvenirs from Iran, Iran famous things to buy, famous things to buy in Iran, souvenirs Iran, souvenir of Iran, traditional Iranian gifts