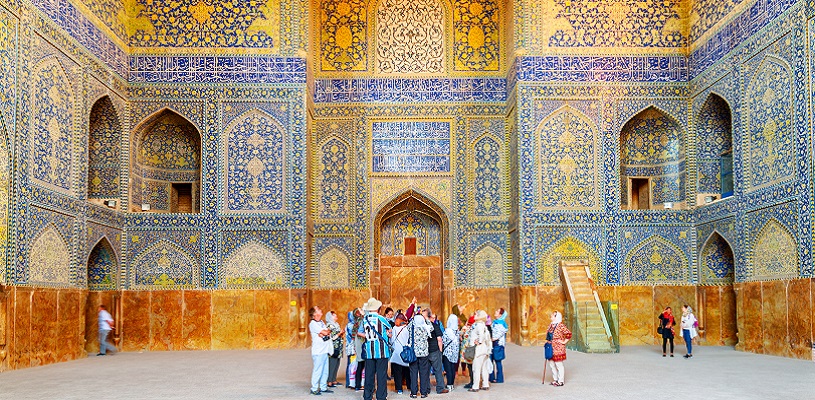 A Complete Guide to Getting an Iran Tourist Visa in 2023
Traveling to Iran soon and need an Iran tourist visa? I'm here to help you find your way through the whole process. To have the visa process going smoothly, you should know about the ways to apply for an Iranian visa, the rules that exist for getting one, the places you can pick up your visa, and of course the cost of Iran visa. For getting an Iran visa, your first step would be to apply for an e-visa in advance. What about visa-free travel to Iran or traveling to Iran free trade zones that don't require a visa? Stay with me to find out all the details how to get an Iranian tourist visa.
*Note: This is a guide to get an Iranian tourist visa for all nationalities except for Americans, Canadians, and the British. You can find out more about the process of getting an Iran visa for these citizens, please check out the blog post we've dedicated to it.
How to Get an Iran Tourist Visa in Advance
Getting an Iran tourist visa in advance is a 2-step process. The first thing you need to do is get a visa application reference number (Iran visa reference number) and the second is to get the visa itself. But how can you get them?
A. Iran Visa Reference Number (Visa Application Reference Number)
To enter Iran, the first thing you need as a tourist is to get an Iran visa reference number from the Iranian Ministry of Foreign Affairs. After receiving the visa application reference number, you'll have only one month to get your Iran tourist visa. To make sure you have your reference number in time, apply for it at least 10 days before your trip (and even much earlier if you are an American, British or Canadian citizen). You can receive this code in 2 different ways:
Licensed Travel Agencies
Iranian Ministry of Foreign Affairs Website
1. Getting a Visa Application Reference Number via a licensed travel agency
Want it to be hassle-free and uncomplicated? Then leave everything to our team at IranOnTour. Getting the Iran visa reference code through a licensed travel agency is much faster and because of the reliability they have, the chance to get rejected is lower. To get your Iran visa through us, complete the visa application form and we will contact you as soon as possible.
What you'll need to apply for your visa:
Your filled-out visa application form
A copy of the first page of your passport
Your passport photo or a photo that meets Iran visa photo requirements (check if your photo meets the standards at https://evisatraveller.mfa.ir/en/request/image_tools/)
After receiving your email, we'll send a request to the Embassy of Foreign Affairs and wait for verification from them. Depending on your nationality, the verification process can take from 2 to 10 days. The process might be even longer and unpredictable for American, British, and Canadian citizens. But don't worry! Because we're here to save you all the trouble and get a visa for you. In a hurry? Contact us to get express services.
Important Notes for Iran Tourist Visa Application:
An American, British, or Canadian citizen? You must also attach a detailed resumé of yourself.
A Bangladeshi, Afghan, Pakistani, or Sri Lankan citizen? You can't apply for an Iran tourist visa via travel agencies. You can only apply by going to an Iranian embassy/consulate in the country of your residence.
Want us to get you a visa application reference number? Contact us for the fee.
2. How to Get Iran Visa Application Reference Number via the Ministry of Foreign Affairs Website
If you'd like to get Iran visa reference number on your own, you should apply online through the Iranian Ministry of Foreign Affairs at https://evisa.mfa.ir/en/. After filling out the application form and sending the required documents, wait for your verification code in an email that will be sent to you. Yet, there is the possibility of rejection and a long delay. So, we recommend applying through a licensed travel agency.
B) Getting Iran Tourism Visa
After getting the Iran visa reference number, you just need to pick up your Iran tourist visa at one of these places:
1. Visa counters at Iranian International Airports and overland borders (Iran Visa on Arrival)
2. Embassies/consulates of the Islamic Republic of Iran in your own country
If you like to have your Iran tourist visa ready before your trip and pack for your trip with peace of mind, you'll have to go to an Iranian consulate or embassy in your country and receive your visa. But since getting a visa from embassies and consulates might take longer, we recommend that you get it from the visa counters at Iranian International Airports. Why is that? Because some consulates might demand other requirements that might take you more time or confuse you. Plus, when you have your Iran visa reference number, it means that they've already approved your visa and you have nothing to worry about. All they need to do at the airport is to issue your visa.
Here are the requirements for getting your visa from an international airport or a consulate/embassy:
Your passport
Two photos
Your Iran visa application reference number
Your travel insurance card
Important Note: For getting an Iran tourist visa, you'll need Iran travel insurance. Although there are travel insurance counters at International airports, we recommend that you get it in advance. Because insurance counters might be closed at night, or you may have to wait in a long queue. You can find out more at our Iran Travel Insurance blog.
List of Iranian Airports that Issue Iran Visa on arrival (VOA)
Imam Khomeini International Airport
Mehrabad International Airport
Kish International Airport
Qeshm Dayretan International Airport
Chabahar International Airport
Bushehr Airport
Shiraz International Airport
Tabriz International Airport
Mashhad Hashemi Nejad International Airport
Which Nationalities Can't Get Iran Visa on Arrival (VOA) & Have to Get Their Visa from an Iranian Embassy/Consulate?
Colombia
Canada
USA
England
Somalia
Bangladesh
Pakistan
Jordan
Afghanistan
Sri Lanka
If you have Iraqi nationality, you can only get a VOA at Mashhad International Airport.
Visa on arrivals are only issued for tourists. So, if you need another type of Iranian visa, try the 2 other ways.
Visa-free Travel to Iran in 2023
According to some international agreements, citizens of some countries don't need a visa to stay in Iran for a certain period. But keep in mind that these agreements are only valid if you enter Iran from the country of your nationality. If not, you'll have to get a visa.
Here's a list of all the nationalities that can travel to Iran visa-free and the maximum number of days they can stay:
Turkish (90 days)
Chinese (21 days)
Hong Konger (21 days)
Egyptian (20 days)
Macau (21 days)
Malaysian (15 days)
Azerbaijani (30 days)
Omani (30 days)
Armenian (90 days)
Georgian (45 days)
Lebanese (30 days)
Bolivian (30 days)
Venezuelan (15 days)
Syrian (90 days)
Iran Free Trade Zones
Iran operates a few free trade zones that don't require a visa to enter. So, even if you don't have an Iran tourist visa, you can stay up to 2 weeks in these regions. But if you decide to travel to other places in Iran from there, you'll have to go to the office of the Ministry of Foreign Affairs in the region and get a visa. These free trade zones are:
Bandar Anzali
Chabahar Port
Arvand Trade Industrial Free Zone
Aras Trade Industrial Free Zone
Maku Trade Industrial Free Zone
American, Canadian, or British citizens have to have an approved guide beside them even during their trip to Iran's free trade zones.
Iran Visa Extension
If you are willing to extend your Iran tourist visa, it is much better to do it at least 3 days before your Iran visa is expired. The process of Iran visa extension is not so complicated. All you need to is going to an immigration and passport police office, and ask for your Iran Visa extension. The documents you'll need for Iran visa extension are:
Two passport photos
Iran visa extension forms
Copies of your passport and Iranian visa
An entry stamp
Visa extension fee (350/000 IRR + 50/000 for a folder and photocopies) (the payment should be in cash to a "Melli Bank" and the payment receipt will be needed for your visa extension)
Please be noted that for ladies, the photos should be with hijab. Also, the process of visa extension may seem a little complicated without assistance from your tour guide or a local companion; so it is much better to extend your Iran visa with a tour guide, or a reliable local assistance who speaks your language and can function as your interpreter.
Frequently Asked Questions (FAQs):
Can I Get Iran Visa Online?
Of course! This is actually the first step of the way. You can either apply for an Iranian tourist visa through the Iranian government's e-visa website, or do it through a travel agency. The thing is that doing it directly through the e-visa website will probably take a longer time that doing it through a reliable agency. The risk of getting rejected will also be lower by application through an agency. The cost for visa application varies, but if you are traveling with us and you have a nationality except for American, British or Canadian, we offer you free visa application. A certain fee is added for the visa application for these specific nationalities.
What do I do after I receive my Iran visa grant notice?
After you receive a visa grant notice (or reference code) from the evisa or the agency, you are ready to go! Most nationalities can either get their visa at an Iranian International Airport on arrival or pick it up from an Iranian consulate/embassy at their country. But for some nationalities, only the second choice is possible. To find out if you are among these nationalities, you can read my Comprehensive Guide to Getting an Iran Visa.
How much should I pay for getting an Iran tourist visa?
For getting an Iran tourist visa at the airport, you'll have to pay a fee in Euros and in cash. Iran visa fees are different for different nationalities (ranging between 10 to 150 Euros). You can't use international debit cards and credit cards in Iran. So, you need to have cash for payments.
This fee does not include the fee you pay a travel agency for receiving a visa application reference code.
How long is an Iran tourist visa valid?
Your single-entry Iran tourist visa will be valid for 3 months from the issue date. Generally, the Iranian Ministry of Foreign Affairs issues visas for 15-day, 30-day, 60-day or 90-day stays. So, don't apply for a visa before your travel plans are fixed.
How do I extend my Iran tourist visa?
If you like to stay in Iran more that your visa allows you, you'll need to go to an Immigration and Passport Police Office in one of Iran's major cities and extend your visa. The process might take from one to a few days. Your visa extension depends on your visa validity. So, if you have a 30-day visa, you can extend it for another 30 days. And if you have a 15-day visa, you can extend it for another 15 days. You can extend your visa to a maximum of 90 days. For extending your visa, you'll have to go through a series of paperwork; a process that a travel agency can save you from.
Is Iran travel insurance mandatory?
For receiving an Iran tourist visa, covering yourself under travel insurance is a must. You can do it at an insurance counter at an Iranian international airport, get international insurance that covers Iran or ask us to get you an Iranian insurance card. At an Iranian International Airport, you'll have to pay the insurance fee in cash. But we suggest covering yourself under Iranian insurance before your trip. The reason is that it might take a lot of your time, or that you might arrive at night when visa counters are closed. Plus, international insurances cost way more. Find out more at our Iran Travel Insurance blog.
Why apply for a visa in advance?
Because when you get your visa in advance, your entry to Iran is guaranteed. Plus, you can't get a VOA if you are entering Iran overland. What else? Getting a VOA at the airport might take a lot of time or you might even be rejected and sent back to your country.
Why Apply for an Iran Visa Through IranOnTour?
Stress-free travel to Iran
Lower chance of getting rejected
Skipping the line of VOA and the paperwork of consulates
Receiving your verification code faster
Getting express services if you are in a hurry
Iran Visa Application, Contact Us
Want to apply through us? Contact us through website chat, WhatsApp, …
Keywords: extend Iran visa, how to get Iran visa, tourist visa Iran, Iran visit visa, Iran airport visa, Kish island visa, Iran visa process, Iran visa photo requirements, Iran visa fee, Iran visit visa requirements, visa on arrival Iran, evisa.mfa.ir