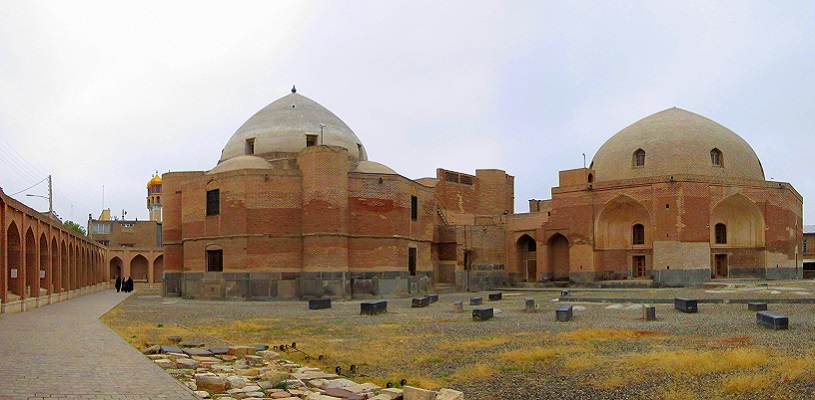 Ardabil Tourist Attractions | Things to do in Ardabil (Ardebil)
Ardabil, the city of cold mountains and hot springs, the birthplace of Sufis, and the cradle of great 16th and 17th-century kings! Standing as a monumental piece of great Iranian history, the city of Ardabil is filled with sites you shouldn't miss. Which one to start with? This list of top Ardabil attractions will help you find out. ! If you are staying in (and around) Ardabil for 1 to 2 days, start from the top of the list and check out the Must-see Attractions of Ardabil. If you've got 3 to 4 days to stay, after the must-see section, move down the Ardabil Attractions Worth Seeing list. And if Ardabil is hosting you for more than 7 days, move on to the Have More Time section and take your exploration to a deeper level.
Things to do in Ardabil – The Must-See Attractions of Ardabil
Make sure to put Sheikh Safi Al-Din Khanegah and Shrine Ensemble on your must-visit list. This precious treasure (UNESCO World Heritage)is the top Sufi Khaneqa (a building designed for the gatherings of the Sufi brotherhood) in Iran. The tombs of kings that lie in this ensemble add to the historical value of the place. Apart from being an early example of a religious complex, this multipurpose ensemble also fulfilled cultural, social, charitable, as well as educational purposes. Showcasing several architectural elements that became an inspiration to later architects, this Ardabil attraction is a masterpiece. The intricate tilework, calligraphy, stuccowork, silverwork, and gilding subtly embellish the site.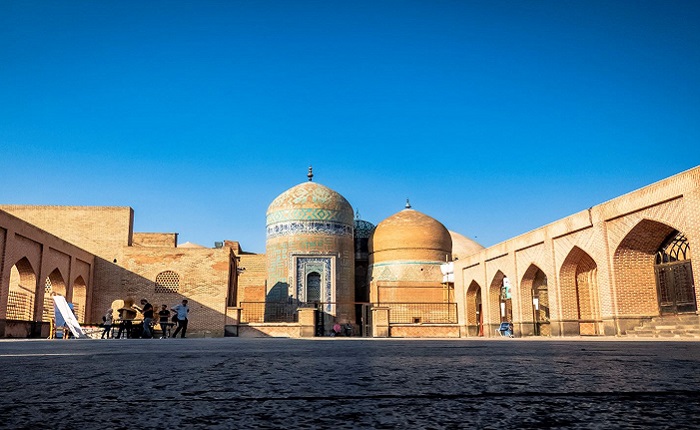 Things to Do in Ardabil – Jameh Mosque of Ardebil
Jameh Mosque of Ardabil, one of the oldest attractions of the city, has always been a tourist magnet. It was built over the ruins of a Pre-Islamic fire temple in the early Islamic period. As a relic of different historical eras, this beautiful mosque has something to charm you with on every corner. Walk around the admirable remains and lose yourself in the historical aura of the place.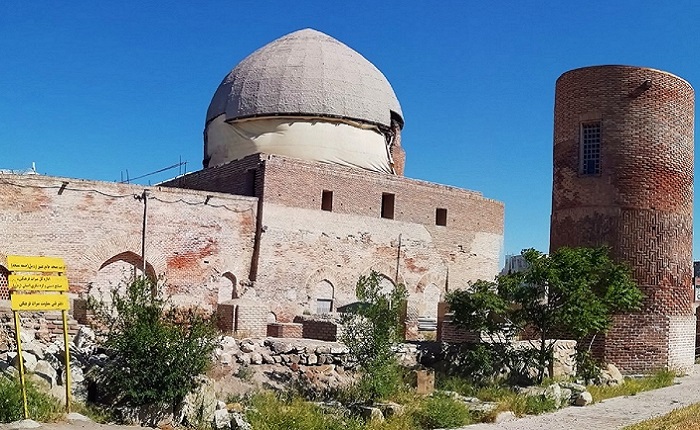 Things to Do in Ardabil – Shahr-e Yeri
If you asked me, I would say Shahr-e Yeri is one of the most bizarre places in the whole world! Walking around the mouthless statues feels like solving a mysterious puzzle and discovering the secrets of the ancient world. This ancient wonder is in Meshgin Shahr, a city almost 98 km from Ardabil. The motifs of men and women as well as some goods carved into the standing stones give you a glimpse of the ancient social ranking, in particular women.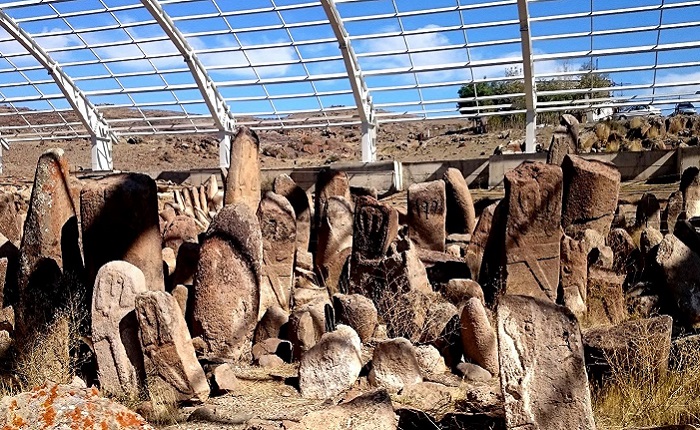 Ardebil Attractions – Meshgin Shahr Suspension Bridge
Enjoy a walk above Meshgin Shahr's beautiful forest park on Middle East's longest pedestrian suspension bridge. The 365-meter Suspension Bridge not only offers an exciting view from an 80-meter height, but it also pleases your eyes with an eye-catching river and scenic greenery. Early spring to early fall is the best time to visit.
Ardabil Attractions – Tomb of Sheikh Haydar
In the middle of Meshgin Shahr's old neighborhood, you'll find a beautiful garden that has a historical treasure in its heart: The tomb of Sheikh Haydar. Sheikh Haydar, the father of a renowned Persian king, was a great Sufi and a war hero who died in battle. That's why he deserved such an impressive mausoleum. The 18-meter brick tower features turquoise tiling and intricate inscriptions.
Things to do in Ardabil – Ardabil Attractions Worth Visiting
Things to do in Ardabil – Ardebil Shourabil Lake
Don't miss a pleasant time beside Iran's only inner city lake: Shourabil Lake. Besides the scenic view of the lake, this Ardabil attraction offers recreational services, sports facilities, and cultural centers. So, you can enjoy bike riding, boat riding, running, etc. Local birds and migratory birds also add to the beauties of Shourabil. Visit in spring and summer when the weather is great in the city.
Ardabil Attractions – Sarein Hot Springs
On your trip to Ardabil, don't miss a visit to the nearby (32 km) town of hot springs: Sarein. Being close to an inactive volcano has blessed this beautiful place with Sulphur springs. Apart from their healing effects, Sarein's Hot Spring Complexes are fun places to be! Have fun in the pools, dry saunas, steam saunas, water slides, or massage rooms.
Tourist Attractions in Ardabil – Asalem to Khalkhal Road
Enjoy a ride through dense jungles, green fields, cascading waterfalls, and scenic lakes. Known as Iran's dreamiest road, Asalem to Khalkhal Road is a real treat to your eyes. Spice up the 70-kilometer ride with a stop by the jungles and a walk in the pristine nature. The villages and nomad tents in the region are also a charm of the trip.
Iran Ardabil Province Attractions – Shirvan Valley and the Foot of Mount Sabalan
The mythological mountain of Iran, Mount Sabalan, is a real piece of beauty. On the foot of this Ardabil attraction, you'll find a stunning place: Shirvan Valley. This awe-inspiring valley and its mysterious cliffs have always been a source of folklore. There, beside the interesting cliffs, you'll discover beautiful animals and adorable springs.
Things to Do in Ardabil – Heyran
If you leave Ardabil and move on farther north toward the border city of Astara, you'll be blessed with a dreamy picture: Heyran. This northwestern slice of Iran features a dreamy road and 3 adorable villages. On every moment of your trip through this beautiful region, pristine mountain, jungle, and valley landscapes will take your breath away. You can also enjoy a gondola lift over the foggy villages and amazing nature.
Have More Time? More Things to Do in Ardabil
Neor Lake
Discover a fantasy 48 kilometers to the southeast of Ardabil: Neor Lake. This freshwater lake and its many springs bless you with pleasant weather and beautiful nature. In summer, the land around the lake is covered with wild mints, tulips, and chamomiles. Migratory birds also become guests to this Ardabil attraction from time to time.
Ardabil Tourist Attractions – Fandoghloo Forest
To the northeast of Ardabil, Fandoghloo Forest expects you with its beautiful hazelnut, wild apple, greengage, and wild berry trees. It is one of the few places where you can eat wild fruits, watch beautiful deer, and enjoy the aroma of beautiful herbal plants. Since the jungle is not that large, one day would be enough for an unforgettable adventure there. But this Ardabil attraction is also a popular camping destination.
Tourist Attractions in Ardabil – Sooha Lake
Behind a small dam to the east of Ardabil, you'll discover a gorgeous pond: Sooha Lake. On the meadows surrounding the lake, you can find beautiful horses living freely. Summer, when the land is covered with chamomiles and lovely springs, is a great time to visit.
Places to Visit in Ardebil – Mughan Plain
Near Ardabil, you'll also find a piece of heaven with mesmerizing landscapes: Mughan Plain. This evergreen piece of Iran features lush farmlands, lovely orchards, and beautiful mountains. But intact nature is not the only attraction of this Ardabil attraction, historical landmarks that are as old as 5000 years, and adorable nomads add to the charms of this picturesque destination.
Get a slice of the unique lifestyle of Shahsavan nomads on a 2-day tour from Ardabil! As the country's third ...