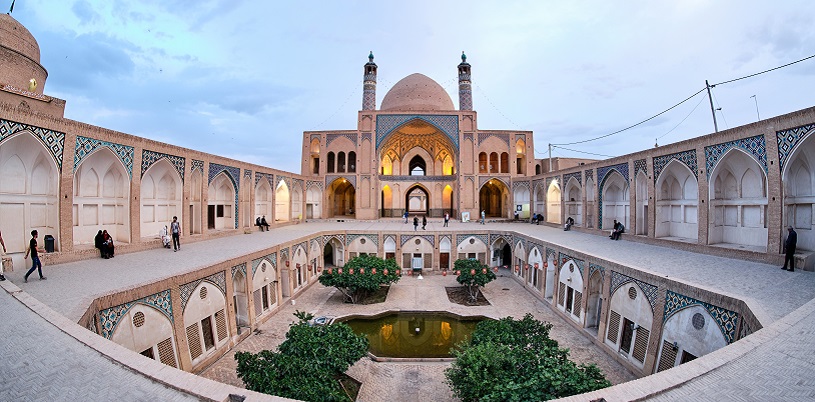 Kashan Tourist Attractions | Things to Do in Kashan
Kashan boasts gorgeous historical houses and the best rosewater in the world! But this main point on Iran's classic tourist route has much more to offer! Where to start? Here's a list of top Kashan Tourist attractions that can sort of replace a local guide! Dedicating 1 to 2 days to the beautiful Kashan? Then start at top of the list and move down the Must-see Attractions of Kashan. If you are staying there for 3 to 4 days, move further down to Kashan Attractions Worth Seeing. And if Kashan has caught your eye for an over 4-day stay, check the sites off the Have More Time section.
The Must-see Kashan Tourist Attractions – Things to Do in Kashan
If you've heard of Kashan, you must definitely have also heard of Tabatabaei House. This stunning Persian house doesn't miss to impress you with its attractive architecture and delicate decorations. The artistic taste and elegance of this 19th century mansion have won it the title of the paradise of Persian houses. Pleasant courtyards, intricate stone reliefs, delicate plaster work, fine paintings, striking mirror work, and colorful windows have turned this Kashan attraction into a breathtaking museum.
Once upon a time in the 19th century, a merchant fell in love with the daughter of the owner of Tabatabaei House. To accept him, the father of the girl asked for a mansion at least as elegant as his own! That's how Borujerdi House came into existence! Throughout the house, you can trace the elegance of the elements of traditional Persian architecture. The interior decorations feature a considerable delicacy and finesse and the paintings have been done in a special way using different methods of oil painting and watercolor. This Kashan attraction was selected as a popular tourist attraction by UNESCO in 2015 and 2016.
Things to Do in Kashan – Abbasi House
Drown deeper in the lifestyle of 18th and 19th century wealthy families of Kashan in Abbasi House. In several courtyards and 5 floors, this impressive piece of art showcases the stylish elements of traditional Persian architecture. The rooms that open to each other are the meeting place of perfect examples of Iranian arts. On top of all, the ceiling of one chamber features an impression of a starry night. Delicate stucco reliefs and colorful windows also brighten up the room.
Things to Do in Iran – Kashan – Fin Garden
Fin Garden! A brilliant green jewel in the heart of Kashan! As one of UNESCO's nine Persian Gardens, this 16th century garden attracts visitors for year in and year out. It is the stunning symmetrical architecture, glittering pools, flowing fountains, and genius water system that make this Kashan attraction so charming. But, the garden has won half of its fame from the historical event that it witnessed.
Kashan Tourist Attractions – Tepe Sialk
Halfway between Kashan and Fin, you'll find a rich 8000-year-old treasure: Tepe Sialk. This archaeological complex embraces the remains of one of the oldest civilizations that existed in Iran. A ziggurat, the oldest handmade adobe ever found, precious pottery pieces, metal tools, and stone artefacts are of the treasures found in Sialk. With a visit to this Kashan attraction, you'll be visiting the most industrial city of ancient Iran.
Kashan Tourist Attractions Worth Visiting
Things to Do in Kashan – Sultan Amir Ahmad Bathhouse
Like to see a superb example of a traditional Persian bathhouse? Then Sultan Amir Ahmad Bathhouse is the place to be! This 500-year-old bathhouse is a real work of art inside. The turquoise and golden tiling, plasterwork and brick work, as well as the nice paintings are real treats to your eyes. Plus, the roof of this Kashan attraction is a masterpiece of architecture. Apart from the multiple domes that contain glasses that light up the interior, the roof also provides a panoramic view of the lovely Kashan.
Things to Do in Kashan – Fire Temple of Neyasar
Find one of Iran's best-preserved ancient fire temples 37 km to Kashan: the Fire Temple of Neyasar. As one of the country's most well-known Chahar Taqs (an ancient Iranian square structure with a dome on top and arched openings on each side), this pre-Islamic fire temple is also a very precise solar calendar.
What to Do in Kashan – Neyasar Cave
One of the most mysterious places in Iran is an ancient manmade cave near the Fire Temple of Neyasar: Neyasar Cave. This sacred Mithraist cave dates back to Parthian era (247 BC to 224 AD). With a 950-meter length and a 60-meter depth, this 3-floor cave is a wonder. Lose yourself in its long pathways and chambers that once belonged to the followers of one of the world's oldest religions.
Kashan Tourist Attractions – Qamsar Rosewater Festival
Kashan's rosewater is known as the first-class rosewater of the world. And the people of Qamsar (39 km to Kashan) have been holding a delightful ceremony for making rosewater for over 1000 years. From around mid-spring to late spring, the people of Qamsar are host to people who go there from around Iran to fill up on the beauty of roses and aroma of rosewater.
Have More Time?
Tourist Attractions in Kashan – Agha Bozorg Mosque
Agha Bozorg Mosque is one of the most stunning structures from Qajar Era (1796-1925). Like many other mosques in Iran, Aqha Bozorg also served as a theological school. Although there is no trace of excessive decoration, this Kashan attraction still catches your eyes with its tasteful architecture. What makes this beautiful mosque special is the genius architecture of its dome, which cools the interior in hot seasons. Also find peace in the central courtyard, its lovely pool, and its refreshing atmosphere.
Things to Do in Iran – Kashan – Ameri House
Like Kashan's other adorable historical houses, Ameri House is a real charmer. Built in the 18th century, this Kashan attraction is now a pleasant 5-star hotel. As the largest historical house in the town and one of the most beautiful, Ameri House is a collection of 3 connected houses, 5 courtyards, and around 85 chambers! Elegant Persian architectural elements, tall wind towers, and tasteful decorations turn this mansion into a masterpiece. Spend only a night in one of its lovely rooms to get a taste of the sweet traditional Iranian lifestyle.
Kashan Tourist Attractions – Nushabad Underground City
As an escape from the intolerably hot days of the central desert, Iranians built an amazing underground city! As a striking piece of ancient architecture, Nushabad Underground City is a wonder near Kashan (around 14 km). With more than 1500 years of history, lovely little chambers, and narrow and winding passageways, Nushabad doesn't miss to impress you. This Kashan attraction is from 4 to 16 meters under the ground. And it features beautiful traces of its construction process.
Things to Do in Kashan – Qalishuyan (Carpet Washing) Rituals of Ardehal
In Ardehal (a town 42 km from Kashan), you'll witness a beautiful UNESCO-recognized intangible heritage: the Persian ritual of Qalishuyan. More than 500 thousand people gather around from Kashan and the surrounding cities to honor a respected figure and take part in this traditional festival. On the nearest Friday to the 17th day of the month of Mehr, they gather at the Mausoleum of that holy figure. First, they sprinkle rosewater on the carpet with decorated wooden sticks. Then they wrap the carpet in a ritualistic way and hand the carpet over to the people of the nearby town. After that, they clean the carpet in running water and have a ritualistic prayer.
Kashan city , northern part of Isfahan province on Map (Kashan Map)