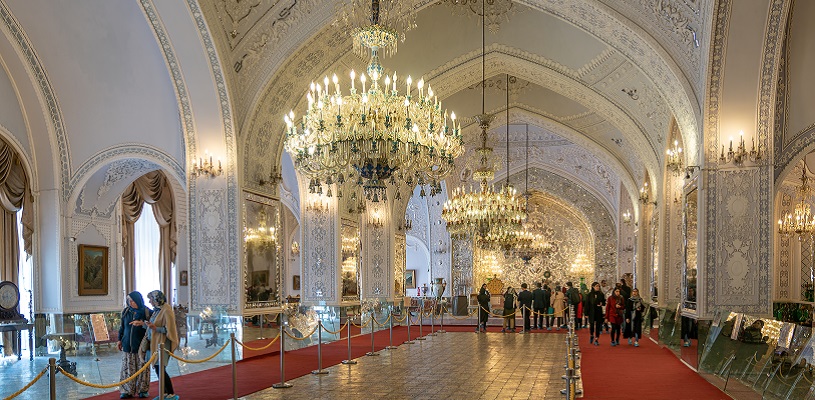 TOP Iran Museums (National Museum of Iran)
Some of the best spots for the culture vultures out there is Iran's lavish museums! Featuring ancient history, rich culture, and elaborate art in their prime, these museums are the unmissable treasures of the antique country. Wondering whether you can find the bests and most special of them on your own? Well, this list of the Top Iran Museums will lead you to the ones you should definitely not miss on your journey around Iran.
Top Museums in Iran – Golestan Palace – Tehran
The glamour and luxuries of Qajar (1785-1925) aristocracy show themselves off in Tehran's Golestan Palace (UNESCO). Clearly, with a pleasant harmony of Persian design and western inspirations, the dazzling palace is a precious piece of art itself. It is a collection of a charming garden and grand buildings adorned with tastefully painted tiles, mirror work, and other adorable elements of Persian architecture. What about the artefacts? JUST gorgeous! You should get separate tickets for the 9 different sections of this top Iranian museum. Don't miss the main halls, especially the Mirror Hall, the Painting Gallery, and the Royal Museum.
The National Museum of Iran – Tehran
The National Museum of Iran is definitely the largest, richest, and most remarkable archaeological museum in Iran. For over 80 years, this top Iranian museum has been safekeeping and exhibiting over 300 thousand historical treasures that have given it such a special status among others. Iran's rich history, from Paleolithic era to present, is on display for you with the museum's large collection. The collection includes ceramics, pottery, figures, inscriptions, reliefs, and coins found in top archaeological discoveries around the ancient country. Beside the collection, the 20th century building itself is one of the most attractive modern buildings in the capital.
The National Jewelry Treasury – Tehran – Iran Museums
Lose yourself in the world of royal luxury by checking out a dazzling collection of royal jewelry in Tehran's National Jewelry Treasury. As one of the largest collections of jewelry in the world, this top Iranian museum puts on display a stunning gathering of precious gemstones, crowns, and jewels worn and used by Persian royalty. These priceless relics tell you stories of the bitter-sweet victories and defeats Persian kings and queens have experienced throughout history. Above all, the splendid gem-coated thrones, the Golden Globe, and Darya-ye Noor (one of the world's largest-cut diamonds) are the highlights of the museum. Plan your visit in advance, because the Central Bank of Iran where the museum is located, has limited openings.
Glassware and Ceramic Museum of Iran – Iran Museums
One of Tehran's most adorable historical houses is host to the Glassware and Ceramic Museum of Iran. This impressive museum takes you on a journey through the history of glass and ceramic from prehistory (4th millennium BC) to present. Each piece of the collection dazzles you with its beauty and intricacy. And each charts you the rich history of Iran with a detailed explanation in English. Plus, the building itself is a treat to your eyes with its ornate plasterwork, excellent brickwork, and graceful wooden staircase. If you ever visit this top Iranian museum, don't miss the street food and a walk on Si Tir Street.
The Carpet Museum of Iran – Tehran – Museums in Iran
If you are an admirer of one of Iran's best-known arts, Persian Carpets, then the Carpet Museum of Iran is the place to be. This top Iranian museum is one of the world's few museums that specializes in carpets. So, it is a delightful reunion of exquisite carpets, kilims and rugs from around Persia. This rich collection of precious historical carpets is a gallery that showcases the richness and diversity of Persian culture and its ancient history. The over 135 masterpieces of carpet weaving sheltered in the Carpet Museum date from the 16th century up to present. Each of these masterpieces are kept according to their color, design, weaving technique and the region where they were created.
Top Iran Museums – Music Museum – Isfahan
Somewhere in Isfahan's delightful Armenian quarter, you'll find the city's special Music Museum. A fine collection of traditional Persian instruments and regular live performances by well-known folk musicians make the Music Museum a real treat. Video and audio displays of Iran's different musical traditions and the way different instruments are played also spice up the artistic atmosphere of the place. There are French and English-speaking tour guides who introduce you to the over 300 traditional and local instruments from around Iran. The gift shop of this top Iranian museum is also a nice place to get some music-themed souvenirs.
Top Museums of Iran – The Azerbaijan Museum – Tabriz
Beside Tabriz's well-known Blue Mosque, lies Iran's second richest archaeological museum after the National Museum of Tehran: the Azerbaijan Museum. The building of this museum was inspired by the local Azeri architecture. Prehistoric stones, pre-Islamic artefacts as old as 7 thousand years, and Islamic relics are of the heritages kept in the Azerbaijan Museum. Above all, this top Iranian museum prides in a 3000-year-old goddess, prehistoric stones with ancient patterns, and ancient rhytons.
Hegmataneh Museum – Hamedan – Top Iranian Museums
As one of Iran's most ancient cities, Hamedan is surely proud of a rich museum: Hegmataneh Museum. This top Iranian museum mainly treasures relics found from the remains of the ancient city of Ecbatana, the first capital of the first Iranian empire back in 7th century BC. Among the most priceless objects kept there are pre-Islamic pillars, coins, inscriptions, stone artefacts, and pottery containers.
Top Iran Museums – Susa Museum – Shush
Rare treasures found from the top ancient sites in Khuzestan Province are gathered in the precious little museum of the city of Shush: Susa Museum. This top Iranian museum highlights a giant double-headed bull capital, a lion-hugging Hercules, and ancient clay death masks. But what makes the museum even more special is that the building contains ancient bricks found in Susa and Chogha Zanbil excavations.
Top Iran Museums – Yazd Water Museum
Since Yazd city is located in a hot and dry climate, Yazd people have always been engaged with methods to save and store water. That makes Yazd one of the first cities in the world that could invent a water system. Qanat (A UNESCO Heritage) is the name of this invention. If you're interested in how it works, Yazd Water Museum has a lot of stories to tell you. This museum of Iran is located in a nice traditional mansion. In this museum, other than enjoying the lovely atmosphere of Iranian architecture, you can find out about the traditional water system of Yazd, and how people used that.
Astan Quds Razavi Museum of Iran
Astan Quds Razavi Museum is located in Mashhad, Imam Reza (A.S) Shrine Complex. This Iranian Museum is so great to visit. There are many different historical relics, valuable books, and a lot of other artistic, and scientific attractions in Astan Quds Razavi Museum. This museum has a tremendous complex with different parts, and in each of them, you can find a subject of interest. The museums of coins, cash, history of the post, aqua life, clocks, plates, medals, and the museum of visual arts are different parts of Astan Quds Razavi Museum.
Iran Musuems – Puppets and Toy Museum of Kashan
The puppet and Toy Museum of Kashan is a wonderland in Kashan. This museum is a great birthplace for dreams and imagination. The toys and puppets left from the Qajar ages of Iran in the setting of Qajar architecture, add to the attractiveness of this Iranian museum. Moreover, many tourists that have experienced visiting this museum, mention that the staff of this Iranian museum are so kind and respectful.
Final Words
Thank you so much for following us in this passage. Here at IranOnTour, we try to share knowledge alongside the business. We'd also be grateful if you enlighten us with your experience and knowledge. Also, we'd be glad if you let us know how you felt reading this blog.
Keywords: what is one of the most famous museums in Iran, the most famous museum in Iran, Iran palace, museums in Tehran