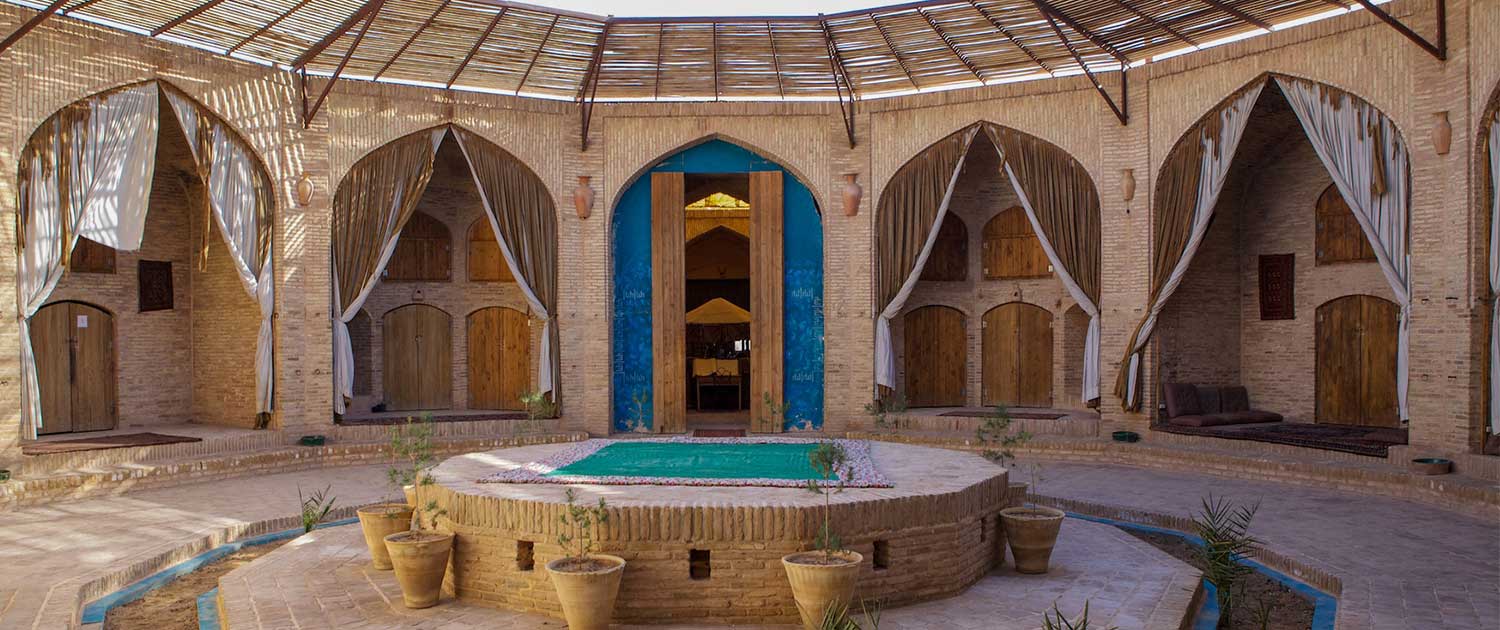 Persian Caravanserai: TOP Caravanserais to stay in while in Iran
Long ago when the word "hotel", was hard to pronounce, travelers of the silk road used an alternative. Caravanserais were places where travelers of the Silk Road could take a rest and spend a night or two. Back then a businessman did not even need to book a room before, via the internet. He would just arrive, take a rest, and keep on their journey. Iran was the bed of a vital region of the silk road; so, obviously, it was in Iran that Caravanserais came into existence. Let's take a trip to Iran Caravanserais and find out about the history behind their spectacular architecture.
Iran Caravanserais
There were many Caravanserais in Iran as the heart of the Silk Road. Iran Caravanserais are traditional Iranian hotel, in simple words. Even the word, caravanserai, is a Persian word, which means a home (Serai) for convoys (Caravans). A Persian caravanserai usually has a big yard and two floors, built on square or rectangle fields. The yard of a Persian caravanserai was so vast, so that they could place the horses and other animals of a caravan, the first floor was usually a storage for goods and the second floor involved the hotel room for travelers.
Iran Caravanserais were mostly built and upgraded in Safavid period. Shah Abbas the 1st, was so interested in Silk Road and considered it a vital road for his trade. There are also historical clues mentioning that the chronicles of Iran caravanserais turn back to the age of Achaemenids. In Achaemenid age, there were some caravanserais called "ChaparKhaneh". After the arrival of Islam, caravanserais in Iran got enriched with Islamic-Iranian architecture and settings of Islamic arts. The Iranian caravanserais would save the caravans from extreme climate, bandits, and also, they were best available places to take a rest.
Iran Caravanserais in Persian Literature
In Persian literature some famous Iranian poets consider caravanserai as a metaphorical term for the physical world. In such poems, the poet tries to say that our world is not the destination. The physical world is in fact a rest place (a caravanserai) for human soul, and the final destination is far beyond the skies. Such Persian poets believe that human beings are members of a caravan that is on a journey in which they learn, gain experiences, and grow. Some members of this caravan forget their destination and stay in a caravanserai in the road for eternity. But the wise travelers take a rest and move on to find the truth, and they don't limit themselves to the rooms of this materialistic caravanserai.
In a thoughtful sonnet, Hafez, the famous Persian poet, mentions:
"Since the destination is far from this door-to-door Caravanserai, whether poor or rich, whether high or low, all the rooms are the same"
Famous Caravanserais of Iran
Most of the famous Persian caravanserais belong to the age of Qajar, Safavid and Zand kingdom. Nowadays some of these Iranian caravanserais are available to visit, and to stay in. These are some famous caravanserais of Iran:
Zein-O-Din
Saad Al-Saltaneh Caravnserai
Shah-Abbasi Caravanserai
Maranjab Caravanserai
Garmsar Ghasr-e-Bahram Caravanserai
Moshir Caravanserai
Iran Caravanserais, Zein-O-Din Caravanserai
If you're an astrophile and are looking for your Stella, Zeinoddin Caravanserai can act as an intermediate. This caravanserai, built in Safavid age, is located in a silent peaceful desert, in Mehriz, Yazd province. Zainuddin is famous for its starry nights and lovely architecture. This Iran caravanserai looks like a round castle, and the reason behind such an architecture is to defend the caravanserai from sand storms. After 400 years, Zain-o-Din is still available for tourists and they can spend time in this Persian caravanserai or just pay it a visit.
Iranian Caravanserais, Saad Al-Saltaneh Caravanserai
Among famous caravanserais of Iran, Saad Al-Saltaneh is the biggest one in urban area. This Persian caravanserai was built in Qajar period in Qazvin, by order of the Ruler of Qazvin, Saad Al-Saltaneh. This Iran caravanserai has a vast site with a traditional bazaar and café, and the manifestations of Iranian Islamic architecture are visible in its atmosphere.
Iran Caravanserais, Maranjab Caravanserai
Maranjab Caravanserai, built by Shah Abbas the 1st, is placed at the southern region of Salty Aran Lake, near Kashan. This Iran caravanserai has a 3500 square meters land and 29 rooms. The name, Maranjab is chosen from the desert this caravanserai is placed in. This area is located in the Silk Road and it used to be the connecting route of Khorasan and Isfahan. That is probably one reason that Maranjab Caravanserai was so crucial back then.
Persian Caravanserais, Garmsar Ghasr-e-Bahram Caravanserai
As an ancient caravanserai in Iran, it was built in the Sassanid age, by Bahram Gur (Bahram the Hunter). Later in Safavid period, Shah Abbas the first repaired and used this Persian caravanserai. This Iran caravanserai has two gates, many rooms around the courtyard, a stable, and a hall in the western bulk. Garmsar Ghasr-e Bahram Caravanserai is 154 Kilometers away from Tehran.
Iranian Caravanserais, Moshir Caravanserai
Built in the age of Qajar, Moshir caravanserai has a unique architecture in Yazd. This place is so fresh and beautiful that it even functions as a hotel nowadays. The front yard of this Iran caravanserai includes a beautiful garden and pool. The architecture of this building is so brilliant and it resembles the royal palaces of Qajar kings.
Persian Caravanserais, Shah-Abbasi Caravanserai
As one of the most popular caravanserais in Iran (Shah-Abbasi Caravanserai), Karaj city, it was built by the caravanserai lover, Shah Abbas the 1st. This caravanserai was a vital one for merchants and caravans since it was right in the path of the Silk Road. This caravanserai further used as a military base in the age of Qajar and then turned into a school. Anyway, nowadays this Iranian caravanserai is available to visit for tourists.
Keywords: Persian caravanserai, caravanserai Iran, Safavid caravanserai, Qajar caravanserai