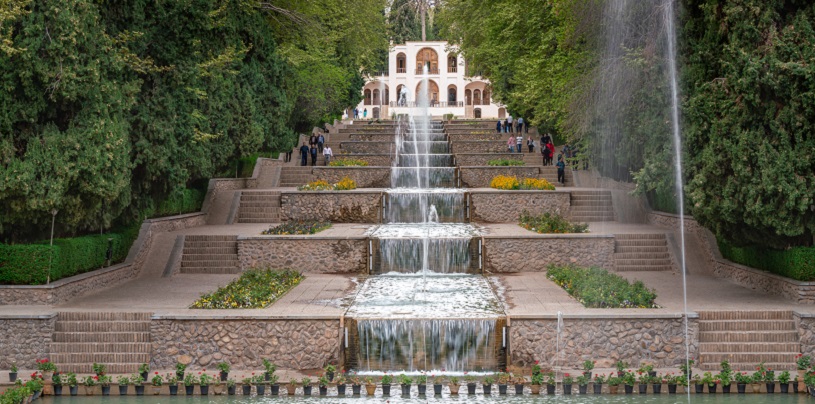 TOP 7 Persian Gardens of Iran | Must-See Iranian Gardens
The Iranian love of gardens and splendid interiors has left the ancient country with a considerable number of attractive Iranian gardens that have found worldwide fame. It is the pleasant harmony of the genius watering system, the vivifying greenery, and the tasteful architecture of the mansions that make these gardens so gorgeous. Inspired by Cyrus the Great's original plan, these beauties are now scattered all around the country. Here are the Top 7 Persian Gardens you shouldn't miss!
Persian Gardens – Shazdeh Garden – Kerman
One of the top 7 Persian gardens in Iran is located in Kerman province. Just like a mirage, Shazdeh Garden is an emerald oasis in the desert! This UNESCO-listed Persian Garden lies on the outskirts of Mahan (a town 38 km from Kerman). Upon entrance, this masterpiece of Persian architecture disconnects you from the dry and sandy world outside and welcomes you with wonder after wonder inside. It enjoys fresh weather, breath-taking views, a harmonious design and a genius water system. But above all, the pleasant harmony of the staircase, the fountains, the towering trees, and the impressive pavilion of this top Persian garden is sure to fill you with admiration.
Persian Gardens – Dolat Abad Garden – Yazd
Dolat Abad Garden is one of the most popular Iranian gardens. The historical city of wind towers, Yazd, is home to a full gallery of charms! But its Dolat Abad Garden (UNESCO Persian Garden) is a full manifestation of the beauties of Iran's desert cities. This priceless 18th century relic hides the world's tallest wind tower in its heart. Together with Qanats (underground water channels), the 33-meter wind tower present you the fresh weather of the traditional Iranian cooling system.
Persian Gardens – Chehel Sotoun Palace – Isfahan
Not far from Isfahan's fabulous Naqsh-e Jahan Square, you'll find another of Iran's top Persian gardens: Chehel Sotoun Palace. Rightfully saving a place as a UNESCO Persian Garden, this 17th century beauty is an artistic masterpiece. Some of the majestic elements you see in Chehel Sotoun were inspired by ancient Persian architecture. The 20 tall pillars and inlay work of the photogenic iwan and their beautiful reflection on the front pool is truly admirable. But above all, the Throne Hall impresses you with its majesty and richly decorated paintings and ceramics.
Persian Gardens – Fin Garden – Kashan
Fin Garden is one of the top 7 gardens of Persia. A sense of history, beautifully proportioned decorations, and crystal-clear water flowing on every corner are what make Kashan's Fin Garden (UNESCO Persian Garden) a real spectacle. Turquoise-tiled pools and fountains, and richly decorated pavilions shine like precious jewels in the middle of old cedars. The pavilions feature elaborate architecture, tasteful paintings, colored glass windows, and stalactite ceilings. But beauty, taste, and elegance are not the only reasons that make this delightful Iranian garden so well-known. Its fame as the setting of the assassination of Iran's most revered prime minister also puts this top Persian garden on the Iranians' must-visit list.
Persian Gardens – Eram Garden – Shiraz
Let me present you the 4-season beauty of Iran' s city of flowers and nightingales: the historical Eram Garden. Eram Garden is one of the best Persian gardens. Whether you get to see the blooms and blossoms of its spring or the golden look of its colorful leaves in fall, this UNESCO-listed Persian Garden will not miss to impress you. The garden's elegant mansion, its sophisticated irrigation system, its tall cypresses, and its fascinating scent and scenery make it not much less of a paradise. Eram is also a botanical garden with a rich collection of trees and plants from around the world. Don't miss the small Museum of Minerology on the ground floor of the richly decorated mansion.
Persian Gardens – Pahlavanpour Garden – Mehriz
Just like many of Iran's top Persian gardens, this unique one is also found in a desert climate! Not far from Yazd (45 km), in the small town of Mehriz, you'll find the precious UNESCO Persian Garden: Pahlavanpour Garden. This adorable treasure showcases natural and architectural brilliance combined with history. Particularly, the lovely stream flowing inside the garden and its old thick trees give it a refreshing atmosphere. The integrated design of Pahlavanpour garden is in fact representative of different architectural styles from diverse eras. This top Persian garden currently serves as a hotel where you can enjoy a unique overnight.
Persian Gardens – Qavam House – Shiraz
If Shiraz is one of the loveliest cities in Iran, Qavam house is one of the reasons why! As a reminder of aristocratic luxury, this historical mansion will not miss to charm you at first sight. The refinement of art, taste and skill employed in the house gives it half of its pleasant harmony. But the lovely garden that fills the air with the scent of sour orange blossoms in spring is definitely the other half. Don't miss the precious museum of photographs, books and archeological artifacts.