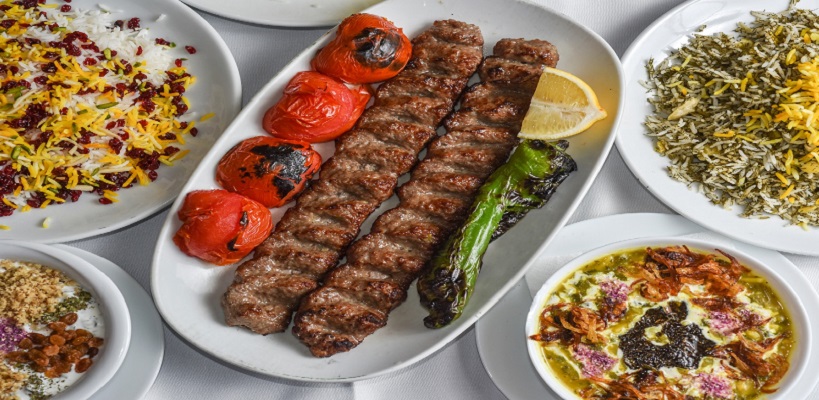 TOP Iranian Foods: Persian Dishes You'll Have to Try
Trying dishes from another country is not only enjoyable, but it is also a kind of cultural exploration! It is like tasting the history, geography , and the cultural background of a nation. Enjoying a great variety of climates, embracing a range of ethnic groups, and being in direct contact with many nations throughout history have blessed Iranian cuisine with a long list of tasty and fragrant mixtures. The right combination of veggies, herbs, and favorite Persian flavors, as well as the magic touch of Persian hospitality, make Persian dishes just unforgettable! If you ever travel to Iran or go to an Iranian restaurant, make sure you don't miss any of its finger-licking must-tries, the top Iranian foods:
The Iranian Kebabs, the Most Famous of Iranian Foods
As kebab lovers, Iranians have a variety of kebabs, but Chelo Kebab and Joojeh Kebab are their favorites. Chelo Kebab, a tender and juicy ground lamb kebab served with a large portion of rice that's topped with saffron rice is the most famous of the top Iranian foods. This signature dish of Iranian weddings is served with fresh basil, onions, grilled tomatoes and peppers, and a bottle of Iranian drinking yogurt. Joojeh Kebab is sliced chicken breast marinated in lemon, yogurt, and onion, and then basted with saffron and butter. The resulting taste is just sublime. For an Iranian, cooking Joojeh over fire or coal is one of the most enjoyable parts of a picnic in nature.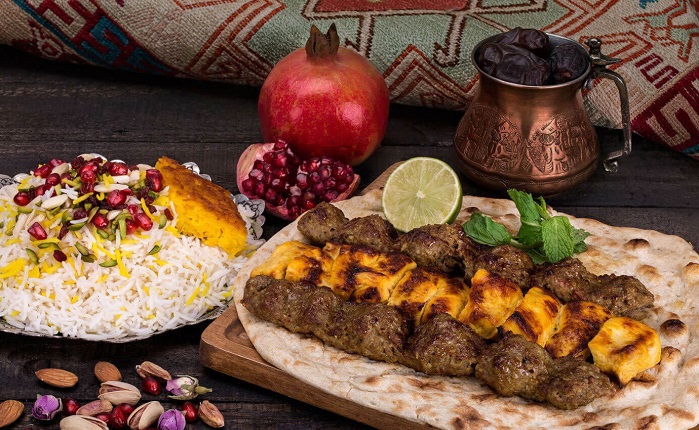 Ghormeh Sabzi, Most Adored Among Iranians
The truth is, Iranians are crazy about Ghormeh Sabzi (vegetable stew)! And probably nothing else in the world can brighten their day up more than the fascinating smell of this dish of rice and vegetable stew, especially if it is homemade! Aromatic herbs, beans, stew lamb, black lime, and a touch of Persian magic create this popular dish of flavorful goodness. Iranian moms say the secret to a tasty Qhormeh Sabzi is to let it cook slowly for a couple of hours. You'll have to taste it to find out what all the fuss is about! I bet you'll fall in love with it too!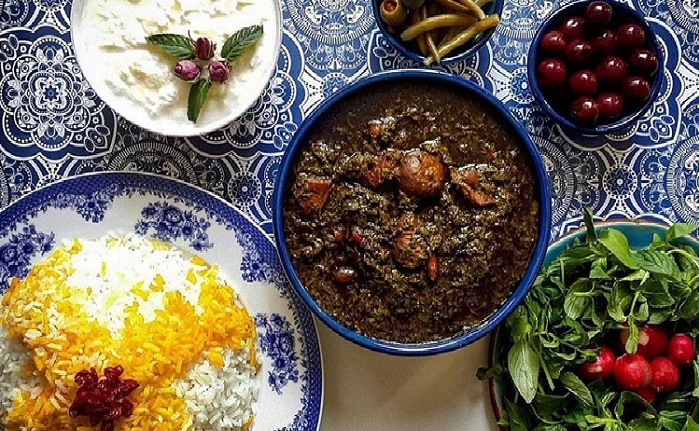 Abgoosht or Dizi, Traditional Dish of Iranians
This traditional Iranian broth is a hot nutritious dish for cold winter days. If Abgoosht is cooked and served in traditional stone or clay crocks, it is called Dizi. Though different regions have added their own twist to Abgoosh, it is mainly a mixture of seasonings, lamb, chickpeas, roughly chopped onions, and halved tomatoes finely cooked in water. Yet the serving ritual has stayed the same throughout Iran. First, you pour the water into a bowl and mix it with pieces of traditional Iranian bread, called Sangak. Then you mash the rest of the ingredients and enjoy your meal with onions, lemons, pickles, and fresh herbs.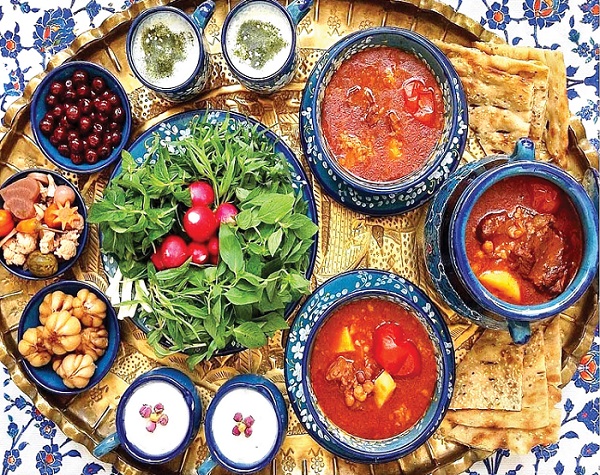 Baghali Polo and Mahicheh, Iranian Food for Fancy Parties
Another top Persian food you shouldn't miss is Baghali Polo ba Mahicheh. This popular dish is a mouthwatering combination of rice that is cooked with fresh broad beans and dills, and tender and tasty lamb shanks. Lamb neck or ribs are also a choice, but what matters most is that the meat has the bone stuck to it.
Zereshk Polo, A Classic that Never Out of Style
Ruby red barberries topping a dish of saffron rice and golden chicken is first of all a feast for your eyes. This popular Persian food is found in every Iranian restaurant and is served at most Persian get-togethers. The pleasant sweet sour taste the barberries give to this dish is probably the main reason for its popularity.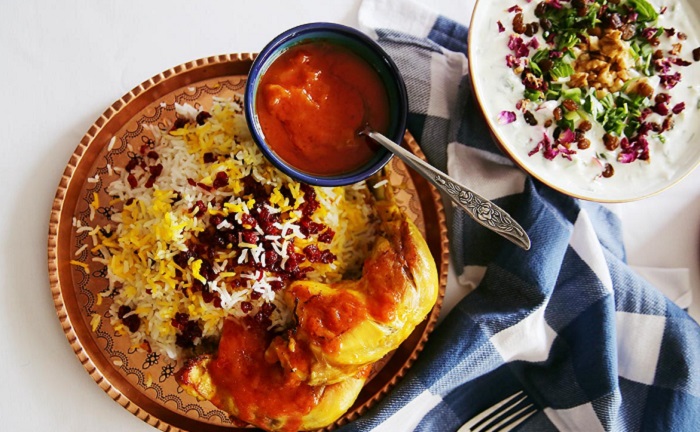 Dolmeh Barg-e Mo, The Special Treat of Spring
Iranians love stuffed food, but dolmeh Barg-e Mo (stuffed grapevine leaves or grapevine leaf rolls) is their favorite. They are mostly cooked early in spring when the leaves are still light green and young. Grape leaves are chosen, picked, and rolled with attention. The stuffing includes fresh herbs, grains, legumes, and seasoning. A blend of vinegar, sugar, and pomegranate paste gives the dolmeh a heavenly taste.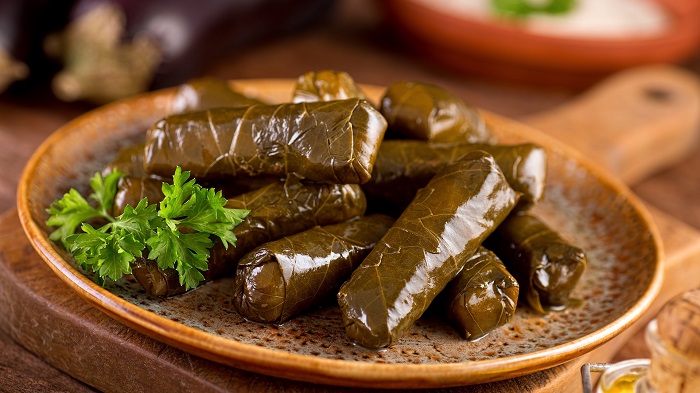 Fesenjoon,
Every Iranian family has its own recipe for Fesenjoon. As a royal dish in the past, this top Iranian food has an unforgettable taste. Originally cooked with duck, some cook it with chicken and others with meatballs now. Some like it sour, and others prefer it sour-sweet. But whatever the recipe, if you've tried this stew once, the final result makes your mouth water even looking at it. Nothing matches the unique flavor of this mixture of meat, crushed walnut, and pomegranate paste. This thick and blackish stew is served with rice.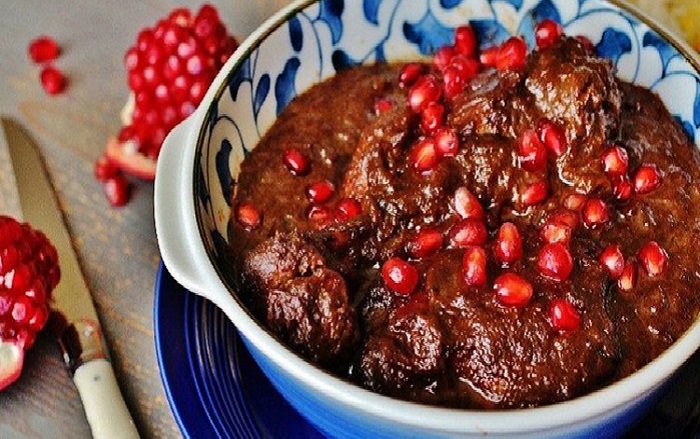 Aush Reshteh, A Dish from Tradition
Iranians are the masters of cooking Aush (Iranian thick soup). But Aush Reshteh is something else! Iranians take bowls of this Aush to friends and neighbors as a religious ritual. Thick noodles, lentils, chickpeas, beans, and a nice choice of aromatic vegetables are a mixture you're going to love. The bowl of Aush Reshteh is finally decorated with kashk (a kind of drained yogurt), fried onions, and sautéed dried mint.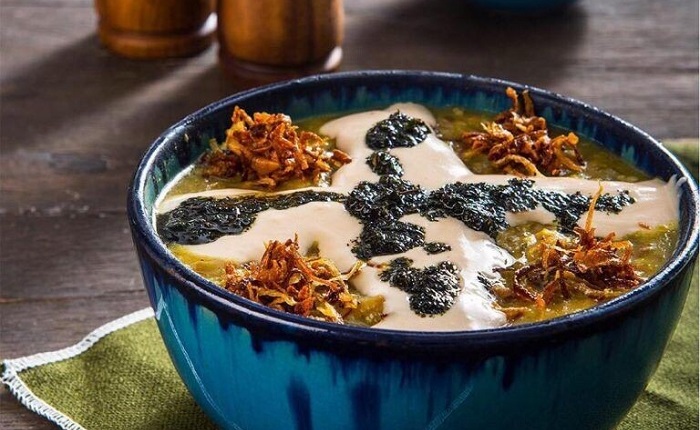 Ghalyeh Maahi, a Southern Iranian Food You Could Die For
This fragrant southern Iranian specialty is now a popular dish eaten all over the country. Like other southern dishes, this spicy dish reminds you of Indian cuisine. Fish (or shrimp), tamarind, garlic, and fragrant herbs, seasoned with unique southern spices, give Ghalyeh Maahi its superb taste. This tasty dish is enjoyed with rice.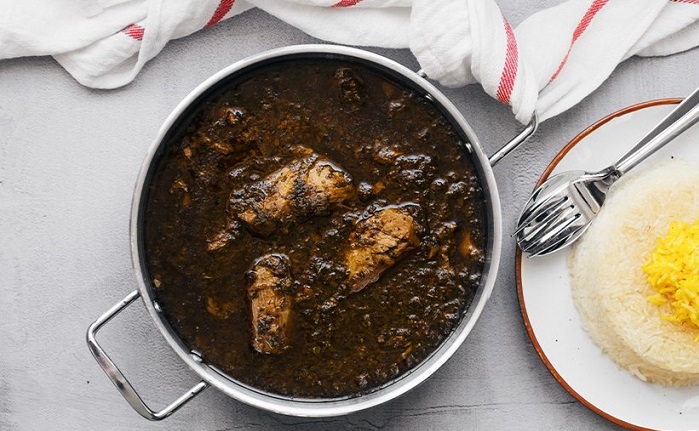 Kalam Polo, a Gourmet Symbol of Shiraz
This popular Persian dish is a gift from Shiraz, the city of rose gardens. Nothing is more tempting than the amazing aroma of the mixture of herbs used in Kalam Polo. Sautéed cabbages, meatballs, rice, and of course herbs and spices make up what is one of Iranians' favorite dishes. It is usually served with pickles or Shirazi Salad (a local salad that includes cucumbers, onions, tomatoes, and verjuice.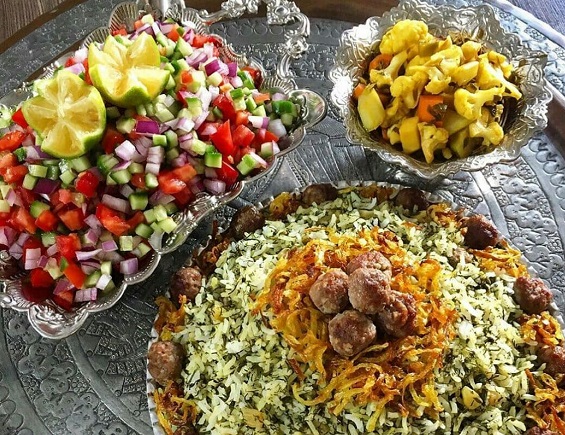 Khoresht-e Bademjan, an Iranian Food with Many Fans
One of the best Iranian dishes made with eggplants is Khoresht-e Bademjan (eggplant stew). A steamy pan of Khoresht-e Badebjan contains a flavorful blend of tomato sauce, fried eggplants, fried tomatoes, and meat. Saffron and verjuice spice up this super popular Iranian stew. It is served with either rice or bread.
Mirza Ghasemi, a Dish of Northern Iran
Here's a treat from the green north of Iran: Mirza Ghasemi. The scent of grilled eggplant is what makes this top Iranian food even more tempting. Besides grilled eggplant, the dish includes tomatoes, eggs, and the typical ingredient of northern Iranian food: garlic. Enjoy Mirza Ghasemi with either rice or bread.
Meygoo Polo, Favorite Iranian Seafood
One of Iran's yummiest seafood dishes is Meygoo Polo. As another southern Iranian treat that has become popular all over the country, Meygoo Polo is a must-try. The dish includes fresh shrimp, spiced up with onions and magical southern seasonings, and it is served with rice.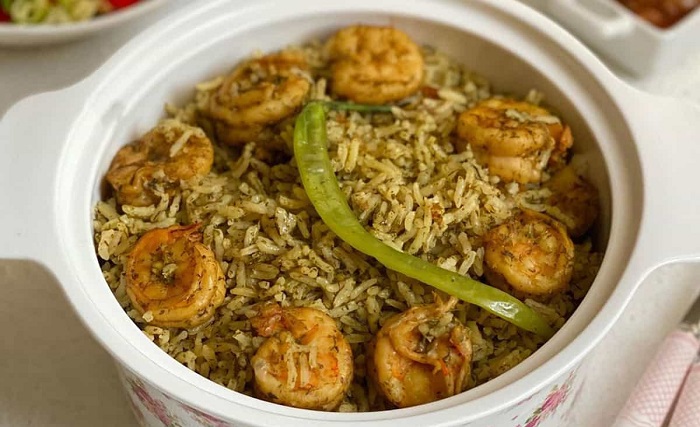 Shishlik, Persian Luxury in Your Mouth
This finger-licking kebab is popular around Iran. But you can find the finest Shishlik in Mashhad. What makes this kebab so delicious is that it is perfectly marinated in a flavorful sauce for at least a few hours before it is cooked. Nicely seared outside and juicy inside, this top Iranian food is definitely going to win your heart.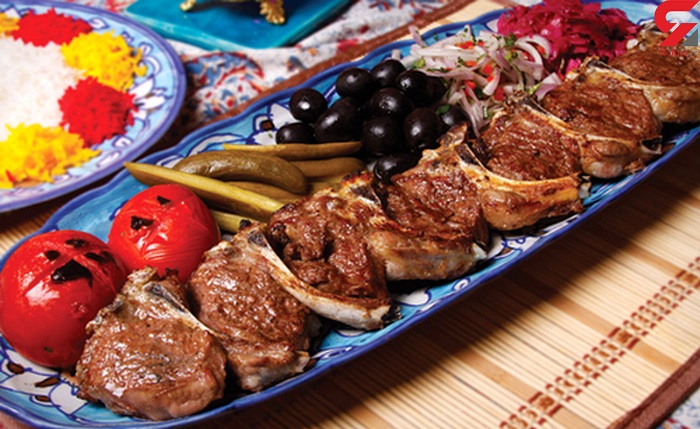 Beryani, Iranian Food From Isfahan
This rich and nutritious dish is a courtesy of Isfahan. If you ever visit this historical city, trying this dish should be on your must-do list. Beryani is a tasty mixture of ground lamb, lamb lungs, tail fat and seasonings. With Sangak bread (a kind of traditional Iranian bread), fresh herbs, and dinking yogurt, Beryani makes your mouth water.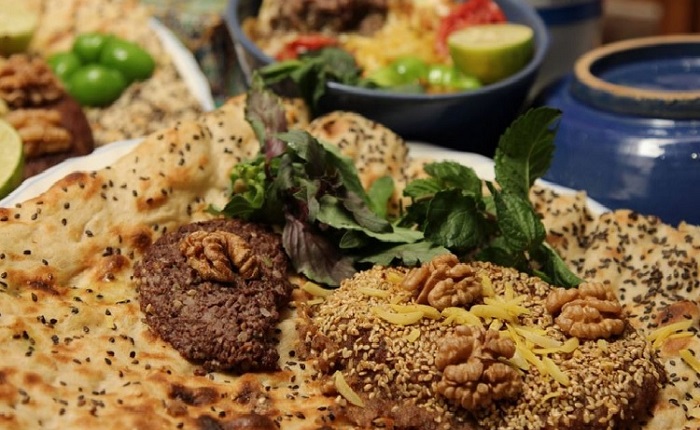 Tah Chin, Iranian Treat for the Eyes & the Taste Buds
The crunchy outer layer of this beautiful casserole steals your heart at first sight. Tah Chin is a Persian dish of layered chicken and rice. To create this perfect-looking piece of art, Iranians perfectly arrange yogurt, saffron, barberry, chicken fillets and sometimes thin layers of fried eggplant.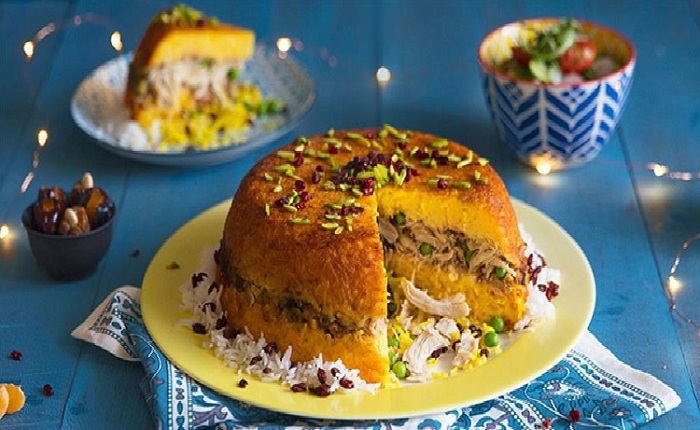 Tah Dig, the Treasure Hidden Under Iranian Rice
Not a dish of its own, but this thin crust of the crunchy bottom of the rice pot is one of the most popular icons in Persian cuisine. The scorched bottom is actually so popular that it has become one of the icons to judge the mastery of a cook. Rice, potato, and thin bread Tah Digs are the most common, but Iranians are so crazy about these golden crusts that they use other stuff like grapevines and lettuce. Iranian homes have witnessed fights over this crispy delicacy.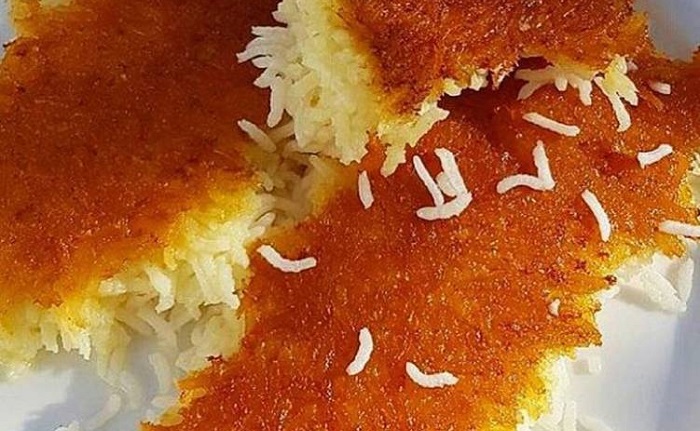 Halim Bademjan, a Gift for Eggplant Lovers
Whether as a tasty appetizer or a light dinner, Halim Bademjan is one of those Iranian foods that has a lot of fans. If you like eggplants, you're going to LOVE it. Besides eggplants, it includes lentils, shredded meat, and kashk (a kind of drained yogurt). Finally, it is topped by walnuts, fried garlic and onions, and sautéed dried mint.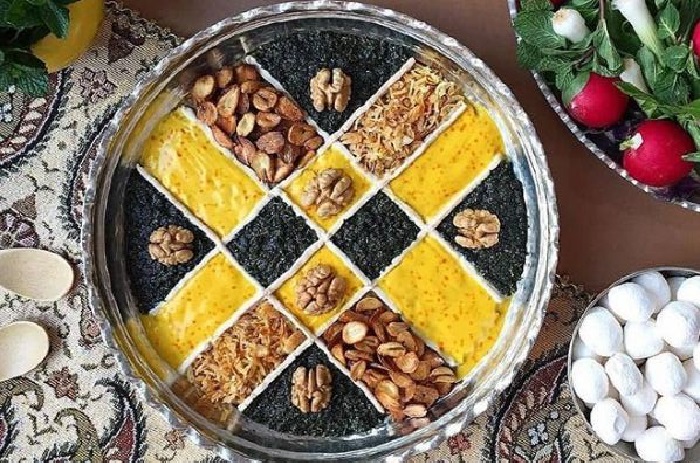 Khoresht-e Gheymeh,
This tasty Iranian food is a traditional stew you can find all around Iran. It is a mixture of small cubes of lamb, chickpea halves, tomato sauce, black lime and a blend of seasonings simmered together for a few hours. The bowl of Gheymeh is finally topped with fried potatoes. Iranians serve this delicious stew with simple rice and/or Shekar polo (sweet saffron rice that has won Khoresht-e Gheymeh most of its popularity). Shekar Polo is topped by sweetened tangerine peels and chopped almonds. Muslim Iranians also cook this Iranian dish as Nazri, food cooked for religious merit and taken to the poor, friends, neighbors and relatives.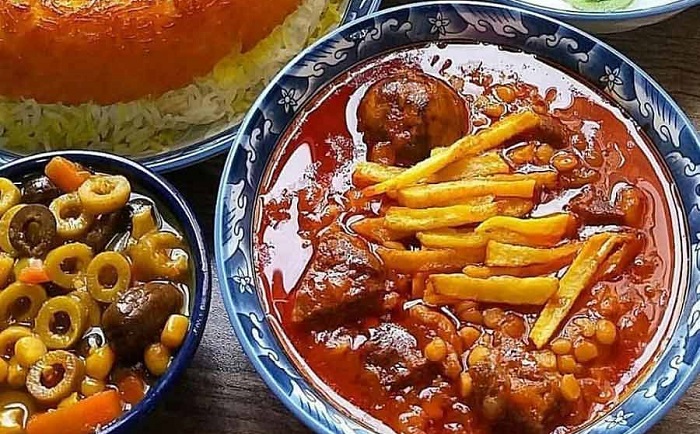 Albaloo Polo, a Sweet-Sour Dish That Sticks to Your Memory
When sour cherries are in season, Iranian mamas treat their family to one of the yummiest dishes on earth: Albaloo Polo! This mouth-watering combination of sour cherries, rice, and meat (chicken, lamb, or meatballs) comes right from heaven. They sweeten the sour cherries with sugar (depending on how tart they like their dish to taste) and enhance it with golden saffron. If you haven't tried it, you haven't lived!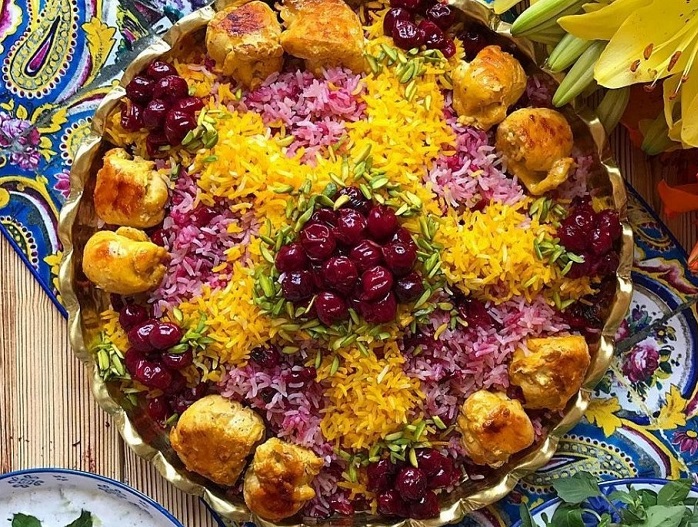 Morasa Polo, Perfect Choice for a Luxurious Feast
This luxurious beauty is probably the most eye-catching item of a fancy Persian dinner party. With a pleasant combination of sweet, sour and nutty tastes, this unique rice dish is definitely among the top Iranian foods. In front of you, you'll find a piece of art decorated with carrots, almonds, raisins, barberries, pistachios, candied orange peel and saffron. The dish is often served with saffron golden chicken.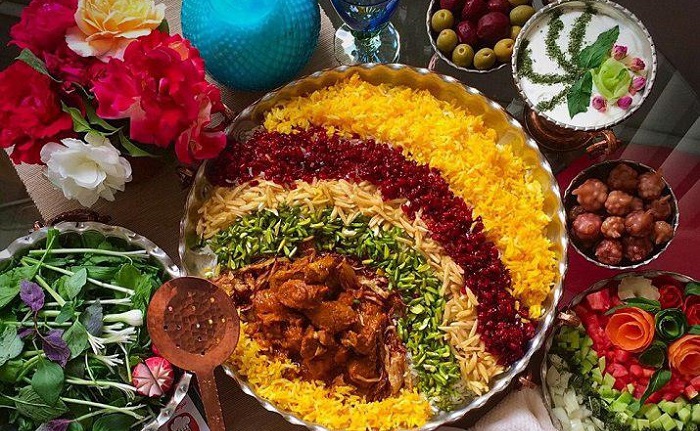 Zeytoon Parvardeh, Finger-licking Iranian Side Dish
This super popular Persian olive salad is simple perfection! Originally from northern Iran, Zeytoon Parvardeh is a healthy side dish you can find in many restaurants. It unifies a host of favorite tastes: olives, chopped walnuts, pomegranate paste, garlic, mint, and olive oil.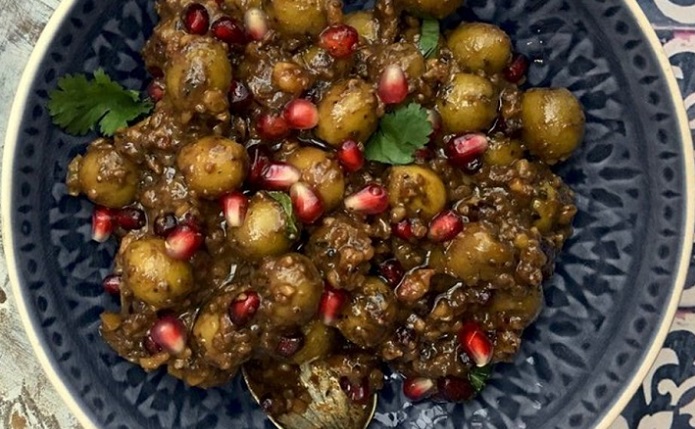 Halim and Aush, Iranian Breakfast Choices
Wherever you go around Iran, you'll find mouthwatering breakfast Halim (porridge) and Aush (a kind of Persian thick soup). Halim, which used to be cooked on sacred nights and handed out to friends and neighbors in the morning (a ritual known as Nazri), is now a nutritious breakfast you can find in Aush shops and breakfast menus around the country. Shredded meat, barley and wheat are of the ingredients of Halim. What about breakfast Aush? Well, it has its own recipe and ingredients from one region to another. But they are all well worth the try.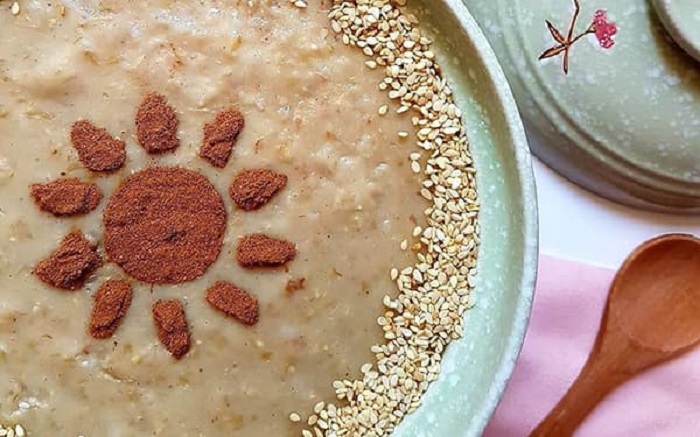 Kookoo, Iranian-style Fastfood
Iranian cuisine is not all about rice dishes and stew bowls. It also presents Kookoos (fritters) of all kinds. Whether with a combination of aromatic herbs (Kookoo Sabzi), spinach (Kookoo Esfenaj), or mainly potatoes (Kookoo Sibzamini), these Persian fritters are great meals for vegetarians visiting Iran. Pickles, tomatoes, lettuce and fresh herbs are served beside Kookoo. Most ecolodges around the country have them on their menu.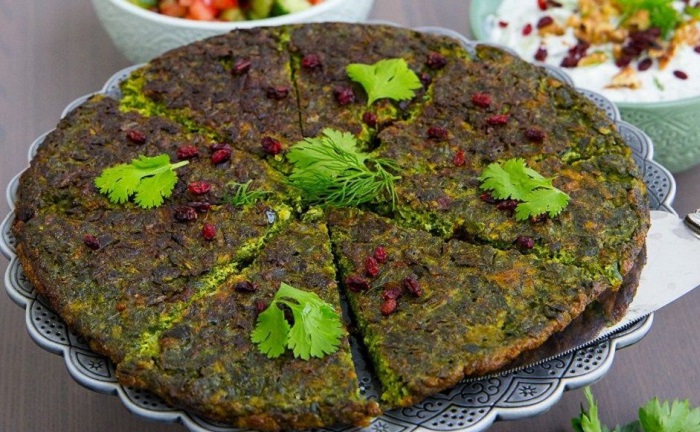 Koofteh, Tasty Balls of the Iranian Kitchen
Whether it is the Koofteh Sabzi of Shiraz or the Koofteh Tabrizi of Tabriz, you must definitely try one of these tasty balls of the Persian kitchen. Despite the fact that recipes and ingredients differ from one city to another, these Top Iranian foods includes large meatballs or vegetable balls soaking in a delicious broth. Inside, the Kooftehs are hiding tasty prizes like plums and fried onions. You're going to love them!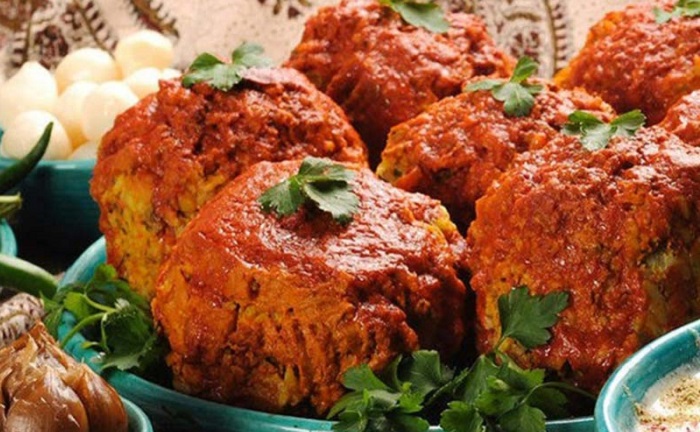 [/vc_column_text]
Zoroastrians, their culture, and the relics of their ancient religion are what make Yazd so charming! A culinary tour beside a sweet Zoroastrian family in...
[/vc_column][/vc_row]
Keywords: Iranian kebab types, Iranian cooking, Iran Cuisine, top 10 dishes of Iran, Persian food names, what is the most popular food in Iran, typical Persian food, Iranian culture food, best Persian recipes, national food of Iran, halim Persian food, best Persian Dish, classic Persian dishes