Zoroastrian Tours in Yazd & Nearby Towns
History lovers, cultural explorers, and ancient wisdom enthusiasts out there! These Iran Zoroastrian Tours are made for you! When you get to the city of fabulous wind towers and desert architecture, Yazd, don't hesitate to spice up your journey with the legacies of one of the world's most ancient religions. As the center of Zoroastrianism, Yazd and its neighboring Cham and Taft villages, expect you with a wealth of Zoroastrian knowledge, a collection of ancient Zoroastrian relics, the company of Zoroastrian people, the taste of Zoroastrian lifestyle, and the depth of Zoroastrian prayers, festivals and ceremonies!
The Zoroastrian charms of Yazd are endless. That's why we have tried to craft the widest collection of Iran Zoroastrian Tours for diverse tastes. From experience-based adventures that take you to the heart of Zoroastrian lifestyle and put you in touch with Zoroastrians, to tours of Zoroastrian sites that take you through a historical and cultural exploration.
Learn the secrets of the world's second oldest religion on this tour around Yazd. For so long, this…
What You Might Experience On A Zoroastrian Tour
Zoroastrian Sights in and Outside Yazd
The top relics of Zoroastrianism in the city of Yazd and the less-seen sights of the ancient religion outside the city borders are yours to discover on an Iran Zoroastrian Tour.
Zoroastrian Ceremonies
Taking part in a Zoroastrian ceremony and tasting slices of its over 4 thousand culture will be an unforgettably rare experience.
Zoroastrian Ceremonies
Taking part in a Zoroastrian ceremony and tasting slices of its over 4 thousand culture will be an unforgettably rare experience.
Zoroastrian Lifestyle
A Zoroastrian tour in Yazd will be a great chance to spend time with a Zoroastrian family, explore Zoroastrian lifestyle beside them, and enjoy culinary adventures.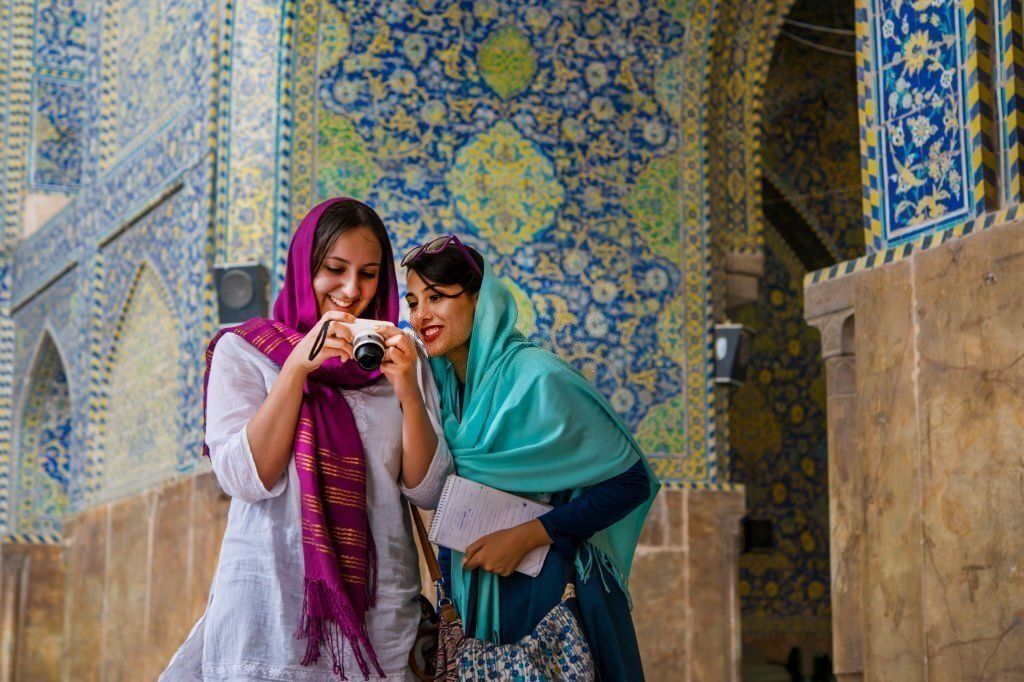 Tailor-Made Zoroastrian Tour
We have done our best to consider both your various tastes and Iran's immense potentials to craft the best possible Iran Zoroastrian Tours for you. Yet, if you'd like your excursion trip to be different in any way or in any other corner of Iran, we will be more than happy to help you create it.
Create your trip now
Zoroastrianism at a Glance
Once upon a time in Iran, over 4000 years ago, a prophet was born that gave birth to one of the world's most ancient faiths. This spiritual leader, Zarathustra, had a deep respect for nature and a belief in a benevolent God known as Ahura Mazda (the Wide Lord). Belief in the eternal battle of the good and the evil and following the path of "Good Thoughts, Good Words, Good Deeds" were also of the essence of his faith. The greatest Persian empires_ Median, Achaemenid, and Sassanid_ were believers in Zoroastrianism.
In the Middle Ages, with the arrival of Islam, the practice of Zoroastrianism declined. But the firm believers either migrated to India or gathered around the city of Yazd. Today, Zoroastrianism has blessed Iran with deep-rooted ceremonies, unique traditions, and ancient buildings. A Zoroastrian Tour in Yazd will bring you to all these charms.
Top Zoroastrian Attractions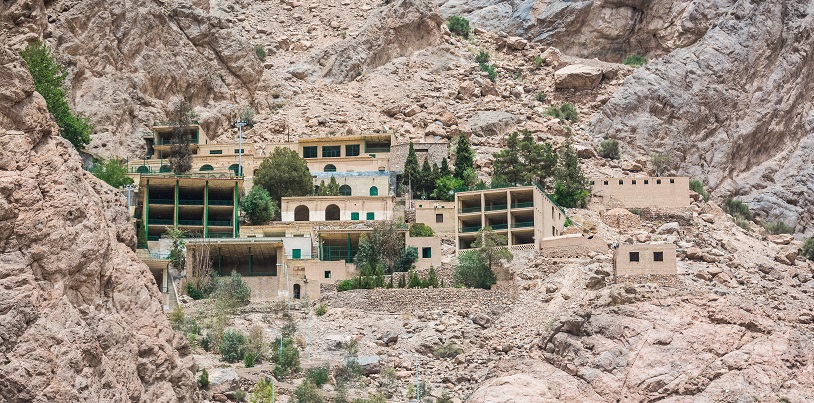 Chak Chak (Ateshkadeh)
Chak Chak Temple (also known as Pir-e Sabz Shrine) is one of Zoroastrians' most sacred spots and a top destination for a Zoroastrian tour. With over 1400 years of history and mysterious legends, this sacred place has been attracting pilgrims and visitors for so long. Near Ardakan Town (70 km to Yazd), you can hear the stories, traditions, and charms of this Zoroastrian magnet.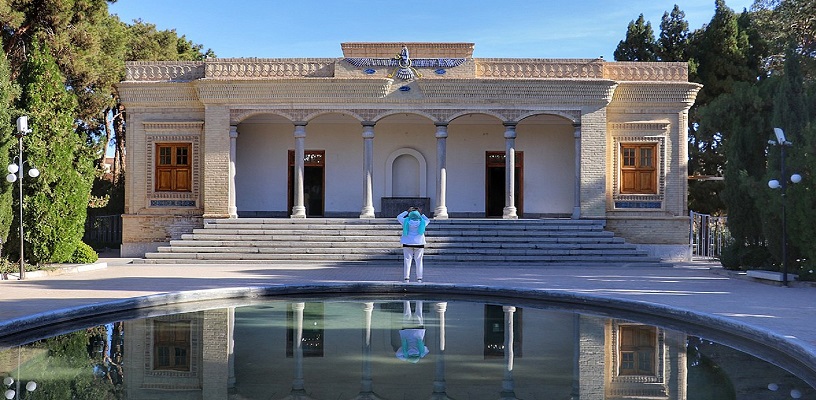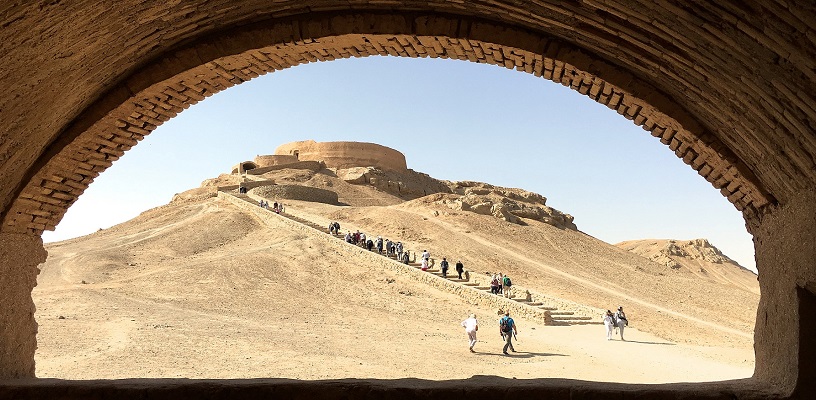 Towers of Silence (Dakhma)
The scary secrets of Zoroastrianism expect you in the Towers of Silence! These sky burial spots have hidden ancient wisdom, secrets, beliefs, and stories. Check one of them out on a Zoroastrian Tour in Yazd or Cham, and discover the architectural charms and the special beliefs and rituals concerning the dead!
Zoroastrian Festivals and Ceremonies
Zoroastrians celebrate a variety of festivals and holidays throughout the year. Some are annual festivals celebrated in groups. And some small occasional ones may be celebrated at any time in families and local communities. Contact us to find out which of these festivals you can join on a Zoroastrian Tour! Here are some of them: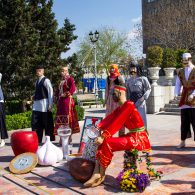 Naw-ruz (Around March 21st)
Naw-ruz or Nowruz is an ancient Persian holiday, marking the beginning of Spring Equinox, celebrating the Persian New Year. It is the celebration of God, the creation, the sacred elements, plants, and animals. Rooted in Zoroastrianism, this festival is probably the most popular not only among Zoroastrians, but also other Iranians as well. With certain customs and traditions, including the Haft Sin (a table of symbolic items), Nowruz is joyous, colorful, and simply beautiful.
Yalda Night (Around December 21st)
Zoroastrians, as well as contemporary Iranians, celebrate the winter solstice as a symbol of the triumph of good over evil. Iranians pass the longest and darkest night of the year, the last night of fall, in the warm company of friends and family. The night, known as Yalda night, is filled with laughter, chatter, color, poetry, story-telling, and food.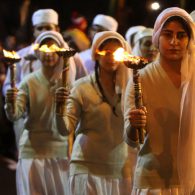 Sada (Around January 30th)
Sada or Sadeh is Zoroastrians' winter fire festival. It is traditionally celebrated 40 days after the winter solstice. Today Zoroastrians in Yazd and Kerman celebrate light, fire and life by setting a large fire in an open space or inside their temples. They gather in a circle, hold hands, and pray. Joining Sadeh ceremony is one of the most unique Zoroastrianism tours you can experience.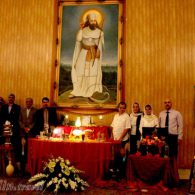 Mehregan (Around October 10th)
Mehregan is the Zoroastrian festival of autumn, celebrating the fall harvest, and in honor of Mehr, the goddess of light, friendship, love, and kindness. Zoroastrians set a table of symbolic items and engage in special rituals, prayers, and celebration.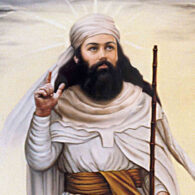 Zarthust No Diso (Around December 26th)
This Zoroastrian holiday marks the death of Zoroaster or Zartosht, the founder of Zoroastrianism. So, this day of mourning involves prayers, rituals, and studies on the life and teachings of Zoroaster.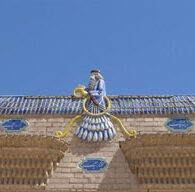 Khordad Sal
Khordad Sal or Greater Nowruz is Prophet Zarathustra's birthday. Six days after Nowruz, Zoroastrians celebrated this occasion by having prayers at the fire temples, uniting with families and friends, enjoying a feast, filling their homes with flowers, and decorating floors or entrances with designs made with colored powder.
Discover More About Zoroastrianism
If Yazd and its Zoroastrian heritage fascinates you or you'd like to join a Zoroastrian tour, don't hesitate to check out our blogs. We spread its wisdom, reveal its charms, and share its secrets.
Join the Newsletter
Receive the best Iran tour offers and blog updates by subscribing to IranOnTour newsletter.
Keywords: Yazd Zoroastrian tours, zoroastrian holidays population origin practices symbol holy book, zoroastrianism spread, Zoroastrian Persia, A Walking Tour of Yazd's Zoroastrian Neighborhood in Iran, The Zoroastrian Fire Temple, Discover Zoroastrian Life and Traditions lord zoroaster zarathushtra mazdayasna ahura mazda mazdaism zoroaster in islam the zend avesta, Zoroastrian Persia Tour.