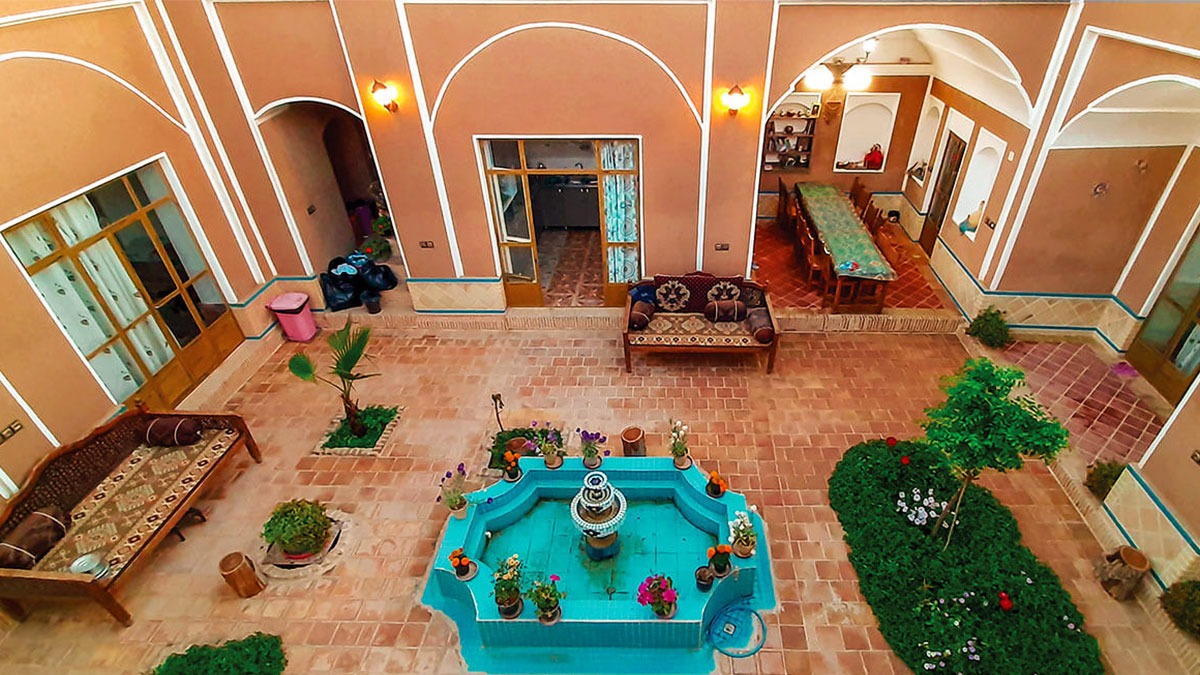 Traditional Houses in Iran 2023 (Iranian Traditional House)
Iran is a country with lots of historical landmarks and beautiful old houses in which there are echoes of traditional music. Of course, Iran is a modern country nowadays; yet let's have a trip to the old times! Let's close our eyes and imagine a time when the streets are the passages of horses and coaches moving slowly. Then we enter a beautiful house with fabulous architecture. The windows are wide open and usually have brown and sky-blue wooden frames. In the morning sunlight passes through the colorful glasses of the windows and reflects rainbow-colored images on the carpets. There are roses and lilies painted on the tiling of the walls, picturing a colorful heaven. The yard is full of trees and flowers, around which canaries sing the songs of thankfulness. Keep going for you about to visit the traditional houses in Iran.
TOP Iranian Traditional Houses
Persian traditional houses demonstrate Iranian architecture. Iranian people have built their houses in harmony with their climate, lifestyle, beliefs, and culture. Due to the fact that the weather in many parts of Iran is mostly cold in winter and hot in summer, they built their house in a special way to be convenient throughout the year. There are many traditional houses in Iran. Iran's traditional houses are not always famous and you can find a lot of them in older towns of Iranian historical cities such as Shiraz and Yazd. On the other hand, some Iranian historical houses are so popular. What makes them famous is perhaps their unique architecture, their firmness and pristine condition after more than 100 years, and the fact that some of these were the houses of nobles and famous people.
The Architecture of Iranian Traditional Houses
Traditional houses in Iran are diverse in architecture, yet there is a typical form for the majority of traditional Persian houses. The Iranians mostly built historical houses around a big yard. Generally, these yards are almost gardens. They are full of pomegranates, apples, oranges, cherries, and other trees (according to the natural context of that area), planted in organized lines like happy green army soldiers! Among these trees, there are plants, and flowers that give the yard a heavenly look. As soon as you enter the yard, the aroma of the roses along with the sound of birds gives you a hangover.
The building's construction was usually around the yard. The houses included a kitchen, many rooms for family members and servants, A hall, a Shahneshin (the main front room of the house in front of the entrance door which was mostly decorated with plastering, tiling, and mirror-works), Dalans (narrow corridors connecting the rooms to the yard, underground rooms (used as storage), Pir-neshin (the front parts of arch-shaped chambers with benches on them) on which people would have a tea and refresh, a kitchen usually in the inner parts of the building, and of course a bathroom far from the other rooms in the corner of the yard.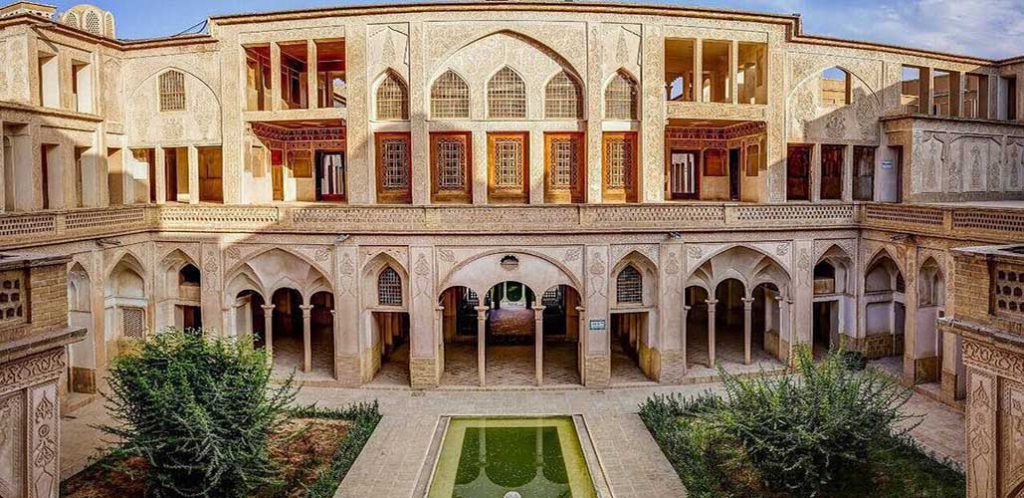 All parts of Iranian traditional houses are unique in architecture. The outer views of these houses have an artistic atmosphere as well. They are decorated with colorful windows, Well-designed wooden doors, tile works painted with interlaced flowers, and usually arch-shaped chambers with columns holding them tight.
The Most Popular Iranian Traditional Houses
Most of the Iranian historical houses belong to Qajar, Zand, and Safavid ages. Most of them are located in Tabriz, Yazd, Shiraz, Isfahan, Kashan, etc. Here are some of the most popular Iran traditional houses.
Traditional Houses in Iran – Qavam House of Shiraz
Qavam House was the residence of the Qavam family, a ruling family in the Qajar age of Shiraz. With a heavenly garden in front and a traditional view, Qavam is one of Shiraz's most popular traditional Persian houses. Qavam house has 20 rooms all of which are connected, and each of which is decorated exclusively. The building also includes a museum of historical items such as coins, tableaus, weapons, plates, and stuff from different ages.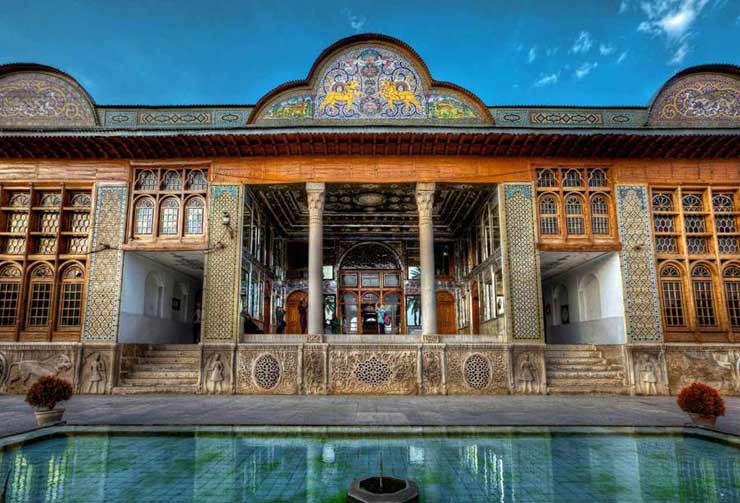 Traditional Houses in Iran – Tabatabaei House of Kashan
Tabatabaei House of Kashan was the house of Sayed Jaafar Tabatabaei, the famous wealthy merchant of Kashan in the Qajar age. This house was built with such elegance that it took ten years to construct it. The Tabatabaei house has two yards and a big mansion. The biggest front hall (Shah-neshin) of this mansion has the best-looking view in the whole mansion. The tile works, plastering, mirror works, paintings, and grid plaster windows give this mansion a special architecture.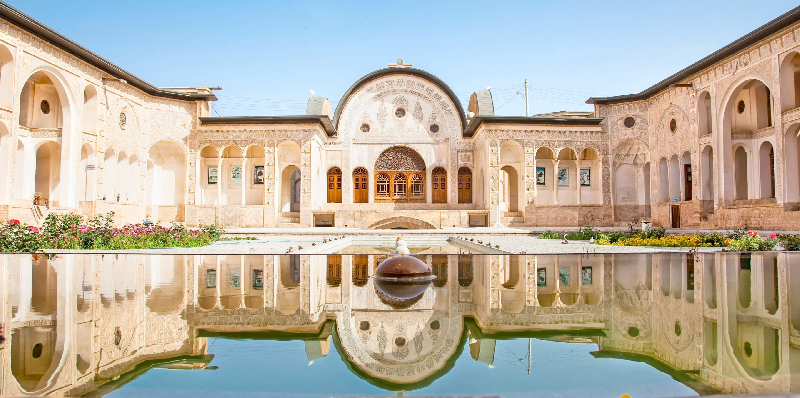 Iran Traditional Houses – Borujerdi House of Kashan
As one of the most popular traditional houses in Iran, the Borujerdi House of Kashan has unique architecture. In 2015 and 2016, this traditional Persian house (built in the Qajar age) was announced to be the best UNESCO choice. The architecture of this Iranian traditional house has a special form of plastering and painting. Such artistic decorations were enforced by Sani-ol-molk, the famous Iranian artist.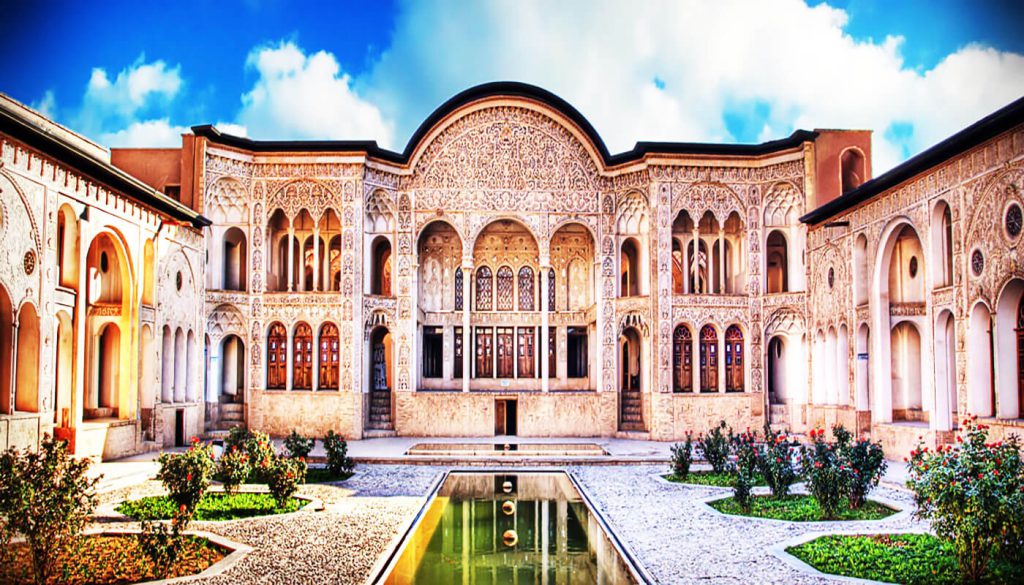 Best Traditional Houses in Iran – Malek-o-Tojjar House of Yazd
This mansion belongs to Ali Asgar Shirazi (Malek-o-Tojjar) who was the Nasiruddin Shah of Qajar's beloved merchant. The architecture of this mansion is as exclusive as the others. All rooms in this mansion are decorated with mirror works and plastering. Some rooms are so live that have names! For example, the "Zulaikha & Joseph" room is one of the incredible rooms in this mansion with walls painted with liquid gold. Many tourists from around the world visit this Iranian traditional house and even accommodate it. After 120 years, this Iranian historical house is still available to travelers as an antique hotel.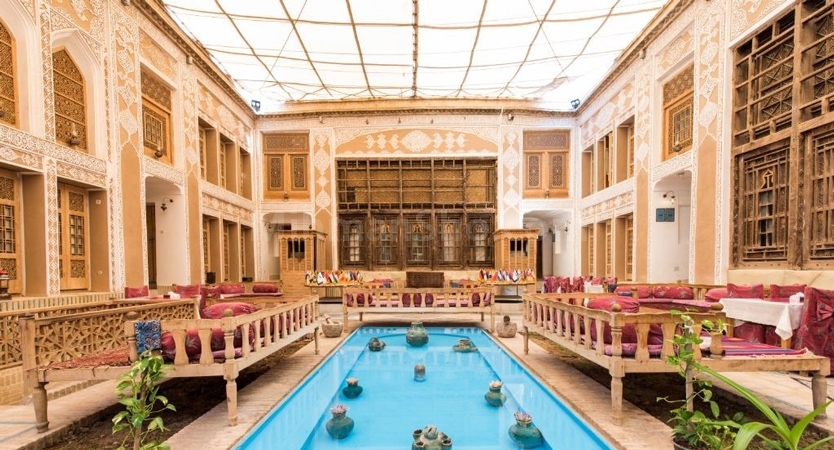 Bekhradi House of Isfahan
This Iranian traditional house belongs to the age of the Safavid kingdom. The mansion is located on the western side of Jamilan Garden in Isfahan. Through all these years from the Safavid age to our period, this Iranian historical house has experienced many changes. In 2001, Morteza Bekhradi, a historical site refurbishment activist, repaired and refurbished this Iranian traditional house. Nowadays this place is as beautiful and unique as the old times and many tourists from all around the world visit it.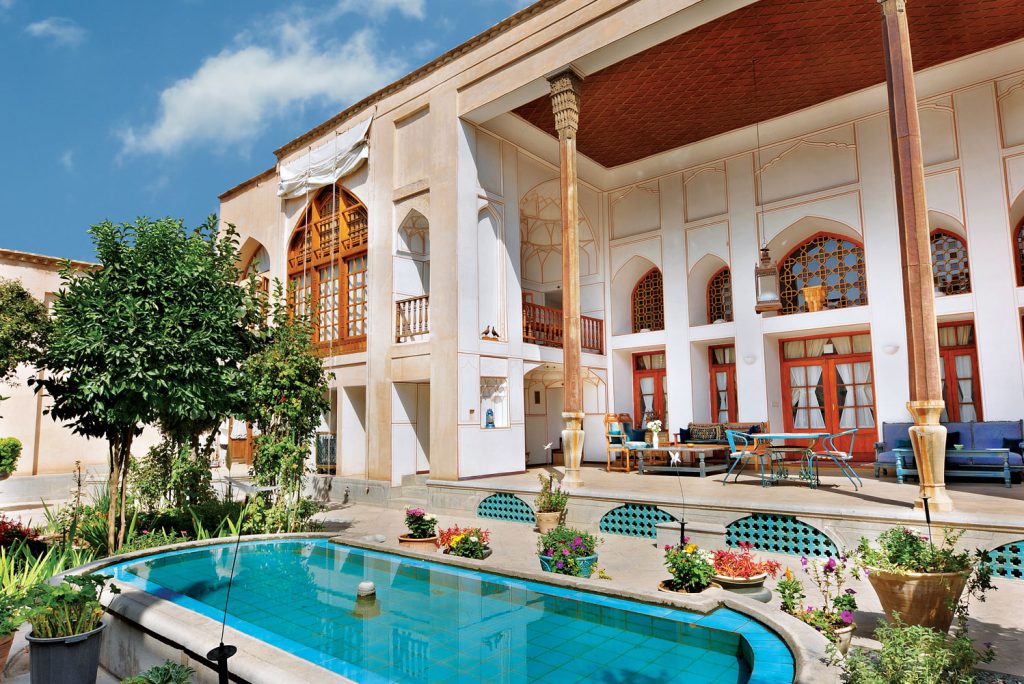 Iran Traditional Houses – Moghaddam House of Tehran
Moghaddam House of Tehran was the residence of Ehtesab-ol-molk, a Qajar noble. After his death, he left this Iranian traditional house for his son, Mohsen Moghaddam (the Professor of Archeology, at Tehran University). Later he filled the place with historical stone crafts and established a museum with different types of historical relics and antiques. This Iranian historical house has unique architecture in different rooms, and each of them is inspired by different architectural art of different ages. Also, there is a library in this mansion with many archeology and art books written by Dr. Moghaddam and other writers.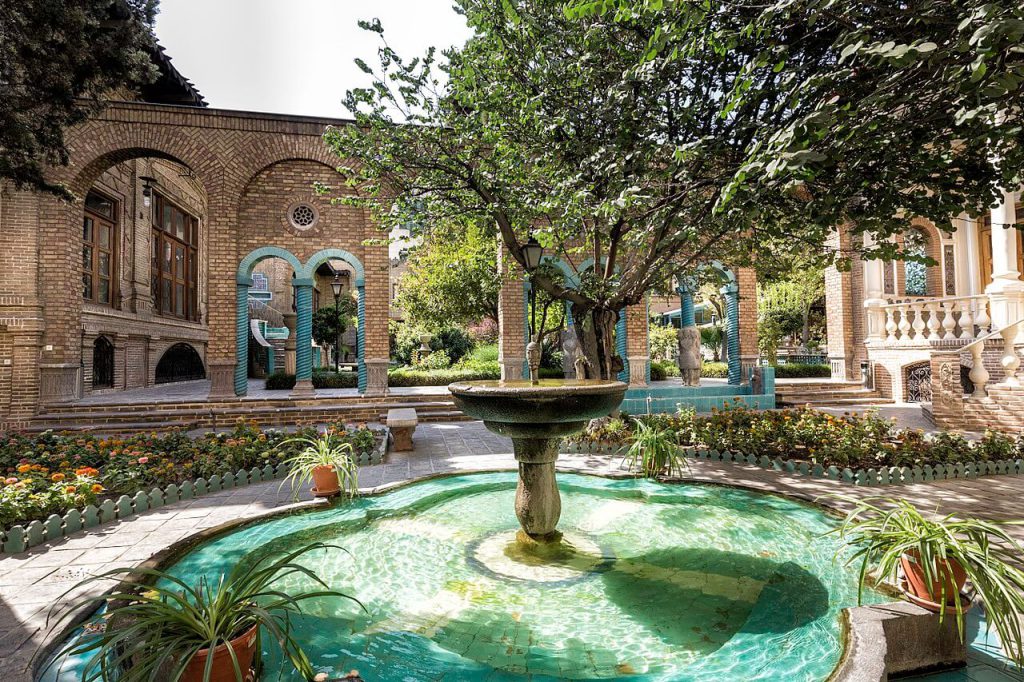 Behnam House of Tabriz
Behnam House of Tabriz is one of the most popular Iranian traditional houses in Tabriz. There are so many Iranian historical houses in Tabriz; since this city was so important in the age of Qajar and many Qajar princes were residents of this city. Behnam, one of these houses, was built in the ending years of the Zand kingdom and it was further repaired by Nasiruddin Shah. This traditional Persian house has a beautiful garden and a mansion constructed with Qajar methods of architecture.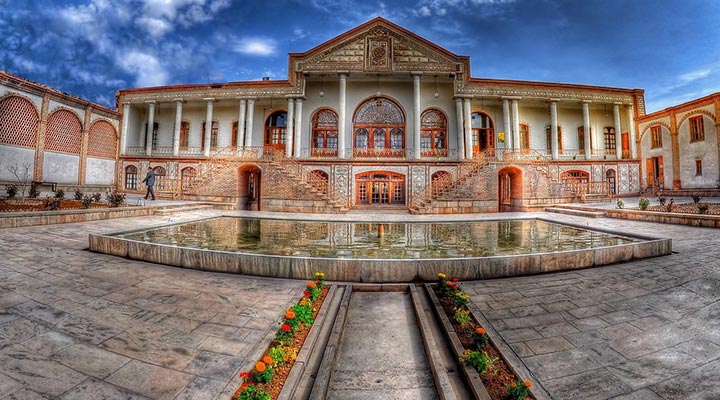 Final Words
Thank you so much for following us in this passage. Here at IranOnTour, we try to share knowledge alongside the business. We'd also be grateful if you enlighten us with your experience and knowledge. Also, we'd be glad if you let us know how you felt reading this blog.