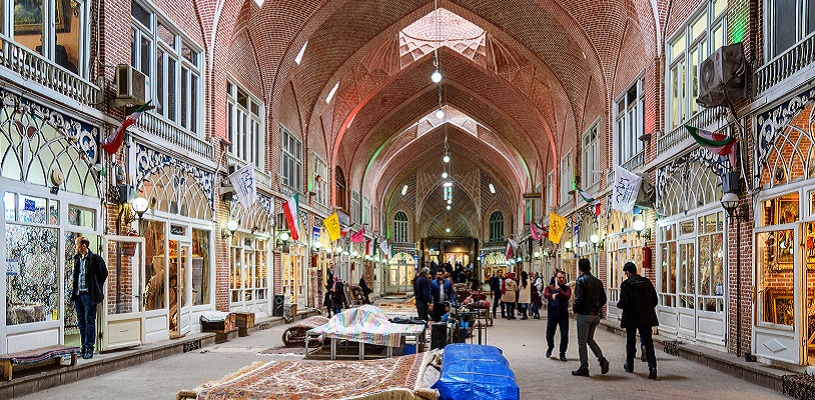 Tabriz Grand Bazaar (Tabriz Bazaar) – Iran
Let's explore Tabriz Grand Bazaar, one of the oldest bazaars (marketplace) in the middle-east. The world city of carpet, Tabriz, houses this enclosed historical marketplace. This 13th-century UNESCO heritage site is a masterpiece of Persian architecture. Particularly, Tabriz Bazaar consists of a series of covered, interconnected brick structures. Since the bazaar exhibited several mosques, schools, and baths, it was one of the most significant and comprehensive marketplaces. Surprisingly, this bazaar is still active in terms of social and financial interactions. Would you like to get a sense of life in a covered traditional bazaar?
Why Visit Tabriz Bazaar (Tabriz Grand Bazaar)
Tabriz Bazaar is inscribed on the UNESCO's World Heritage List.
This commercial center (Tabriz Grand Bazaar) is located on the ancient Silk Road.
It is one of the largest covered bazaars in Iran.
Among others, this bazaar is famous for its quality handwoven Persian carpet.
The bazaar of Tabriz has been chiefly the commercial heart of the city.
History of Tabriz Bazaar (Tabriz Grand Bazaar)
Tabriz was situated on the ancient Silk Road. Thus, it used to be the commercial center for exchanging goods from Far East and Europe. The city also exported agricultural and industrial products to the other countries. Therefore, this commercial exchange required a commercial center, where merchants and traders could exchange their goods such as carpets. Thus, Tabriz Bazaar was built. Although the 18th century earthquake demolished the bazaar of Tabriz, shortly after people of Tabriz restored the bazaar. The current building of the bazar dates from Zand era in the 18th century. Moreover, Qajars added some structures to the Tabriz grand bazaar during the 18th and 20th centuries.
Tabriz Bazaar in the Eyes of Historians
Mostly, Muslim and foreign historians, geographers, and travelers, who visited Tabriz between the 10th and 20th centuries have mentioned the prosperous bazaar of Tabriz. Tavernier, the French merchant and traveler, has visited and appreciated this grand bazar. Furthermore, Jean Charden, the 18th century French jeweler and traveler, describes Tabriz as a city with the finest bazars. He also admires the wonderful domes and vaults of the Tabriz bazar.
What to Expect in Tabriz Bazar
In Tabriz Bazaar, you will behold a brick structure, the main structure of which comprises two major covered north-south and east-west Rastehs (corridors). Several subsidiary shorter corridors connect the two major Rastehs. The roof of the bazar is 5 to 6 meters high, which is roughly shorter compared to the roof of the bazars in arid areas. Above all, perfect blending of Persian and Islamic arts creates a pleasant atmosphere in this commercial center. In particular, Muqarnas (a form of ornament) vaults and domes, interconnected brick structures, fine arrangement of the stores, spectacular Timchehs (a small enclosed area in bazar with a dome), and numerous schools and mosques intensify feelings of pleasure and comfort for the traders.
Among others, Muzaffariyeh Timcheh and Amir Timcheh are two prominent structures in Tabriz Bazaar. Their amazing brick dome and historical architecture make them special. They also exhibit two large gates which are open during the day and close overnights as well as on holidays. Moreover, these timchehs owe their fame to their status as one of the major centers of carpet trading and export.
From Commerce to Ceremonies in Tabriz Grand Bazaar
Bazars have been excellent examples of vibrant cultural, social, and political centers in Iran. Bazars began to function additionally as religious centers, over time. Consequently, builders integrated schools and mosques into some trade centers. Eventually, the magnified social influence of bazars lead to the formation of labor unions.
This old bazar essentially embraces over 5000 stores and a multitude of jobs. The place chiefly had been designed for commerce of merchandise but it has also functioned as a center for social interactions as well as some important religious ceremonies. People could benefit from the services that schools, mosques, caravanserais (traditional inn), chambers and garmabehs (bath) inside the bazar delivered to them. Rastehs in the bazar also played a crucial role in forming political unions including Association of Chivalry. Tabriz Bazar also served as a venue for social interactions, national ceremonies and religious rituals.
Tabriz Bazaar – Goods, Souvenirs And Highlights
Beside the eye-catching architecture and multifunctionality of the bazar, it offers a wide range of goods and products, which will appeal to the visitors. Among the most popular goods sold in this bazar are handwoven Persian carpets, quality leather and fabric, gold, and jewelry. Tabriz is well known for leather products including shoes and clothes. So, if you are considering buying handmade leather shoes, belt, wallet or any other leather goods, check out the bazar. Above all, the most prominent merchandise of Tabriz bazar is the handwoven Persian carpet. I highly recommend that you visit Muzaffariyeh Timcheh to immerse yourself in the beauty and softness of the handwoven carpets. And if you are a jewelry enthusiast, Amir Timcheh will be a treat for eyes.
More about Tabriz Bazaar
Visit Hours
Spring and summer from 7 a.m. to 9 p.m.
Fall and winter from 10 a.m. to 5 p.m.
Visit Days
Bazar is open everyday except on official holidays. The stores close on Fridays So, you may decide to roam the bazar and enjoy its quiet, peaceful atmosphere.
Nearby Attractions
A passage leads from Tabriz Bazaar to the amazing Jameh Mosque of Tabriz. If you are into the fantastic religious architectures, remember to check out the mosque. Constitution House of Tabriz , on the other hand, is a narrative of the historical contribution of the people of Tabriz in the Iranian constitutional revolution. You should definitely not miss Azerbaijan Museum and traditional houses in Tabriz such as Amir Nezam House (also known as Qajar Museum).
Restaurants Near Bazar
Traditional restaurants inside bazar
Husseini Restaurant
Iranchi Restaurant
Keywords: Tabriz bazar, Tabriz Iran, Iran carpet bazaar, Tabriz silk road, Tabriz bazaar photos, bazar de Tabriz, Bazaar Tabriz