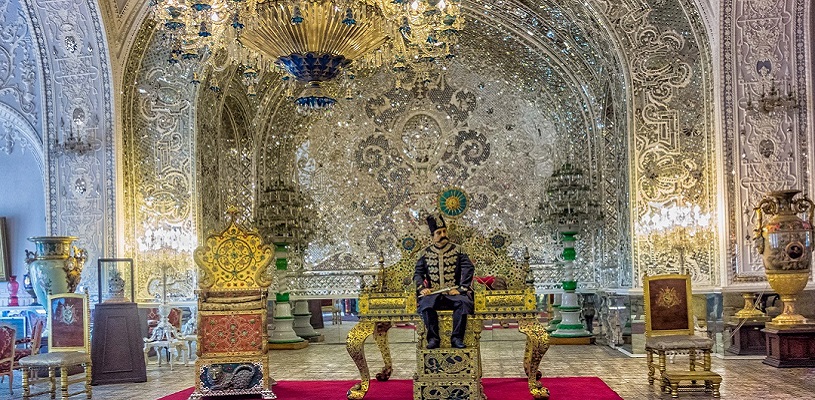 Treasury of National Jewels (Tehran, Iran)
More than a museum, the National Jewelry Treasury is a collection of national royal Jewelry of Persian Empires and rulers from centuries ago, as well as a narrative of the bitter-sweet victories and defeats of Persian kings and queens. If royal history fascinates you and you wish to immerse yourself in the world of luxury and splendor, make sure not to miss this museum when you are visiting Tehran.
Why You Should Definitely Visit the National Jewelry Treasury
The National Jewelry Treasury is one of the largest collections of Jewelry in the world
The museum exhibits Peacock Throne or Takhte Tavoos, the well-known gem-encrusted throne, and the Naderi Throne
The treasury of national jewels showcases The Golden Globe, studded with precious stones
Visitors can see here Darya-ye-Noor (literally the Sea of Light), the world's largest uncut pink diamond, weighing 182 Carats
It houses famous Crown jewels Pahlavi Crown and Kiani Crown as well as Nader Aigrette
History of the Treasury of National Jewels
The history of the National Jewelry Treasury consists of 3 main sections. The establishment of the museum originally dates back to the 16th century. There is no accurate information at hand prior to that century. Word has it that they maintained royal jewelry in the government's Treasury before the 16th century. In this century, the kings from the Safavid dynasty began to assemble royal gems and treasures. They would also send their experts to other nations such as India, Ottaman, Italy, and France to buy the jewelry from their markets and take them back to Isfahan, the capital city of the time.
Over time, the collection was diminished, though, two precious gems were added to the collection later on. These two gems were turquoise and pearl, extracted from Khorasan mines and the Persian Gulf, respectively.
What to expect from the treasury of national jewels photos
The National Jewelry Treasury, also known as the National Jewelry Museum, situated in the Central Bank of Iran, Tehran, houses a collection of treasures from Persian monarchs. The museum embraces world-renowned or rare pieces of jewelry, set with precious stones such as diamonds, emeralds, rubies, spinels, and pearls. This splendid museum resembles a mix of Persian royal culture, civilization, art, and history. Each piece of these jewels has a story behind it. Once, kings and queens had worn, used, or looted them. The imperial collection consists of imperial crown jewels, embellished thrones, bejeweled swords and shields, aigrettes, dining services, precious stones, exquisite gems, and jewels from all over the world.
More About National Jewelry Treasury
Admission Policy
Visitors should not carry their personal belongings inside the treasury. They should hand them to the Depositor Counter.
The minimum age of admission is 12.
You can purchase the tickets only on-site and no online tickets are available.
The treasury Tour guide service is free of charge and available in English and Persian languages.
Visitors to the treasury must walk through security inspection gates.
The only option to move around the museum is staircases, and no elevator or escalator is available.
On busy days, there might be waiting lines.
Opening Hours of the Museum
The National Jewelry Treasury is open from Saturday to Tuesday between 14:00-17:00. Though, the Ticket Counter closes at 16:30. So make sure to be there early enough to buy your ticket and do not postpone it to the last minute. The Treasury is not open on Wednesdays, Thursdays and Fridays, and on national official holidays.
Attractions Nearby
After visiting the Jewelry Treasury, you might be looking for some other attractions to visit. So, we recommend Golestan Palace (2.1 km), City Theatre (1.9 km), Grand Bazaar (2.2 km), Museum of Science and Technology (1.2 km), and Lalehzar Street (450 m).
Where to Eat and Drink Nearby
Sangelaj Traditional and International Restaurant
Gol Rezaeyeh Café
Romance Café (Ferdowsi Square)
Aasaa Café
Ruhi Café (in Negarestan Garden Museum)
Vaziri Restaurant
Like to see the Treasury of National jewels?
Then give our Top Museums of Tehran tour and our multi-day Cultural Tours a try.
Hop on this half-day tour of Tehran's top museums. Golestan palace (UNESCO), National Museum of Iran & Treasury of National Jewels...
Treasury of National Jewels on Map
Keywords: jewelry museum tehran, jewelry in iran, national jewelry museum of iran, iranian jewels