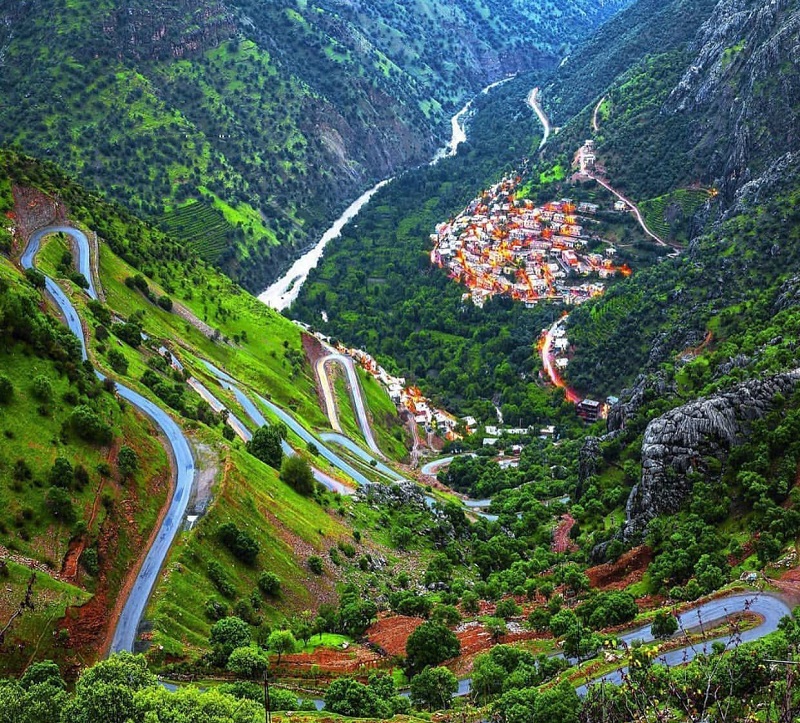 Kurdistan Tourist Attractions | Things to Do in Kurdistan (Kordestan, Iran)
Kurdistan is a Province in the western north region of Iran. It is named Kurdistan since its people are mostly Kurds. This province has a prosperous culture, mysticism, and history. The history of Kurdistan, turns back to the age of Medes, when Parsua was, an ancient Iranian city located in the region Sanandaj (the capital of Kurdistan Province). The richness of Kurd culture in Iran and the relics from the ancient ages, along with the beautiful nature of Kurdistan have turned this place into heaven for tourists. Kurdistan tourist attractions are of different types and they are so diverse in terms of interests, that different tastes can't say no to them.
Kurdistan Tourist Attractions
Tourist attractions in Kurdistan are not just limited to famous places in Kurdistan. You can say Kurdistan tourism has a triangle, the dimensions of which are: Cultural, historical, and natural attractions. Cultural attractions in Kurdistan are intangible remains of ancient customs and rituals that are even as fresh as the past. The music of this region for example is formed in harmony with mysticism and Sufism. Needless to say, Kurdish mystics are raised from the deepest layers of Islamic spirituality. As an example of a historical attraction in Kurdistan, Zivieh Fortress, the governmental castle of the Medes is located in Kurdistan province. Natural attractions in Kurdistan as well involve many beautiful caves, mountains, rivers, waterfalls, and so on.
Natural Kurdistan Tourist Attractions
Due to its good climate and environmental prosperity, Kurdistan has been a great place to live and accommodate since long ago. There are many lovely green miraculous jungles in Kurdistan, that have the 2nd rate of importance, after northern Iran jungles. These jungles are full of fruit and fruitless trees and they're mostly located in Baneh and Marivan regions. In addition to jungles, there are many other natural tourist attractions in Kurdistan, including:
Zarivar Lake (one of the biggest sweet water lakes in Iran);
Hawraman (A lovely village, in the Zagros domain)
Qarveh Mineral Water Fountain
Karaftu Cave (An ancient cave in Divandarreh)
Zarrinehrud (A long river in the western north of Iran, ending in Orumieh Lake)
Historical Tourist Attraction in Kurdistan
Kurdistan is one of the most important centers of Iranian history. There are many famous places in Kurdistan, with historical backgrounds. Kurdistan has relics and remains from the ancient and post-Islamic ages of Iran. Historically famous places in Kurdistan, include castles, mansions, mosques, caravanserai, bridges, and bazaars.
Iran Kurdistan Tourist Attractions – Zivieh Fortress
This fortress is a remnant of an ancient castle. Zivieh fortress was a governmental castle in the age of Medes. The age of this historical remains is more than 2700 years. Many relics and antique items and an ancient treasure were found in this fortress. This fortress has halls and chambers, rooms, a big yard, an entrance, stone stairs, and a granary.
Iran Kurdistan Tourist Attractions – Asef Mansion
This Mansion is an important attraction in Kurdistan tourism. Asef mansion was first built in the Safavid age, by Mirza Alinaqikhan Lashkar Nevis (Asef the great). This mansion developed further, in the age of Qajar and Pahlavi. The Mansion (s0-called the Kurd House); these days people refer to this place as a manifestation of Kurd culture and a center of Kurdish anthropology.
Iran Kurdistan Tourism Places – Dar-ol-Ehsan or Jameh Mosque of Sanandaj
Dar-ol-Ehsan is a religious and historically famous place in the Kurdistan capital, Sanandaj. It has lovely Islamic architecture, and it is also a school for Islamic religious scholars. This Mosque was built in the age of Fathali Shah (a Qajar king), by Amanullah Khan Ardalan. Dar-ol-Ehsan is on a corner, higher than the other parts of the city. It is also decorated with the Islamic art form of tiling, which gives the mosque a heavenly view.
Iran Kurdistan Tourism Places – Tajvanchi Caravanserai
One historical attraction in Kurdistan is Tajvanchi Caravanserai, a caravanserai from the Age of Zand kingdom. There are historical clues that Saqez (a city in Kurdistan) was an important trading center of Iran in the age of the Safavid and Zand kingdom. This caravanserai was a traditional hotel for travelers and merchants of that time. This caravanserai has rectangular land, cylinder columns constructed on square brick column bases, a fountain in the yard, and many rooms around it.
Other Historical Attractions in Kurdistan Iran Tourism
Salar Saied Mansion (a historical mansion and museum in Sanandaj)
Khosrow Abad Mansion (The mansion of the Kurdistan ruler from the Qajar age)
Qishlaq Bridge
Do Menara Mosque (a mosque from Zand and Afshar)
Cultural Kurdistan Province Attractions
Kurd culture is a prosperous source of Iranian culture. Kurd people are famous for their special mysticism. Most Kurdish mystical methods have taken inspirations from Islamic spiritualities. Due to the Kurd people's significant richness in arts, especially their tendency for music, their mysticism as well is so in relation and harmony with the music. Tanbur, for example, is a favorite instrument for Kurdish artists. Kurd mystics and Sufis as well try to include music in their prayers and spiritual rituals. Kurd people are also famous for their generosity and hospitality. All in all, culture is a key point in Kurdistan tourism; and many tourists from around the world join Kurd people to experience their deepest roots of mysticism and culture.
Final Words
Thank you so much for following us in this passage. Here on IranOnTour we try to share knowledge alongside the business. We'd also be grateful if you enlighten us with your experience and knowledge. Also, we'd be so glad if you let us know how did you feel reading this blog.
Keywords: Kurdistan destinations, Kordestan Iran, Kurdistan Tourism, Kurdistan in Iran, things to do in Kurdistan, tourist places in Kurdistan, famous places in Kurdistan, Kurdistan places to visit, Kurdistan landmarks, historical places in Kurdistan
The road is calling you with its fascinating nature for an unforgettable one...
Come to Kurdish region of Iran on a 7-Day tour of Kurdistan & Kermanshah's Hawraman. Discover ancient history, local lifestyle & villages of western Iran...
Kurdistan or Kordestan province on Map