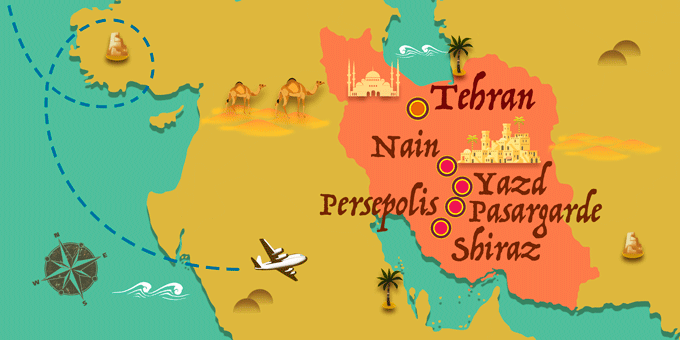 BEST time to Visit Iran – When to Travel to Iran
You may ask yourself when is the best time to visit Iran or which season is the best to see Iran's beautiful nature. Needless to say, Iran is a four-seasoned country. It doesn't matter when to visit Iran, for there is always something to visit in different regions. The best time to visit Iran is simply "every day". Anyway, if you want to know the best time to see Iran's different attractions and the best seasons to visit Iran's natural beauties, follow me in this blog post.
The Best Time to Visit Iran
The best time to visit Iran highly depends on the attractions you are interested in. Iran as a country with lots of historical, natural, cultural, and modern touristic attractions, has things to offer at different times of the year. However, it is so important to know when to visit Iran according to what you seek from Iranian attractions. If you know the best time to visit Iran, you will probably enjoy your trip the most, since you won't miss the details that are only visible at special times and seasons. In further lines, I'd share information about the best time to visit Iran (the best time of year to travel to Iran) according to your taste in attractions, and the best seasons for Iran and its' lovely nature.
Best Time to Visit Iran's Classic Tourist Route
Classic Iran's tourist route includes the most important cities of Iran's tourism, such as Tehran, Isfahan, Shiraz, Yazd, and Kashan. The best time to visit Iran's classic tourist route is during the spring (around March and April). During the spring, the weather in most Iranian cities is moderate; also in this season, the natural wonders are great to visit.
Best Time to Visit Iran's Cultural Attractions
Iran's cultural attractions are mostly attractions that are related to the people's lifestyle, ceremonies, and artistic attractions. Depending on the people you want to spend time with, your options are different. It is better to find out about the weather in these people's regions at different times of the year, and see which fits you the best. About Iranian festivals and ceremonies, there are many answers according to the festival that looks attractive to you. Norouz for example, as the most popular Iranian festival, is celebrated in the early spring days (around March and April). Yalda as another famous Iranian festival is celebrated on the first night of each year's winter (December 21st). Other famous Iranian festivals as well, are celebrated at different times of the year. Take a look at this blog to read more about Iranian festivals.
Best Seasons to Visit Iran's Natural Attractions (Best Time of Year to Travel to Iran)
Depending on your destination, there are many choices for the best time to travel to Iran. In Iran, there are different geographical regions with different weathers. The typical weather of your destination in different seasons can be an important factor in your choice of time. In a simple categorization I can say there are 4 different kinds of climates in Iran:
Hot & Dry
Hot & Humid (Mediterranean Climate)
Cold Mountainous Climate
Moderate & Humid Climate (Humid Continental Climate)
Best Seasons to Visit Iran's Hot and Dry Regions
Such Iran's regions are mostly located in the east, southeast, and center. Kerman, Sistan and Baluchestan, and Yazd are examples of such climates. Even the architecture of such regions is in harmony with the weather to perform the best. These regions are full of deserts with starry nights and extraordinary views of other natural, historical, and local attractions; yet you don't want to be there during summer! Such climatical regions of Iran, are great to visit during autumn and winter. In cold seasons the weather of such places goes mild and moderate.
Best Season for Iran Hot and Humid Regions
Iran's hot and humid regions are located in the southern and west south of Iran. Also, the ports and islands alongside the Persian Gulf and Sea of Oman have the same weather. Bushehr, Khuzestan, and Hormuzgan Province are good examples of such climates. During the summer, the weather of such places gets so hot and moist. Though it is so cool for refreshing your skin and getting tanned, you'd better visit these places During autumn and winter, when the weather is cool and humidity does not bother you. Kish, Qeshm, Hormuz, Hengam Island, also Ahvaz, and other Khouzestan and Bushehr cities are of this type.
Best Seasons for Iran Cold Mountainous Climate
Iran's cold mountainous climatical regions are mostly located alongside the Zagros range, in the west-north of Iran. Ardabil, Tabriz, Kermanshah, Hamedan, and Qazvin are famous examples of such weather. During the winter and autumn, the temperature of these regions gets lower and lower. During the autumn and winter, it's mostly rainy and snowy in such regions. On the other hand, the spring and summer in such places are so lovely. People like me who love rainy and snowy weather, don't care about the coldness of temperature, and even have a crush on the Snow Queen, won't miss such regions even on winter days. There we can play with the snow and enjoy the romantic rainy days when the sun doesn't torture our Dracula eyes! Anyway, if you can't tolerate the cold weather, or if you're tired of snow, the spring, summer, and early autumn days of such regions would welcome you with a green moderate aromatic smile!
Best Seasons to Visit Iran's Moderate and Humid Climate
The southern regions of the Caspian Sea in the north, and many other Iranian cities upper center of Iran, are of this type. Lorestan, Karaj, Gilan, Golestan, and Mazandaran are representations of such climates. In these regions, the weather is mild and moderate throughout the year, in comparison with other regions. Anyway, due to the beauty of the jungle and green spaces of these regions of Iran, it is best to visit them around the spring and summer; when the weather is great and nature is in its best shape.
Frequently Asked Questions
What is the coldest month in Iran?
January is the coldest month in Iran. Anyway, the temperature is different in each of the Iranian cities during winter.
What is the hottest month in Iran?
July and August are the hottest months in Iran. The weather in hot and dry regions and hot and humid Iranian cities is not cool enough.
Final Words
Thank you so much for following us in this passage. Here on IranOnTour we try to share knowledge alongside the business. We'd also be grateful if you enlighten us with your experience and knowledge. Also, we'd be so glad if you let us know how did you feel reading this blog.
Keywords: best time to visit Tehran, best time to visit Esfahan, best time to visit Shiraz, best time to go Iran, best time to travel Iran, when to visit Iran