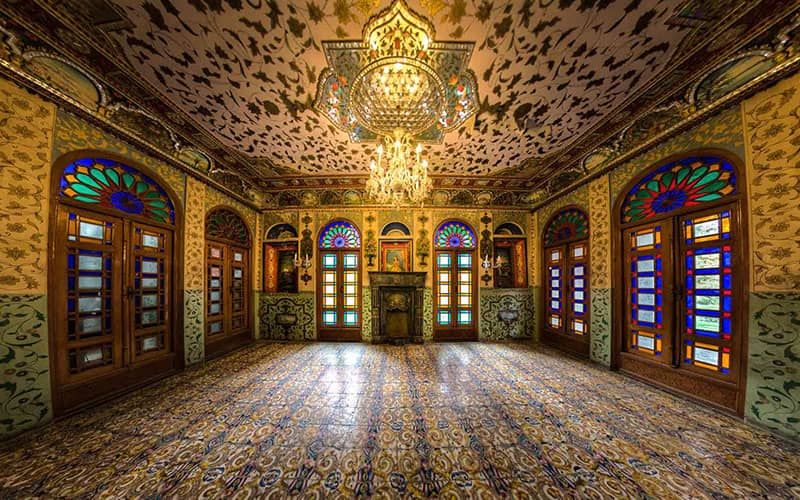 List of Museums in Tehran: TOP Tehran Museums
The more museums in a city, the more sophisticated it is. Tehran as the capital of an ancient country has many museums in different genres of interest. Tehran museums are sometimes the shelters of historical relics. Such museums are usually located in a place with historical values such as Golestan Palace. Some of the Tehran museums include artworks, some others have scientific collectibles, some hold religious relics, and some museums include selections from the miracles of Iranian nature.
Museums of Tehran are in different parts of the city. Each of the top Tehran museums is suitable for one's interests. If you're devoted to arts, if you love history, if you care about science, if you like to know more about Islam and Shia, or if you like wildlife, animals, and flowers, all options are on the table.
Best Tehran Museums
Here is the list of some of the top museums in Tehran:
History Museums

National Museum of Iran
Golestan Palace
Saad Abad Museums
National Museum of the Islamic Revolution and Holy Defence
Museum of Peace

Arts Museums

Abgineh Museum
Carpet Museum of Iran
Museum of Contemporary Art
National Jewelry Museum of Iran
Time Museum

Religion Museums

Imam Ali Religious Arts Museum
National Museum of holy Quran

Nature Museums

National Botanical Garden
Iran Wildlife and Nature Museum – Dar Abad

Science Museums

Museum of Science and Technology
Museum of Medical Sciences History
Tehran Museums of History
Museums of history in Tehran are the most popular around the country. They hold relics from different ages and kingdoms, especially Qajar and Pahlavi.
Museums in Tehran (National Museums of Iran)
The National Museum of Iran was established by the order of Reza Shah of Pahlavi. The building of this museum was designed according to Sassanid architecture. There are many relics from different historical ages in this museum. There are two separate sections in this museum. One section holds pre-Islamic ancient antiques, and in the other section, you can find post-Islamic historical relics and collections.
Golestan Palace, a Spectacular Museum in Tehran
Long ago in the 16th century, Golestan Palace was established in the period of the Safavid kingdom. Later in the Qajar dynasty, when Tehran became the capital of Iran, Golestan turned into the main castle of the Qajar kings. Golestan Palace has been the witness of many royal families and historical events since then. This palace has many marvelous rooms, halls, and saloons, and of course, it includes one of the most important history museums of Tehran.
Saad Abad Museums of Tehran
Saad Abad is a cultural-historical complex, established and upgraded in Qajar and Pahlavi ages. Both Qajar and Pahlavi kings used this place as their main castle. There are many castles, mansions, gardens, and museums in the Saad Abad complex. In Saad Abad museums you can see memorials from the Qajar and Pahlavi kings, and a lot of historical antiques from their ages. The atmosphere of these museums in green and breezy gardens is so positive. There are also art museums, restaurants, and stores around the Saad Abad complex which makes it a convenient place for a tourist experience.
Holy Defense Museum of Tehran
Holy Defense Tehran Museum is the biggest modern museum in western Asia. The Holy Defense Museum of Tehran mostly represents the values of the Islamic revolution and Iranian Holy Defense in 8 years of unwanted war against Iran. There are pictures from the sacrifices of Iranian soldiers in war, their memorials, statues of war heroes, military equipment and logistics, and simulated atmospheres of Iranian hard but holy life in those years of resistance. This museum is located near many Tehran tourist attractions such as the Tehran Book Garden, the National Library of Iran, and so on.
Tehran Museum of Peace
The Tehran Museum of Peace is one of the most outstanding peace museums in the world. This museum of Tehran is not only a place to demonstrate items and pictures, but this museum also functions as a place for discussions, culture-based plans, and peace conferences. In this museum, pictures and art pieces are concentrating on the destruction of war, and the dangers that different wars cause for humanity and nature.
Tehran Arts Museums
Abgineh Museum of Tehran
The Abgineh Tehran Museum is placed in a traditional house in Tehran the history of which refers to the age of Qajar. This museum has antique dishware from different ages, some of which are made of glass and pottery. The beauty and elegance of these dishware show the Iranian eagerness for art in every single aspect of their life.
Carpet Museum of Iran
The Carpet Museum of Iran, located in Laleh Park of Tehran, is one of the most brilliant carpet museums in the world. This museum was established to demonstrate the Iranian taste of arts, in the carpet industry. In this Tehran Museum, there are many beautiful artistic carpets from 400 years ago, till the modern age. Different kinds of Iranian traditional carpets (such as Gelim), are shown in this museum. Furthermore, there are more than 3500 books in different languages in this museum for public use.
Tehran Museum of Contemporary Art
Contemporary Art Tehran Museum, as the name calls it, is a museum of contemporary art pieces. This museum has paintings and other masterpieces from famous Iranian and global artists. These pieces are in different modern and post-modern artistic methods such as Minimalism, Conceptualism, Photorealism, and so on. The architecture of this Tehran Museum is also outstanding. It is a mixture of traditional Iranian architecture with modern methods. Many architects believe that the architecture of this museum is unique in the Middle East.
National Jewelry Museum of Iran
The National Jewelry Museum of Iran (so-called national treasure) is a museum in Tehran with treasures and jewels from Safavid and further ages. This museum was established in the Safavid dynasty, when the kings bought many jewels from different nations, collected valuable jewels in Iran, and stored them all in this museum. Not only because of the miraculous jewels and royal treasures but also due to its uniqueness in architecture, National Jewelry Museum is one of the most popular museums in Tehran. Unfortunately, it has been closed since the unfortunate Covid-19 pandemonium.
Time Museum of Tehran
The Time Museum of Tehran is the first museum of time in the country. This museum is located in a beautiful traditional house with more than 80 years of history. In this museum, you can see different kinds of clocks and watches from different ages in a lovely traditional house. The architecture of this museum is a representation of Qajar royal houses and there is a beautiful garden around it.
Tehran Museums of Religion
Imam Ali Religious Arts Museum of Tehran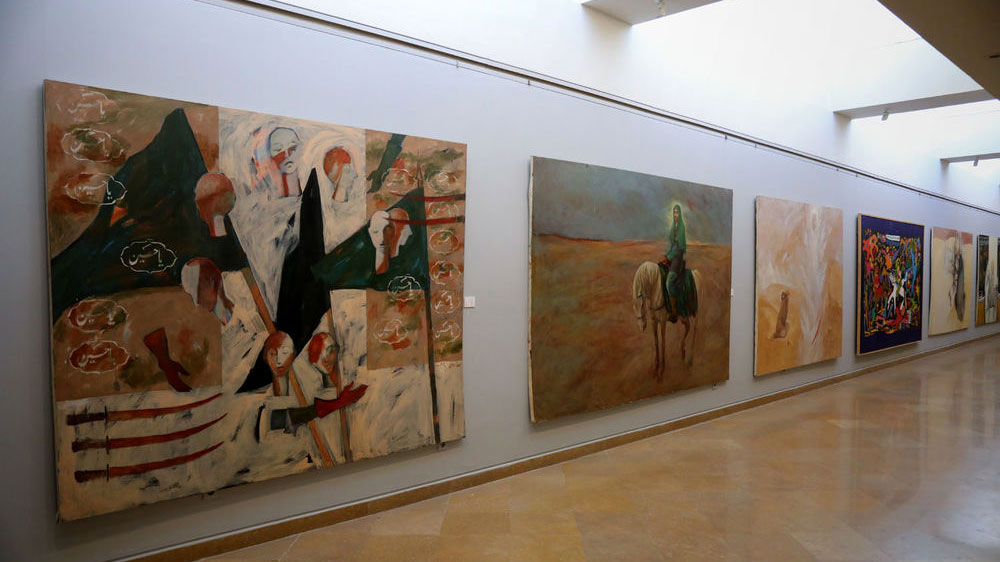 Imam Ali Religious Museum of Tehran is one of the best religious museums in Iran. In this museum, there are collections of modern art associated with Islamic and Mystical beliefs. This museum has galleries of religious paintings, handicrafts, calligraphy, and so on. There is also a library, a book café, and a refurbishment workshop in this museum. If you like to visit Islamic Shia and mystical modern arts, you can't miss this museum on your trip to Tehran.
National Museum of Holy Quran
The National Museum of the Holy Quran is one of the world's best Quran museums. In this museum, there are manuscripts, scrolls, Lithographical pieces, prayer books, and many other antiques that are somehow related to Quran. There you can also see Holy Quran books from different ages that are all alike in context but vary in calligraphic and artistic forms. In this museum you can see the artistic evolutions and changes in types of Quran Writing in different ages; also, there are galleries in this museum with special Quranic plans on special occasions.
Museums of Nature in Tehran
National Botanical Garden (Best Nature Museum in Tehran)
Located in Tehran Chitgar Park, National Botanical Garden is one of the top 10 gardens in the world. You can surf this park museum and enjoy the heavenly clean weather, watch the different flowers and types of plants and trees, and be familiar with them. In this park museum not only you can visit the different and diverse plants of the Iranian and global eco-system, but also, you can buy plants and flowers and learn how to treat them. The National Botanical Garden of Tehran also has many touristic conveniences such as cafes, restaurants, a mosque, parking, and gazebos.
Iran Wildlife and Nature Museum – Dar Abad
As a great example of Natural History Museums, Dar Abad Wildlife Museum in Tehran has a lot to offer about the wildlife and eco-system of Iran. In this museum you can see the taxonomical figures of animals, different animals' skins, dinosaurs and other old species replicas, fossils from different geological ages, and even living animals in cages. There is also a great aquarium and simulated eco-life to visit in this museum. If you love nature, animals, and science, don't lose it! You hear me, Ross Geller?!
Tehran Science Museums
Tehran Museum of Science and Technology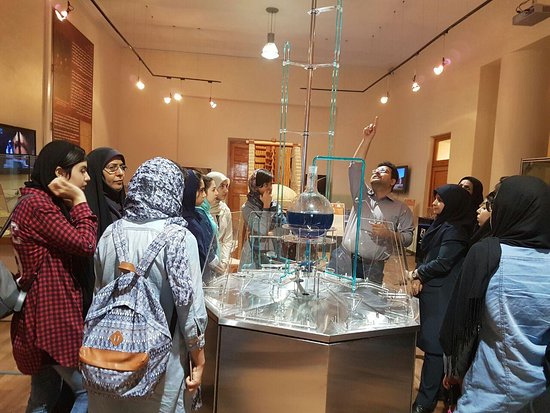 This museum of Tehran is so exciting for science lovers. There are seven galleries in this museum, and each of them belongs to the developments and literature of different sciences during the different ages of Iran, Islam, and the globe. The Scientific Center Gallery, The Gallery of light, The Nuclear Gallery, the "From Morse to Mobile" Gallery, the Traditional Surgery Equipment Gallery, The Gallery of Astronomy Equipment, the Eco-technology Gallery, and the Science-Technology Museum library are all located in this science museum of Tehran.
Tehran Museums (Museum of Medical Sciences History)
The Museum of Medical Sciences History can be so interesting for people who are interested in medical sciences, biology, and the history of science. This museum has different sections in each of them you can explore a lot about the evolution of medical sciences in Iran. There are human remains, including skulls, bones, and biological remains from ancient people in this museum. In Other sections, you can see the development of medical items from the ancient ages till now. You can also see old books related to medical sciences from different Iranian scientists in different historical ages. There are also the remains of the Iranian first drugstore and the statues of famous Iranian medical scientists in the Medical Sciences History Museum of Tehran.
Final Words
Thank you so much for following us in this passage. Here on IranOnTour we try to share knowledge alongside the business. We'd also be grateful if you enlighten us with your experience and knowledge. Also, we'd be so glad if you let us know how did you feel reading this blog.
Hop on this half-day tour of Tehran's top museums. Golestan palace (UNESCO), National Museum of Iran & Treasury of National Jewels...