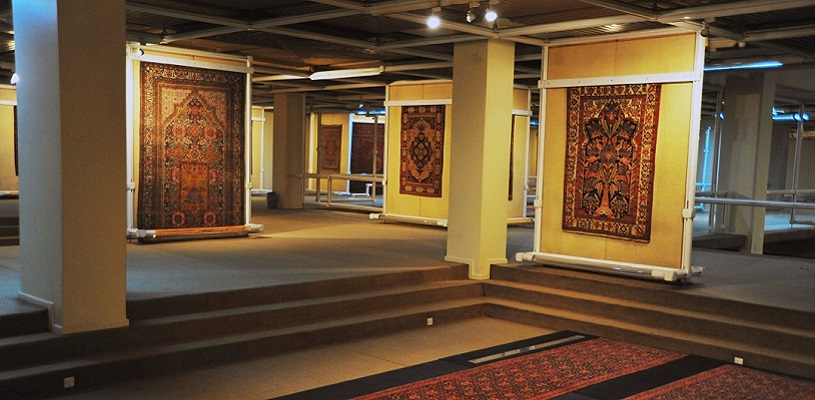 Tehran Carpet Museum of Iran | Persian Carpets
If you are an admirer of one of Iran's best-known arts, Persian Carpets, then Tehran's Carpet Museum of Iran is a must-see. A sign of wealth and luxury throughout the world, elegant Persian carpets have been covering great mansions around the world. But to Iranians, a Persian carpet is a reflection of their rich culture and their ancient history. It is also a manifestation of their love for art, for beauty, for nature and for their homeland. That is why one of the world's few museums that specializes in carpets was opened in the capital about half a century ago.
To the northwest of Tehran's Laleh Park, you can find this rich museum. Featuring a full range of exquisite carpets, kilims, and rugs from around Iran, this museum is a real treat to your eyes. Like to know more about this exotic house of Persian handicrafts? You've come to the right place…
Why Visit the Tehran Carpet Museum of Iran?
The Tehran Carpet Museum of Iran has a collection of precious historical carpets
It is home to a collection of carpets from around Iran
The Persian carpet museum also showcases other fine handicrafts like kilims and rugs
It houses a specialized library of about 7000 books in different languages
Persian Carpets at Home and Across the World
To an Iranian, a Persian carpet is not just something to cover the floor with. It is a paradise under their feet. It is a source of pride, a manifestation of Iranian artistry, a display of wealth, and an inseparable ingredient of Persian culture. For thousands of years, Persian carpets have been decorating Persian homes, mansions and palaces. Inside them, they are also hiding stories of thousands of years of civilization. They speak of the joys, sorrows, hopes and dreams their creators have woven into them. And they are a gallery created by the diverse range of ethnicities that consider Iran as their home. But, like Marco Polo, the Persian carpet has always had a restless soul. It has traveled around the world as a diplomatic gift and a dear souvenir. Today, you can find elegant Persian carpets covering houses and mansions far beyond the Iranian border.
The LONG Story of Persian Carpets
The art of carpet weaving in Iran is probably as ancient as the country's history. It is this long history that has given Persian Carpets their elegant look and their excellent quality. The earliest traces of the existence of this art in Iran date back to 3500 years ago. The Pazyryck Rug, the oldest known carpet of the world, is a living testimony to the traditional tie between Persian culture and carpet art. Found in Siberia by Russian archeologists, this ancient carpet dates back to the Achaemenid Empire.
Inspired by the classical Persian Garden, early Persian carpets had geometrical and floral motifs. Later, figures of animals and people (often royalty) started to appear on the face of Persian carpets. After the arrival of Islam in Iran, Quranic verses also started to appear on the carpets. In the 16th and 17th centuries, kings became keen admirers of carpet weaving. As a result, designers and weavers joined forces to create lots of fine works.
The Birth Story of the Persian Carpet Museum of Iran
As a patron of art, Farah Diba, the last queen of Iran, had the idea of keeping the art of carpet weaving alive and creating a large collection of fine carpets. Her idea blossomed in a museum that opened in 1979: the Carpet Museum of Iran. From then on, the museum has been collecting different types of carpets, kilims, and handmade rugs. These masterpieces were mostly collected from royal palaces like Golestan Palace and Saadabad Palace. But some have also been collected from international sources. Plus, the museum has been developing an excellent multilingual source of research about the art of carpet. Now, it is home to exquisite carpets from around the country and across Iranian history. This has made the museum a hotspot for historians, researchers, and admirers of this antique art.
How the Tehran Carpet Museum of Iran Looks
Architect A. Farmanfarmaian wanted the building of the Carpet Museum of Tehran to have an Iranian identity and be in harmony with carpet weaving. Mixing the classic elements of the 70s with carpet-inspired symbolism, the designer made the exterior resemble the threads on a carpet-weaving loom (frame). These threads also cast shadows on the walls and cool the building down. Downstairs is the permanent home of a fine collection of carpets. But the second floor is dedicated to temporary exhibitions, events and tribal works.
Tehran Carpet Museum of Iran – Home to a Stunning Collection
The carpet Museum of Iran is the permanent home of the most precious handmade carpets, kilims, rugs and carpet tableaus dating from 16th century up to present. It shelters about 135 masterpieces of carpet weaving from around Iran. Each of these masterpieces are kept according to their color, design, weaving technique and the region where they were created. Entering the ground floor, from your right side, you can trace the history of Persian Carpet, from its earliest example to its latest. So, the first work of art you'll see is a replica of the Pazyryck Rug, the oldest known carpet of the world which is now kept in Hermitage Museum. After that, you can find Safavid designs, examples of 16th and 17th century carpets, and the influence of European art on 19th century Persian carpets.
You can also distinguish the works of each city and ethnicity from another. The priceless items are the creations of artists from Kashan, Kerman, Isfahan, Tabriz, Khorasan and Kurdistan. Yet, some of them have nomadic origins. On the carpets, you can see flowers, frames, fish, symbols, geometrical shapes, tree of life, notable figures and events, and scenes from Persian literature and myth. For instance, a Qajar-era carpet depicts 54 world-known figures. Another work by Kashani artists represents Mirza Kuchak Khan, an early 20th century revolutionary leader and national hero, in military clothing.
The Tehran Carpet Museum of Iran as a Gallery of Iran's Diversity
Penetrating to each corner of Iran, the art of carpet weaving gradually took a new form in each region. Cities like Tabriz, Kerman, Kashan, Neyshabour, Mashhad, Isfahan, Nain, and Qom each have their own distinctive techniques, materials, colors, and patterns. Beside these cities, carpet weaving also developed among Iranian nomads like Qashqai, Bakhtiari, and Turkmen. The traditional skills of carpet weaving in Fars Province and Kashan city are UNESCO-listed Intangible Cultural Heritages. Visiting the Carpet Museum of Iran would be like a trip around Iran. Because there, you can see a full range of different carpets from around Iran in one place.
The Library of the Tehran Carpet Museum of Iran
To find anything about Persian carpets, the library of the Carpet Museum of Iran is the best place to be. With about 7000 volumes of book in Persian, Arabic, French, English, and German, this museum is one of the world's largest sources for carpet weaving. Also, the library houses a collection of magazines, journals, and papers on Persian and oriental carpets. Video clips and slides on carpet weaving, kilim weaving, and other handicrafts are also of the most popular attractions of the museum. Except for sources on carpet weaving, you can also find books on religion, art, and literature of Iran.
Other Charms in the Tehran Carpet Museum of Iran
From time to time, you can find a weaver sitting behind a loom, weaving a carpet. At the entrance, you'll see a map of the carpet weaving centers of Iran and an exhibition of weaving tools, natural dying materials, dyed threads and weaving looms. You can also find an open workshop where master workers are busy restoring precious carpets. To keep the art of carpet weaving alive, the museum also offers different types of courses on carpet weaving, designing, repairing, darning and the meaning of motifs and symbols. Also, in a storage room, rare carpets are preserved in steel cylinders.
More about Iran Carpet Museum
Visit Hours
9 a.m. to 6 p.m.
Visit Days
All days except public holidays and Mondays.
Photography
Taking photos is allowed if it is without flash.
Attractions Near the Tehran Carpet Museum of Iran
The Carpet Museum of Iran is right beside Leleh Park, a recreation park in the capital where you can find natives picnicking and relaxing. On the other side of the park, you can also check out Tehran Museum of Contemporary Art. The symbol of the capital, Azadi Tower, and the Qajar-era Teymurtash Museum are also nearby.
Where to Eat Near the Carpet Museum of Iran
Cofee House at the Museum
Nosrat Restaurant
Zeitoon Restaurant
Ahoon Restaurant and Hookah Lounge
Reera Café Restaurant
Like to take a tour of the Tehran Carpet Museum of Iran?
All of our multi-day Cultural Tours include a visit to this museum.
Iran Carpet Museum of Tehran Tours
Tehran➜ Kashan➜ Yazd➜ Kerman➜ Shiraz➜ Isfahan➜ Tehran
Keywords: carpet museum Iran, carpet museum Tehran, carpet museum of Iran photos, Tehran Persian rug gallery, museum carpet
Tehran Carpet Museum of Iran on Map