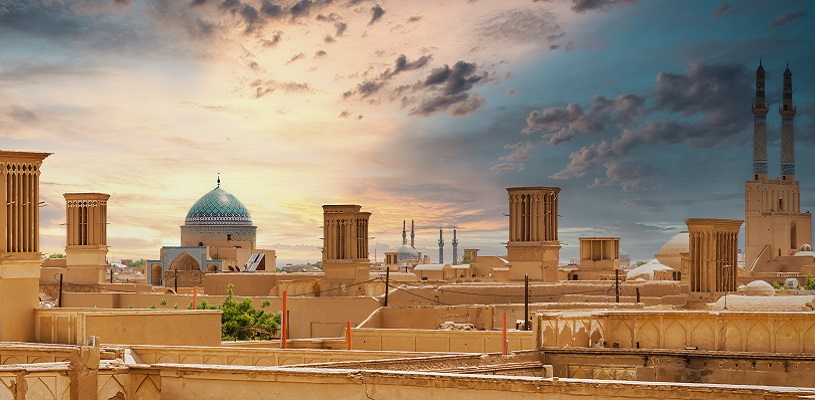 Yazd Tourist Attractions | Yazd Travel Guide | Things to Do in Yazd
The Historic City of Yazd (UNESCO world heritage), the city of earthen architecture and picturesque wind towers, is a main destination on Iran's classic tourist route. Except for showcasing desert architecture and traditional neighborhoods, this must-see city also embraces Zoroastrian pieces like fire temples. Why? Because it is the main hub of Zoroastrianism in Iran! But, where should you start from? This practical list of its top Yazd attractions will help you! If you are staying in (and around) Yazd for 3 to 4 days, start from the top of the list and check out the Must-see Attractions of Yazd. If you've got 5 to 6 days to stay, after the must-see section, move down the Yazd Attractions worth Seeing list. And if Yazd is hosting you for more than 6 days, you can move on to the Have More Time section and enjoy a deeper exploration.
Must-see Yazd Attraction – Things to Do in Yazd
Dolat Abad Garden – Yazd Tourist Attractions
Interested in the architectural beauties of Iran's desert cities? Then don't miss one of the most delightful Yazd attractions, Dolat Abad Garden! The historical city of wind towers is home to a full gallery of charms! But this priceless 18th century relic hides the world's tallest wind tower in its heart, and is one of the most attractive Persian Gardens listed as UNESCO world heritage!
Yazd Attractions – Fire Temple of Yazd
Like to see the world's longest-burning sacred fire? Then the Fire Temple of Yazd is a must-visit for you! It's not just the unique look of adobe houses and charming wind towers that put Yazd in the golden triangle of Iran. The gorgeous city has also been home to the largest group of Zoroastrians and this has left it with precious heritages. To discover the charms of this Yazd attraction, the story of Zoroastrianism, and the importance of fire and fire temples in the ancient religion, you should visit this temple.
Things to Do in Yazd Tourism – Towers of Silence in Yazd
Like to discover the secrets of a special ancient Persian funeral ceremony and a super special structure? Then you must visit Yazd's Towers of Silence! These hilltop cemeteries reflect Zoroastrians' special beliefs and customs concerning the dead. Based on the ancient tradition, Zoroastrians exposed the dead to the sun and scavenging birds! Why? You'll have to explore their beautiful beliefs and visit this Yazd attraction to find out!
Yazd Attractions – Amir Chakhmaq Complex
Visiting Yazd soon? Then don't miss its gorgeous Amir Chakhmaq Complex. From 14th century up to present, the complex has been a focal point of the city and different parts have been attached to it. As a symbol of Yazd and a center of social events, this place highlights local history, Persian architecture, and national culture.
Yazd Tourist Attractions – Saheb Al-Zaman Zurkhaneh in Yazd
For sports enthusiasts, a combination of history and sports will be really incredible. Visiting the 500-year-old Saheb Al-Zaman Zurkhaneh (literally meaning house of strength) can particularly bring you this great joy. Formerly, this elegant Zurkhaneh (traditional gymnasium) used to function as an Ab Anbar (cistern) with 5 wind towers. At the present time, this Yazd attraction greatly amuses the visitors with breathtaking traditional sports events.
Things to Do in Yazd Tourism – Jameh Mosque of Yazd
Is visiting the old city of mudbricks and wind towers, Yazd, on your wish list? Then its grand congregational mosque, Jameh Mosque of Yazd (or Masjed-e Jameh) must be on top of the list! With its majestic entrance, its lofty minarets and its tasteful collection of blue tiling and calligraphic masterpieces, the sight has been one of main attractions of Yazd for centuries.
Things to Do in Yazd – Jame Mosque of Nain
You might have visited stunning mosques decorated with amazing turquoise tiles, fabulous calligraphy bands, geometric or arabesque designs, golden minaret chambers, and eye-catching domes. But, wait! Take a guess! Would you say that mosques have always looked like that? Indeed, mosques have come a long way from fourteen centuries ago. A tour of Jameh Mosque of Nain will shed light upon how mosques from early Islamic era looked!
Yazd Attractions – Narin Castle
Meybod is a small city near Yazd and inherits a beautiful castle with a long history. This hilltop castle is called Narin Castle. Locals also call it Naranj (sour orange) Castle. As a piece of history that has been standing there for almost 5000 years, Narin Castle is the most important monument in Meybod, the oldest historical sight in Yazd province, and one of the oldest citadels in Iran. Narin Castle is also one of the largest mud-brick buildings of ancient times.
Things to Do in Yazd Tourism – Shah Abbasi Caravanserai in Meybod Yazd
No matter if you are a fan of elegant five-star hotels or simply prefer camping in your handy tent or camper van while travelling! You need a shelter for your overnight stay. Well, just like us, travelers in the past also needed accommodation during their trips. The Iranian solution was a caravanserai. Spending a night in one of these historical caravanserais is really tempting, right? You can realize this dream with an overnight in the seventeenth-century Shah Abbasi Caravanserai in Meybod, Yazd. Sky watching is one of the perks of this Yazd attraction.
Meybod Yazd Chapar Khaneh
Long before international posting companies were born, Iranians used their own amazing posting system. The centerpieces of this system were Chapar Khaneh, centers where the messenger switched places with another messenger, rested or changed their horse. One of the latest versions of these centers is Meybod Chapar Khaneh. Apart from the system, the special architecture of the place also reflects a piece of ancient Iranians' genius.
Pigeon Tower of Meybod Yazd
Looking for rare architectural masterpieces? Then Meybod Pigeon Tower is the place to be! This unique building is a real treat to your eyes! Although it may seem a little strange to the world today, but pigeon towers were very common sights near Yazd and Meybod's was one of the bests. This Yazd attraction used to shelter hundreds of pigeons.
Yazd Attractions Worth Visiting
Things to Do in Yazd City – Yazd Water Museum, Kolahdoozha Home
The wonderful Kolahdoozha House in Yazd is home to a breath-taking water museum. An amazing tour of the underground museum will give you a glimpse of qanats and water supply and distribution systems through photo galleries and the artifacts linked with water provision and use.
Alexander's Prison – Yazd Attractions Worth Visitings
In the middle of Yazd's historical neighborhood, you'll find an impressive mystery: Alexander's Prison! Whether built by Alexander the Great as a prison or in 15th century as a religious school, this historical treasure is well worth a visit. The history of this Yazd attraction is so vague that no one knows for sure if the deep well in the middle of the courtyard was in fact a horrifying dungeon to keep prisoners or had some other function. Watch traces of history in the walls and arches of the building and let the 18-meter dome impress you.
Thngs to Do in Yazd – Shesh Badgir Ab Anbar
You don't know Yazd if you haven't paid a visit to one of the water reservoirs that showcase Persian adaptability to dry climates. Shesh Badgir Ab Anbar, the cistern that features six wind towers, is one of the best choices. The desert architecture of this 19th century structure and the water system embedded in it are a real treat for the admirers of desert life.
Yazd Tourist Attractions Worth Visiting – Kushke No Water Mill
In the historical area of Yazd, you can also find one of the most special attractions of the city: Kushke No Water Mill. This marvelous mill is in fact the meeting place of Yazd qanats and it features several major manmade sections including storage, chambers, and the well. Above all, strolling in the winding tunnels will greatly fill you with wonder.
Yazd Tourist Attractions Worth Visiting – Lari House
Wish for a journey to the past? Then I recommend visiting Lari house, the city's best-preserved aristocratic house. Beautiful wind towers, stylish alcoves, traditional doors, colorful windows, and intricate decorations make this 150-year-old house a beauty. In the 3 courtyards of this Yazd attraction, you can lose yourself in Yazd's traditional aura and find elements of desert life.
Yazd Attractions Worth Visiting – Abarkuh Aghazadeh Complex
In the middle of the galleried alleys and clay houses of Abarkuh town of Yazd stands a glorious two-story house. This amazing building owes its popularity to its two-story wind tower, which glamorously shows off like a crown on the top of the historical building.
Abarkuh Cypress
Would you like to get to know one of the oldest creatures in Iran? You should undoubtedly stop by the cypress on your way to Abarkuh. The fascinating 30-meter-tall tree, which is 4500 years old, will fill you with a sense of dignity.
Have More Time? More Things to Do in Yazd City
Yazd Attractions – Mesgarha Bazaar of Yazd
Interested in the artwork on copper? Then, make sure to explore the 600-year-old Mesgarha (coppersmith) Bazaar. At the same time, behold the coppersmiths applying their art to the copper products and lend your ears to the pleasant rhythmic noises they make while creating incredible copper works of art.
Yazd Tourism Attractions – Museum of Zoroastrians History and Culture
Roam the historical, galleried corridors of the Museum of Zoroastrians History and Culture (or Markar Museum) and explore the Zoroastrian culture. In this Yazd attraction, you'll find a collection of items introducing Zoroastrian holy book, prophet, history, rituals, temples, and lifestyle.
Yazd Attractions – Cham Village
The traditional Cham Village, one of the significant destinations of Zoroastrians, is also worth a visit. The locals celebrate the Sadeh (a Zoroastrian ritual) in a very impressive and magnificent manner by lighting fire and praying in the fire temple of Cham Village.
Jameh Mosque of Abarkuh
One of Abarkuh's oldest pieces of art is the Jameh Mosque of Abarkuh. This mudbrick structure is around 700 years old and it features traces of different historical periods. Except for the 4 beautiful iwans, the mosque will impress you with its Mihrab (prayer niche). Plus, the arabesque and calligraphic decorations are a feast for your eyes.
Minarets of Nezamiyeh Mosque of Abarkuh
On a high portal on a corner of Abarkuh's main street, you can find elegant towers that speak of the city's prosperous past: the Minarets of Nezamiyeh Mosque. These eye-catching towers are the remains of what used to be a complex including a mosque, a school, and a bazaar. Bricks, blue tiles, and winding calligraphic lines cover these 700-year-old pieces.
The main magnets of Iran don't give you all there is to its ancient history and rich culture. To take you off the beaten...
Keywords: Yazd sightseeing, Yazd wallpaper, historic city of Yazd, what to do in Yazd